SE in Taiwan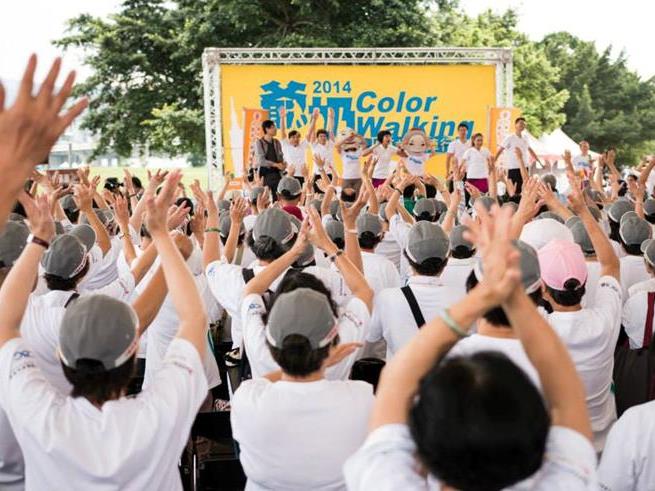 Hondao: a Guardian Angel for Seniors
Most seniors unconsciously label themselves as "old" and "useless", conforming to social stereotypes. Over time, they lose their courage to make any changes. Ms. Yi-Ying Lin knows that she must come up with various methods to create vitality as fast as possible because time is running out.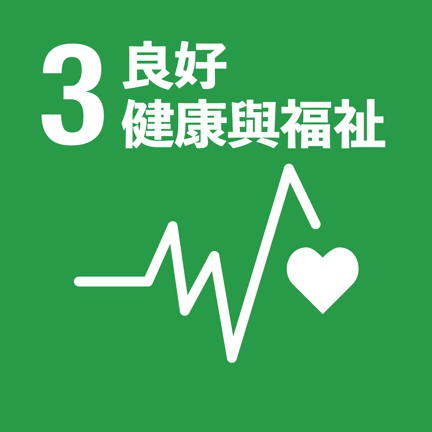 Distinct sounds of thrumming engines roar with the ocean wind, trail along the base of the central mountain range, and accompany the pursuit of ageless dreams. Steep precipices on one side and yawning abysses on the other pose a great danger for uninitiated travelers. However, 17 seniors with an average age of 81 rode their motorcycles along this dangerous coastline in 2007 to complete their 1,178 kilometer journey around the island.
Some seniors were afflicted by cancer, while others suffered from high blood pressure or wore hearing aids. They were all wondering what life still has in store for them at 80 and search for the answers from the mountains, the sea, as well as from their companions in nursing homes. The 87-year-old leader of these bikers, Mr. Qing-Yan Lai, said, "You are still young and don't know how pathetic old age is. Everyone tells you to stay at home and not to fool around. They want you to sit down and avoid standing. But it is painful for us to stay idle." Despite the fact that he was hospitalized three times due to accidents, Qing-Yan Lai has fond memories of this trip, "When you pursue your dreams you forget your age!"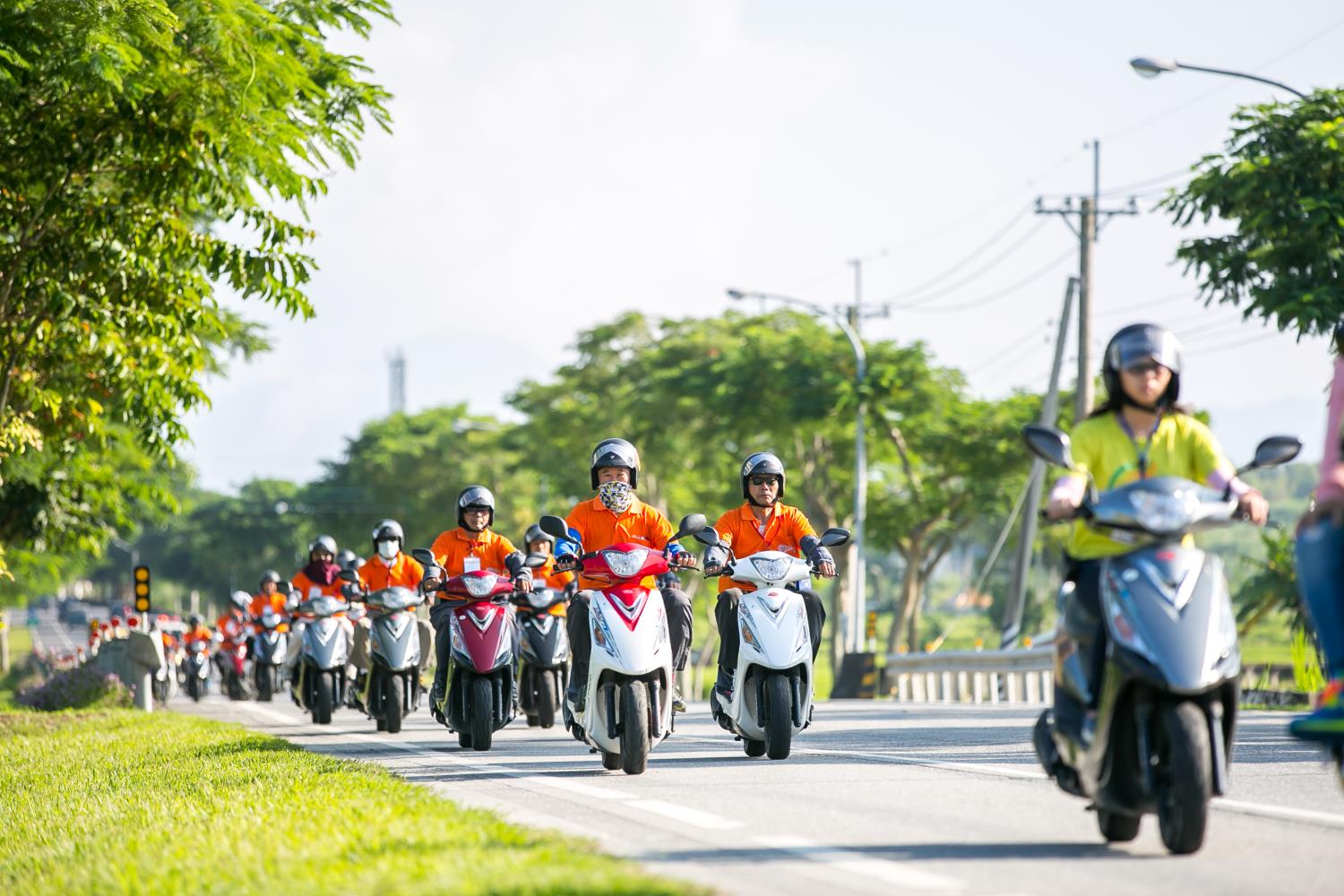 The sixth generation of Grandriders speeding down East Rift Valley
Later, this thousand kilometer journey was produced into a documentary titled "Go Grandriders - Diary of a Motorcycle Trip around Taiwan". This movie not only set a new box-office record for Taiwanese documentaries but it was also selected for film festivals in Hong Kong and Korea. Although the movie received wide praise, Ms. Yi-Ying Lin, Executive Director of the Hondao Senior Citizen's Social Welfare Foundation, who came up with this initiative, is fully aware of the fact that only a small minority is able to pursue their dreams as bravely as these Grandriders. Most seniors unconsciously label themselves as "old" and "useless", consistent with social stereotypes. Over time, they lose their courage to make any changes.
Yi-Ying knows that she must come up with various methods to create vitality as fast as possible because time is running out.
Positive Response to Population Change: How to Turn Aging into Vital Energy
As time and society progresses, the population structure in Taiwan has undergone significant changes, from a pyramid, to a lantern, and now an inverted pyramid, which represents a hidden concern. Statistics reveal that seniors aged 65 and above accounted for over 7% of the total population in 1993, which is an indicator for an aging society. As the baby boomers gradually age, it is expected that elderly citizens above 65 will make up 14% of the total population in 2018, which signals an aged society. By 2025, Taiwan will be a super-aged society with this age cohort constituting 20% of the total population.
In response to this relentless trend of population aging, several hospital directors in Taichung and local dignitaries joined hands to found Hondao Foundation in 1995. Initially, the foundation focused on the propagation of filial piety and the organization of annual events for the recognition of filial piety in families with three generations under one roof to promote the Confucian concept of "honoring the elderly as we honor our own aged parents" and increase the willingness of children to care for their family members. To strengthen the physical and mental wellbeing of seniors, Hondao also organizes croquet and bridge activities with the goal of encouraging them to leave their homes and receive external stimuli.
However, after joining Hondao Yi-Ying realized that most of these activities are static, which makes it difficult to transform original lifestyles. Many seniors either watch TV in their homes all day or visit hospitals on a daily basis to chat with others. Even if they are not sick, they are always in a rotten mood. After she became Executive Director, she was deeply moved by what she saw on a field expedition to China in 2006. A 71-year-old lady participated in an 8,000-km "March of Love" which lasted over 300 days for the purpose of raising funds for the local "hope" primary school. When she visited Japan, she saw a large number of seniors participating in a 40 day, 1,000-mile walk from Osaka to Tokyo.
After these two surprising observations, she reflected and decided, "If they can do it, so can Taiwanese seniors!" Considering that seniors tend to suffer from osteoarthritis, she decided to plan a motorcycle trip around the island instead of a journey by foot. As the news broke, even her grandmother was strongly opposed, "That's impossible! What are you thinking?" A news anchor even bluntly stated that this was a "terrible idea. How can you have seniors ride motorcycles around the island? Are you trying to torture them?"
Unable to bear all the criticism, Yi-Ying had a discussion with Qing-Yan Lai, who was director of the senior association back then. She was pleasantly surprised that he strongly supported the idea, "You have to carry on with this project to let everyone know that we are not useless old people!" By his suggestion, the registration criteria were raised. Yi-Ying laughs, "Many old gents and ladies called to ask why they weren't eligible to register. I honestly answered 'Because you are too young! You have to be above 70 to participate.'"
After that, the lines were kept busy with inquiries and over 100 people registered for the event. Finally, a huge weight was lifted off her shoulders. Hondao selected 15 final participants, which set out on this long journey.
Activities for seniors that fulfill ageless dreams
This mission finally earned Yi-Ying, an outsider who was selected to fill the position of Executive Director, the trust of her colleagues and gave her the strong backing she needed to carry on with her efforts.
Looking back on her own upbringing, Yi-Ying recounts that she grew up in a family with three generations under one roof and that she had a very close relationship with her grandmother. In addition, her father, a village officer, was deeply involved in community activities. Therefore deep in her heart, Yi-Ying felt a strong connection to social services despite the fact that she majored in cooperative economics. Later on, she got into a social welfare graduate program and was able to gain work experience in Old Five Old Foundation and Hondao Senior Citizen's Social Welfare Foundation. In 2005, she was appointed Executive Director of Hondao at the young age of 32 by recommendation of her predecessor. Despite voices of dissent inside the organization, the "Go Grandriders" event received very positive feedback and the foundation obtained large donations, which enabled it to organize brand-new activities.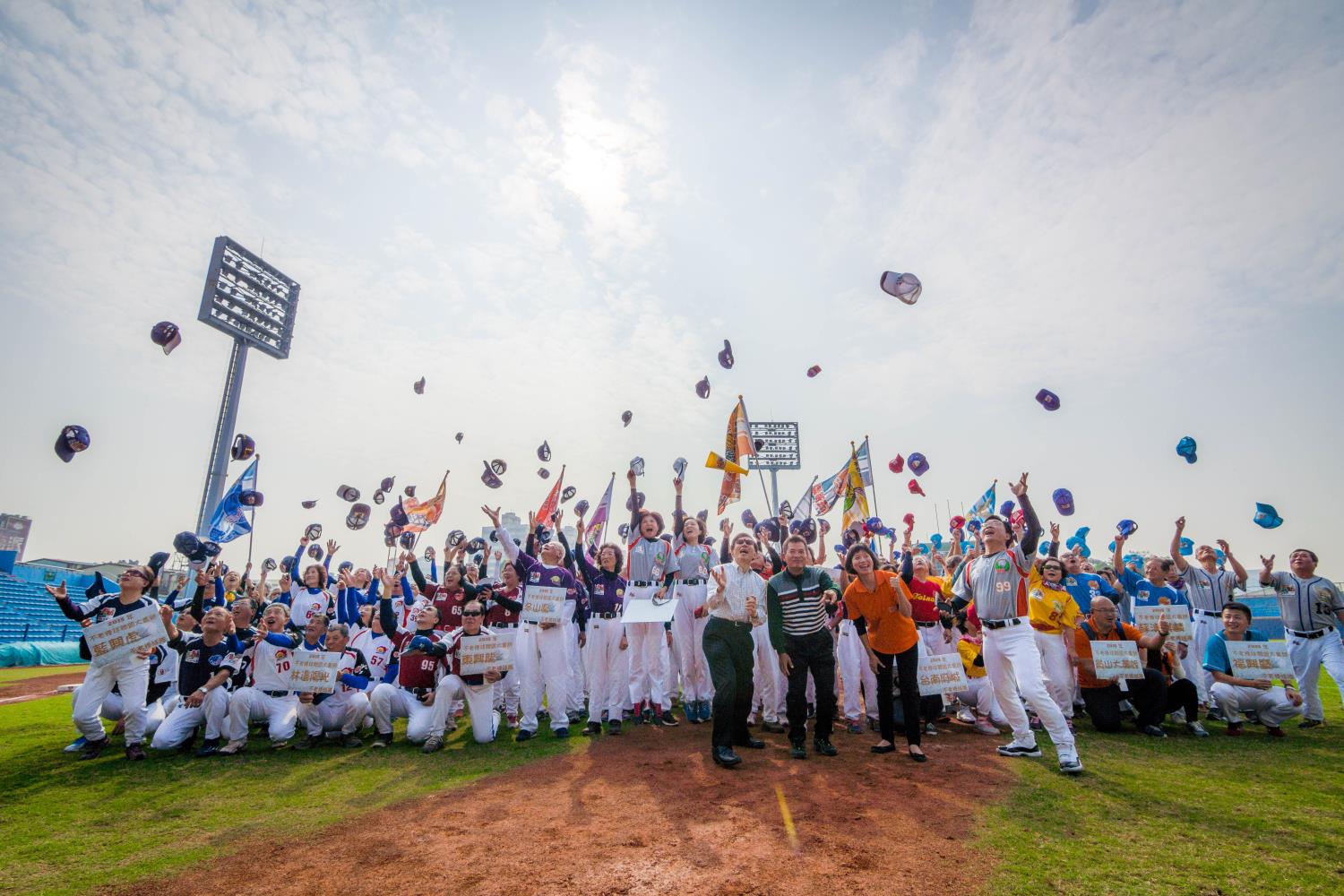 Hondao established "Forever Young Baseball League" in 2012, from the initial 3 teams it has now grown to 13 teams with the average age of 69 and boasts of more than 242 registered league members.
Subsequently, Hondao organized a series of "Gramps and Granny Health and Vitality Shows" for old gents and ladies all over the island to encourage seniors to form singing and dance performances troupes to display their creativity and artistry. A total of 2,000 troupes with over 70,000 members have participated in these events so far. These shows were even included into regular policies by the Ministry of Health and Welfare.
This was closely followed by the even more sophisticated "Hondao Seniors on Broadway" stage performances. Never in their wildest dreams did the participants expect to have the opportunity of a lifetime to perform onstage in Taipei Arena, where biggest stars and celebrities hold their concerts. Under the guidance of a professional team, these seniors' performances were nothing to sneeze at and comparable to professional performers.
After that, Hondao organized the "Forever Young Baseball League" which consists of regional teams in imitation of professional baseball such as the Dongshan Phoenixes, Dongxing Dragons, Houpi Peanuts, and Linbian Sunrays. A champion is determined and awards are presented for most strikeouts, most hits, team chemistry, and team spirit.
"Forever Young Baseball League" boosts seniors' health and increases their social participation.
The "Forever Young Warriors", on the other hand, send call-up orders to old soldiers and invite them to relive their glory days of boldness and bravery in the army, navy, and air force. Yi-Ying smiles and said, "These old gents only come back to serve as a soldier for one day and some of them hit the bullseye six times during target practice!"
"Forever Young Bikini Carnival" encourages old ladies to wear bikinis, while the old gents wear shorts for a runway show on the beach. Yi-Ying laughs, "Everyone was very shy in the beginning and it took a while to cajole the seniors into getting the show started. The applause by the audience gave them more and more confidence and courage to present themselves." Other activities include the "Senior War Drum Troupe", "Forever Young Sailors", "Forever Young Artistry", "Forever Young Wedding Dream", "Forever Young Catwalk", and "Yilan Forever Young Festival".
To Hondao Foundation, these old gents and ladies have everlasting vitality and eternal youth.
Enhanced labor conditions to improve the long-term care environment
The ageless dreams events enable seniors to turn from an object of sympathy and pity into active human beings who exude liveliness and vitality, serving as a source of inspiration for others. However, when the excitement and thrill is over, they still have to face the tough challenges of wide-ranging disabilities.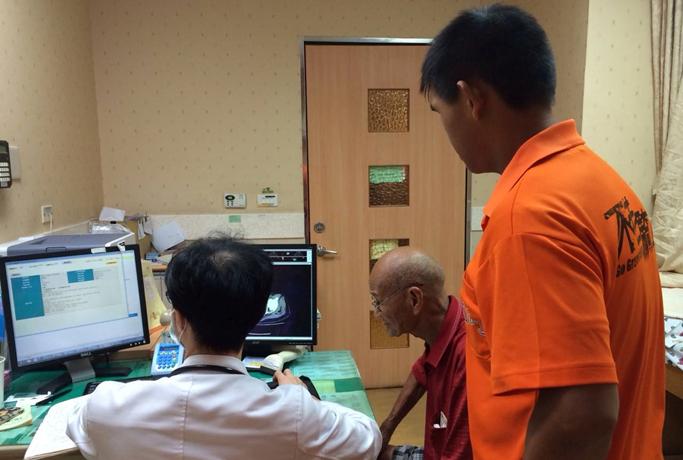 Hondao's inherent mission is to ensure a pleasant and worry-free old age for our senior citizens.
Even if they are facing the need for long-term care and assistance due to aging or sickness, seniors still hope to grow old in the place they are most familiar with. However, the home care service system now is rigid and inflexible. Services they provide are limited to a single time slot. Aid such as feeding three meals a day, assisting with medicine taking, and diaper changing are timely services that can't be satisfied within a certain period of time. In this system, sudden emergencies such as hospitalization can result in a pause of services.
Hondao home care service provides bathing assistance for seniors.
Regarding manpower, most care-giving personnel are hourly wage workers whose monthly salary fluctuates due to their cases ending as a result of hospitalization, vacation outings, families hiring a foreign caregiver or sending them to nursing facilities, or death. These unstable working conditions and perceived notions of caregivers as menial grunt workers instead of professionals deter young people from entering this profession, resulting in a serious lack of manpower and forcing many families that need long term caregivers apply for foreign caregivers.
Foreign caregivers also come with many issues such as qualification restrictions for applying families, language and cultural adjustment period, and lack of professional expertise. Many tragedies happen due to long term financial and caregiving pressure heaped on families when there is no relief to be found.
In light of this long term care issue, Hondao developed an "All in one care service" that breaks from conventional care models. Hondao groups communities and residential complexes as a unit and arranges a service team to attend each unit. Using teamwork, the service team can provide customized services several times a day and mobile services. Service hours are flexible so that a caregiver can cook for an old gent in the morning, go to help another old lady bathe and return in the afternoon to clean up the dishes for the old gent.
The service they provide is open-ended and determined case-by-case after interviews from a social worker. After two years of providing this service, the services can be summed up into 7 categories: accompanying care, physical care, health supervision, all-in-one family care, care instruction, nighttime home service, and home hospice care. Most importantly, there are no restrictions for applying. Any and all who need the service can apply.
Accompanying seniors to the hospital is an integral part of mobile care.
To stabilize working conditions and give caregiving personnel a professional image, Hondao provides monthly salaries to caregivers. Personnel that pass the first level of training are awarded the rank "Care Assistant" with a starting salary of 25,000 NTD. After they pass the assessment test, they are upgraded to "Care Secretary" with a starting salary of 29,000 NTD. Apart from professional caregiving training, Hondao also trains Care Secretaries in observing, communicating, and assessing abilities. To retain personnel, they would adjust salaries according to performance assessments and give yearly bonuses. Yi-Ying says, "We hope to give this job an image of being attentive, detail-oriented, customized care."
As of 2014, Hondao has 200 employees, 200 professional caregivers, and 1,600 volunteers who provide home care services for 4,200 isolated and disabled seniors. This impressive manpower is supported through small individual donations on a monthly and annual basis. Yi-Ying states, "NPOs are exposed to an unstable environment if they solely rely on government subsidies and corporate funding. Government projects, in particular, are slow to respond to rapidly changing conditions and the obtained results may not meet the actual requirements. This makes it impossible to provide real help."
Hondao Care Secretaries accompany seniors to attend activities in community centers, helping seniors bring meaning and dignity to their autumn of life.
After 19 years, Hondao's operations are already firmly on track in the dimensions of "Propagation of Filial Piety", "Ageless Dreams", and "Community Care". Yi-Ying insists on preserving the non-profit character of the organization and a sole focus on the incubation of social enterprises. Hondao has already unconditionally authorized several university students in Hong Kong to utilize the "Methuselah Package" for the experience of physiological conditions of senior citizens to found their own business named "Eldpathy". On the other hand, Silver Linings Global promotes Grandrider and ageless dream fulfillment concepts developed by Hondao. Hondao has also granted this company a free license for the development of traveling and first-hand experience activities for seniors.
Yi-Ying smiles and states, "I want to stick to the concept of a non-profit organization and view ourselves as an incubation center for social enterprises and R&D center for projects with the goal of sharing feasible models to others. If more and more people are willing to make contributions to our field, an increasing number of seniors will be able to lead a better life."
During her tenure as Executive Director, Ms. Yi-Ying Lin has been fully committed and dedicated to the concepts of "active aging" and "community care".
Editor's Note: This article was originally written in 2014. Hondao Foundation's second Executive Director Yi-Ying Lin has stepped down in 2016 and passed the torch to the third Executive Director, Ms. Ruo-Qi Li. As of June 2017, the Foundation has 493 employees with 224 of them caregiving secretaries and assistants. In a month, they provide home care services for an average of 1,278 seniors, and have 1,665 long term volunteers that care for isolated and disabled seniors.
 

This work is licensed under a Creative Commons Attribution-NoDerivatives 4.0 International License.
Please attribute this article to "Workforce Development Agency, Ministry Of Labor".