Unlimited innovation: Foundation for social entrepreneurs – UnLtd*
Introduction
UnLtd, pronounced "unlimited", is the most important investment incubation institution for helping social entrepreneurs (not their organizations) in the British social enterprise industry.?It treats?social entrepreneurs' businesses as a journey, where various awards and resources are used to assist social entrepreneurs through various stages of their journey.
For instance, assume you had a great idea for improving social problems that you wished to implement in your community and a certain amount of funding was needed. If your idea was approved by UnLtd, they would provide you with a Do It Award (roughly NT$100,000~150,000). Although not much, the point is to encourage you to take the first step in putting your idea to practice. During the preparatory stage, there is a smaller sum of Try It Award followed by Built It Award and Fast Growth Award etc., depending on the business development needs.
Foundation for social entrepreneurs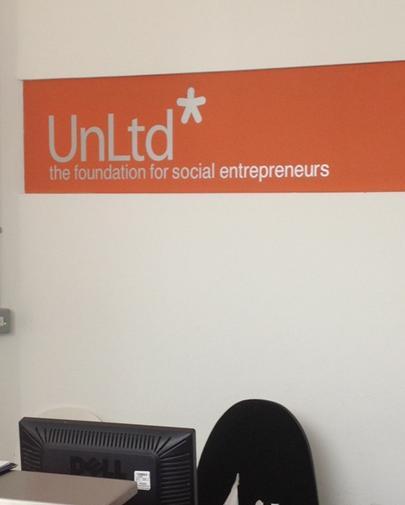 Open the doors of UnLtd and visitors will be greeted with an orange banner reading "UnLtd* the foundation for social entrepreneurs", simply and directly pointing out the value of the organization's existence. Just like the Millennium Award Trust on the wall outside, UnLtd was founded with the £100 million trust donated by the government-backed Millennium fund in 2000. The primary source of Millennium fund comes from income generated by the UK lottery, and the purpose of the fund is to facilitate social transformation in response to the potential changes associated with the arrival of the third millennium; it is one of the most important resources for the UK government post the 1990s. The year after the Millennium Fund was created (2001), it no longer received money from the lottery income; furthermore, after part of the mission came to a conclusion, the fund ceased to operate in December 2006, and relevant affairs were transferred to the Big Lottery Fund for execution and management.
Through sponsoring and encouraging personal leadership, UnLtd generates social transformations to achieve its organizational mission. Each year, approximately 1,000 social entrepreneurs receive assistance from UnLtd in the form of money, professional consultation and interpersonal networking, etc. From seeing problems to seeing solutions is the fundamental belief of UnLtd, where helping the social entrepreneurs begins with identifying the problem before progressively seeking for and implementing the solution. The key to assessing its benefit is not how many social enterprises are created but how much social transformation is generated through people's actions, thereby making the world a better place.
Where are the social entrepreneurs?
According to research by UnLtd, about 240,000 British people want to join the ranks of social innovation, equivalent to about 0.4% of the total population in UK. Including people who have started their social enterprise or are hired by social enterprises, there are roughly 1.7 million people engaged in the industry, nearly 2.7% of the total population. How does UnLtd identify and discover potential social entrepreneurs? Over the last decade or so, UnLtd discovered that social entrepreneurs possess the following common traits:
Potential to generate social transformation.

Enthusiastic about resolving social problems.

Diligent and tenacious.

Adapt at searching for and using resources.

Capable of resolving problems.

Possesses characteristics of entrepreneurs.
It may seem clear-cut, but are they enough to let UnLtd's entrepreneur managers spot social entrepreneurs from the masses? Not necessarily. At first, UnLtd tries to analyze the subjects they intend to help to formulate a set of guidelines that entrepreneur managers can operate on. However, they can tell from experience that the intuition accumulated from personal experience is the most accurate. The most reliable method is to search from existing interpersonal networks such as letting organizations you are familiar with refer people they know.
Go ahead. We've got your back!
After identifying potential social entrepreneurs, the next step is to listen to their needs and offer them assistance. UnLtd utilizes the concept of journey to examine the growth and developments of the social entrepreneurs. Throughout the initial, middle and latter stages of the journey, they require different forms of company and help.
Supporting the social entrepreneurs during the startup stage is the main task of UnLtd. Out of 1,000 social entrepreneurs who receive grants from UnLtd, 92% have formed ideas and taken the first step (including Try it and Do it), the grants take up 68% of the entire budget. About 7% grant recipients are in a stage of steady and expanding growth (accounting for 27% of the overall budget). In particular, most recipients are in the Do it stage demonstrated in the above diagram (roughly 900 persons). The highest grant is £5,000, with the average value of the grant being £2~3,000. The majority of the entrepreneurs supported by the grant already possess well thought out ideas and their businesses are in the startup stage. Besides grants, assistance provided by UnLtd mainly serves to enhance their entrepreneurial energy and knowledge. The subjects sponsored by Try it are still in the stage of forming solutions for certain social problems, therefore the money and people involved are relatively less.
For entrepreneurs who have passed the Do it stage, UnLtd offers Build it (steady growth) and Fast growth options that are not in any prescribed order. In fact, no prizes are in any predetermined sequence; rather, they are determined by the condition and needs of the entrepreneurs at the time. Just as the name Build it suggests, the stage intends to further aid social entrepreneurs seeking to grow their businesses. The limit of the grant is £15,000. Usually, teams in this stage have already proven their social benefits and they have established a firm foundation for their businesses to demonstrate their potential sustainability. However, perhaps the teams' abilities and structures are not yet perfected, therefore they need to systematically create standardized production and service procedures in order to enhance their operational capability and pass the long-term market test.
Fast growth is relatively more special in that it is designed for teams seeking to grow their businesses quickly, and the value of the grants is even higher. At the same time, the grants can be applied to the person or business. At this stage, the composition of the management teams is usually complete, and their target is focused on pursuing growth, replicating the process and expanding the scale; they may even pursue developments in the new market. Therefore urgent capital support is needed for the entrepreneurs to commit themselves to their businesses without reservation. Fast growth entrepreneurs will receive intensive assistance from UnLtd; besides seeking resources and relationship networks, it must also help the teams to build a management performance tracking system in the process of modularization. As the teams and business scale expand, each step will require money, therefore social enterprises supported by Fast growth are typically ready to enter the capital market in search of investment.
According to Katharine, there are numerous support systems for social enterprises in the UK besides UnLtd, but the quantity is still not sufficient, and the support channels are not as smooth as one would have liked, thus the government and the private sector still have significant room for improvements. During the process of helping social enterprises, the role of coach or mentor is exceptionally important; UnLtd strives to establish partnerships with professional firms and consultancies, because the volunteer experts from cutting-edge firms are able to provide the most practical and professional knowledge and experience in fields such as finance, law, market and marketing. On the other hand, apart from professionalism, company and spiritual support are also very important. Thus, UnLtd has created peer networks to constantly support and encourage the social entrepreneurs to forge ahead on their arduous journey to social entrepreneurship.
Impact of UnLtd
For more than a decade since UnLtd's inception, social entrepreneurs have evolved considerably, and the society's awareness about social innovation has also increased significantly. Meanwhile, UnLtd has revised its approaches to identifying social entrepreneurs and facilitating their development countless times to reach its current status. Katharine describes UnLtd as a sounding board behind social entrepreneurs with the aim of bringing them together to recognize their values, accentuate their voices and convey them to the public.
UnLtd's follow up research reveals 97% of social entrepreneurs who have received the grant believes that the grant is like living allowance, which enables entrepreneurs to focus on developing their businesses under less financial pressure. In particular, 58% believe that the entrepreneurial process will be extremely difficult without UnLtd's assistance, while 28% of them believe it will be impossible! In terms of personal growth, 73% believe they have acquired skills needed for entrepreneurship while 71% are positive that they have received adequate support from the system.
For entrepreneurs receiving grants, 1/3 come from some of the most socially and economically disadvantaged regions in the UK, meaning that cases from disadvantaged areas are more likely to receive support from the system. Generally speaking, the average survival rate of businesses is 70%, which is relatively high compared to the conventional venture capital investment system. Many businesses are not large in scale and their social impacts are limited to the local area, but some cases do develop into considerable enterprises. 43% of them employ at least one person (the average figure is three), while 3/4 of them offer volunteer service opportunities (capitalizing on social capital). Roughly 60% of them assist other social entrepreneurs (demonstrates the importance of support network) and a total of 1.2 million people benefit from the new businesses.
The Highly Expensive System
Providing grants/allowance to social entrepreneurs instead of investment loans is the unique characteristic of UnLtd. This is mainly attributed to the fact that the emphasis of organizational work is placed on the early startup stages. This is akin to the role of seed fund. Since it is a grant/allowance, it means that revenue cannot be generated from within the system in order to ensure its sustainable operation.
Fortunately, UnLtd received a contribution of £100 million from the Millennium Fund when it was founded; therefore, it was born with the proverbial silver spoon. UnLtd made use of the capital through independent investment committee (formed by trustees and financial experts), where the committee draws up the investment portfolio, and the income becomes the primary source of funding to support the system. If significant change is needed for the investment portfolio, consent must be obtained from the trust supervisors. Each year, UnLtd earns about £4 million usable capital from profits generated by the £100 million investment. Furthermore, the investment committee is focused on generating the maximum profit possible as the goal, and its investment portfolio is reportedly to be free from investments in social enterprises.
In addition to utilizing the grant system supported by income generated by the aforementioned method as the fundamental structure of UnLtd, the energy created from investment earnings is insufficient to cater for the public's increasing need for social innovation, hence UnLtd gradually developed sub-projects that capitalize on other resources. For example, Live UnLtd* helps mainly youths between 11 and 21 years of age by combining The Big Lottery Fund with another major charity organization in Britain called Comic Relief (the name is derived from the action initiated by comic scriptwriters and actors to tackle hunger in Ethiopia). In doing so, UnLtd has roughly £9 million at its disposal every year, of which only 47% come from investment returns.
During 2011 to 2012, UnLtd spent a total of about £8.6 million each year, of which 38% are grants issued, while the amount spent by grant recipients far outweighs the grant itself, as high as 58% (see diagram below). The income and expenditure scale directly reflects the enormous resources controlled by UnLtd, making it a heavyweight organization in any nation. Although the influence it has generated is just as remarkable, UnLtd has drawn criticisms (or jealousy) from other organizations due to skewed resource distribution.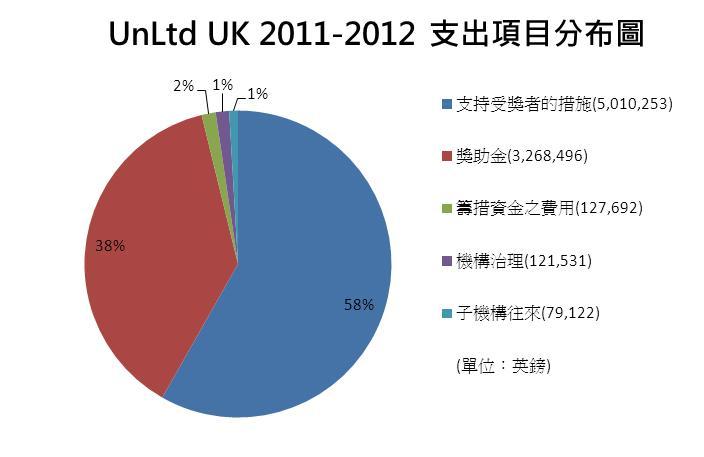 (Contrast: The United Way of Taiwan generated an annual income of NT$370 million in 2012, of which 98% came from donations and 87% of the fund was used to support the projects of other social welfare organizations. In addition, according to its 2011 yearbook, it subsidized 459 social welfare organizations to accomplish 607 projects. Data courtesy of http://www.unitedway.org.tw/)
If it's so expensive, why not just sponsor successful projects?
We usually apply the concept of light spectrum to depict the relative position of social enterprises, non-profit organizations and businesses. UnLtd also applies such analogy to social entrepreneurs. From superstars boasting an enormous fan base to the shining stars of tomorrow, or even ugly ducklings that only possess rudimentary ideas, they all have an opportunity to receive assistance from UnLtd, albeit the content of assistance will be drastically different. As far as UnLtd is concerned, striving to help social entrepreneurs at various stages of development is a critical aspect of the strategy. Investing capital or resources on projects most likely to succeed or those that are already successful may be the safest approach, because it will guarantee that the budget will not be wasted on teams or individuals with an uncertain future.
Nonetheless, the method will in turn jeopardize the goal of encouraging more people to participate in social innovation, which is one of UnLtd's missions. Consequently, merely focusing resources on the brightest shining stars will prevent the public to become involved in social innovation, because people will start to wonder, "How can I perform as well as him/her?"
Katharine did not forget to stress that this is an extremely expensive system and she believes it will not work easily in other countries, so UnLtd can be considered a little bit fortunate. Without the capital, alternative ways must be sought and applied to help social entrepreneurship, such as loans or investments instead of grants. She suggests that the Taiwanese Government explore various potential models about supporting social entrepreneurs and choose a suitable method, because different cultures and political-economic environments require different supporting models. This is one of the reason UnLtd has attempted to establish a global network, where UnLtd UK can not only share its thoughts and technologies about building the system but can also learn different experiences from various countries and cultures, thereby creating a win-win situation.