SE in Taiwan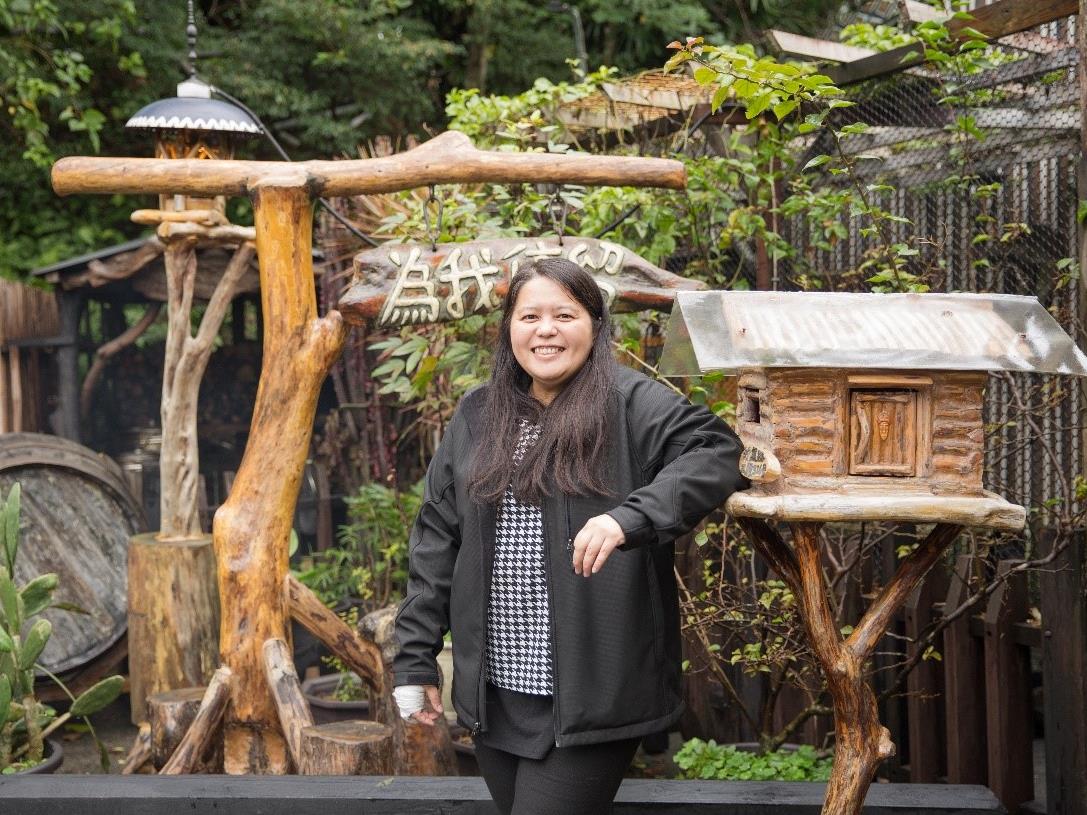 Their Persistence Creates a Beautiful Future
That day, after the heavy rain, a glorious rainbow appeared in the sky. Where the rainbow fell was very close to the location which we decided to open the coffee shop for indigenous people. It's as if we were blessed by the ancestral spirits of the Taroko tribe and we are destined to settle in here…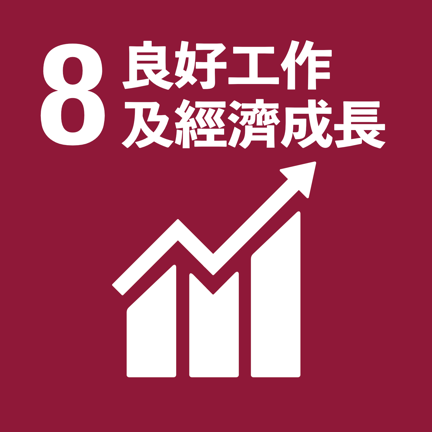 An Interview with Ma Yan-Ping, Secretary – General of Taiwan Indigenous Peoples
Enterprise and Economic Development Association
Written by Lai Wan-Jing / Photographed by Lu Jing-Hui
That day, after the heavy rain, a gorgeous rainbow appeared in the sky. Where the rainbow fell was very close to the location which Ma Yan-Ping decided to open the coffee shop for indigenous people. It's as if Ms. Ma was blessed by the ancestral spirits of the Taroko tribe and she was destined to settle in here.
Situated in Xiwan Road, Xizhi District, New Taipei City, it used to be an abandoned land with only iron bars left. According to Ma Yan-Ping, the secretary-general of Taiwan Indigenous Peoples Enterprise and Economic Development Association, they still didn't know why they were so brave to start their business in a "barren" with nothing left.
Although it was abandoned land, they dreamed a dream there and realize it with the support of many people.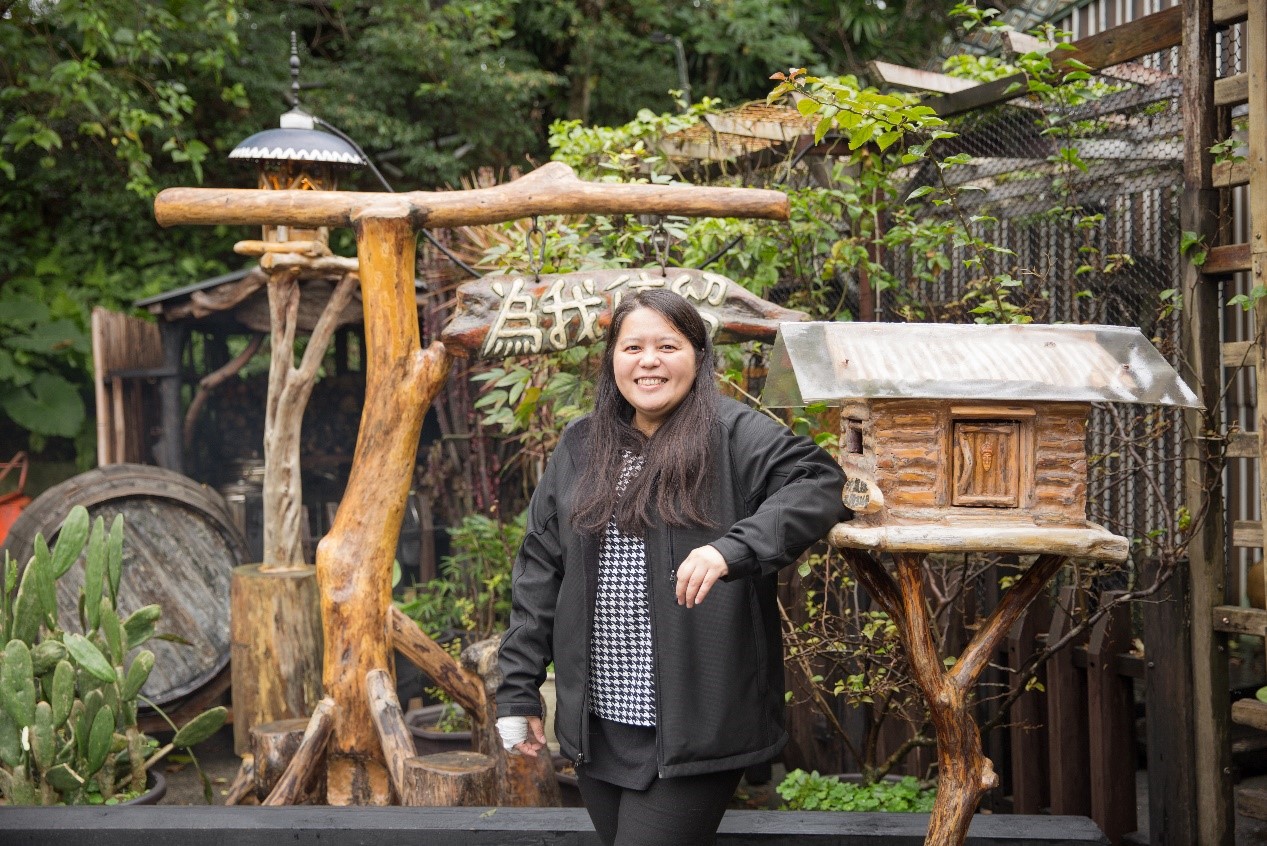 Ma Yan-Ping, Secretary – General of Taiwan Indigenous Peoples Enterprise and Economic Development Association (photographed by Lu Jing-Hui)
Ms. Ma's father is a retired soldier from China and her mother is from the Taroko tribe. Her father believes that education is the only way to change a person's fate and break the cycle of poverty. Thus, the whole family moved to Taipei for enough educational resources for the children. Ms. Ma didn't let her father down because she was admitted to the Department of Philosophy, National Taiwan University without using the preferential policy for indigenous students. She founded a cram school teaching children English after graduation and had done it for 13 years. "Even though our business was affected by the low-birth rates, it was very stable. At least I never faced money shortage"
Indigenous People Need to Be Employed so that Their Children can Receive Education
However, the turning point in Ms. Ma's life came. "A city council member applied for a grant for after-school tutoring for indigenous children and asked us to teach. After teaching indigenous children, we found that their parents are too drunk to pick up their children, or too busy doing odd jobs to accompany their children." Ms. Ma believes the only way to ensure a better future for children is to help their parents have a stable job and income so that children could focus on their study.
Yet, how did she create job opportunities for these parents? "By accident, I know about the Multi-Employment Promotion Program promoted by the Ministry of Labor (MOL). You just need to submit a proposal. Once the proposal is approved, the ministry will subsidize employees' salaries. I think this fits our idea for the workplace for parents from indigenous tribes." Ms. Ma, though never writing any proposals, wrote all her ideas and thoughts on the proposal and submitted it. Not long after, she got a call from the staff of the MOL, reminding her to submit the standard format to the Employment Service Station. Even though the deadline was drawing nearer, thanks to the help of the staff at the Employment Service Station, she finished a proposal with a huge pile of documents within a week. After her proposal was approved, she found the perfect location to realize her dream in Xizhi district and opened the indigenous people's coffee shop. 
Everything is difficult at the beginning. Even though Ms. Ma is an optimistic aborigine, she was overwhelmed by the weeds everywhere. That year, after the Typhoon Morakot, lots of driftwood was brought onto the beach. She built the house with driftwood and the local bamboos: the building and the drainage system were done by herself with the help of other indigenous people.
The staff of Taiwan Indigenous Peoples Enterprise and Economic Development Association constructed the very indigenous-style coffee shop in the mountain area of Xizhi. (photographed by Lu Jing-Hui)
Ms. Ma Faces Challenges with Dauntless Optimism.
Difficulties came one after another. Ms. Ma started to realize how difficult it was to make money! Two typhoons almost destroyed the coffee shop completely. Honestly, she almost gave up several times. However, she remembered that most of her 12 employees were not young anymore and it was getting more and more difficult for them to find new jobs; not to mention that they considered the job at the coffee shop the most important mission in their life! Ms. Ma had no choice but to keep going.
After going through the difficulties for 4 years, the association was gradually run smoothly. The Indigenous Peoples' Coffee Shop was moved from the mountain to the hillside in Xizhi. They manage to open The Indigenous People's Restaurant in the basement of New Taipei City Hall so that people living in urban areas may still enjoy the original indigenous cuisine nearby. "The average age of our employees at the coffee shop and the restaurant is around 40 years old. They not only have a steady job but also increase their values and self-esteem through cooking and managing the restaurant. Indigenous people working in the city can be more than maintenance workers such as bricklayer and formwork erector. They can have great achievement in restaurants.
According to Ms. Ma, their focuses on development are indigenous cuisine, craftsmanship, music, and dance. All of them needs the teaching and instructions of the tribe elders to pass on to the future generation. And with the help of Multi-Employment Promotion Program promoted by the MOL, the association can create job opportunities and inspire people leaving their tribes to look for a job in the cities.
However, Ms. Ma thought what they have achieved is not enough. The educational and economic problems in indigenous tribes needed to be solved. "If we say the unemployment rate in Taiwan is 5%, I guess the unemployment rate at our hometown makes up 50% of it." Ma sighed. Situated by the Sanzhan River, away from downtown of Hualian, Qowgan is a small tribe neglected by tourists. Most of the residents in the tribe are seniors and children. Lots of young people left for cities to look for jobs. The young staying tribes are mostly unemployed or doing odd jobs.
Bring Job Opportunities to the Tribe
Therefore, Ms. Ma decided to return home and establish another branch at Qowgan tribe 2 years ago. "At the beginning, I was told to focus on my career in the city. After all, it's so risky to run a business in a completely different area. Nevertheless, because we insisted on this idea, the MOL supported us through Empowerment Employment Program"
The Indigenous Peoples' Workshop in Qowgan tribe is run independently by eight young people in the tribe. They are in charge of the restaurant such as cooking in the kitchen, serving customers, running the business, managing the workshop and controlling expenses. They did well in just two years.
Speaking of the policy "bring business and young people back to the tribes", it is not just a slogan. You need to provide motives to young people so that they want to return home. "I would like to express my special thanks to many resources introduced to us through the Empowerment Employment Program, including professional instructors on tour guide license and professional license in baking and cooking. These kids also learn how to use a computer for operation management and document processing. Because of these training programs, our young people, even if they choose to work in the cities, are no longer stuck with laborious jobs anymore.
 "Because they are on the management positions now, these kids are thinking about going back to school and obtaining more certificates. I hope when the sponsored programs supported by the MOL end, they are strong enough to be dependent. This is my real purpose for founding the association." Although the association may have been full of difficulties all these years, what's amazing is that few partners or children quitted. Turnover is low. The clear pay raise and the profit-sharing system only bring people closer together.
In addition to running restaurants, Ms. Ma also wants to pass down their culture. Hence, she founded "AmuBwiy Puing Culture Arts Group" to help children, dancing in the scenic spot, set their goals, performing in the National Theatre in 2018! "We only invested resources in this group for 2 years. These children write their own scripts, choreograph their own dance and play music by themselves. They had great results." To accumulate performing experience, they took part in the performances at large exhibitions and even performed abroad. They were finally qualified to perform at the National Theatre. "To cultivate a performing art group requires extensive funding. But the progress these children made boosts our determination to support them. We already applied for the Empowerment Employment Program for them. If it is approved, all resources will support them to dance!"
Create Opportunities to Pursue Their Dreams
Ms. Ma, a graduate of the Department of Philosophy, NTU and currently studying at Graduate Institute of Educational Leadership and Development, has more ideas and innovation for their association development. "In 2017, we accomplished two bold goals: One of the achievements is participation in Creative Expo Taiwan – presentation in a highly professional palace. We prepared for this expo for 6 months and had raised the fund for this event. During the time, extensive media coverage, domestic and international invitations have increased our exposure. The participants experience other cultures deeply and become more self-demanding. Who would think those, who used to grill sausages and wild boar meat, would demonstrate confidently the indigenous culture and craftsmanship in the international Creative Expo in Taiwan?"
To prepare for the Expo, the association held a "Sharing Culture in a Meal" at the Indigenous People's Coffee Shop. They invited young people from eight different countries, including students from Africa, to have cultural exchange while having a meal together. "Optimism is in the nature of the indigenous children. They can play music or share their food with foreigners, but the biggest problem is a language barrier. Also, they have to present themselves in front of people from a cultural background that they are completely not familiar with." Professors from Fu Jen Catholic University are also invited to take part in this event. The event is well organized. The response to this event is enthusiastic. Shortly after that, they won the Golden Award in the cultural and artistic social enterprise category. This award meant another great boost in confidence for the partners.
There have been enough people criticizing all the time in Taiwan; however, there is a lack of people rolling up their sleeves and taking action! With the assistance of Multi-Employment Promotion Program and Empowerment Employment Program promoted by the MOL, people at Taiwan Indigenous Peoples Enterprise and Economic Development Association already overcame various difficulties in front of them to turn a new page for the education and career planning for indigenous people. They hope this startup will help more indigenous people!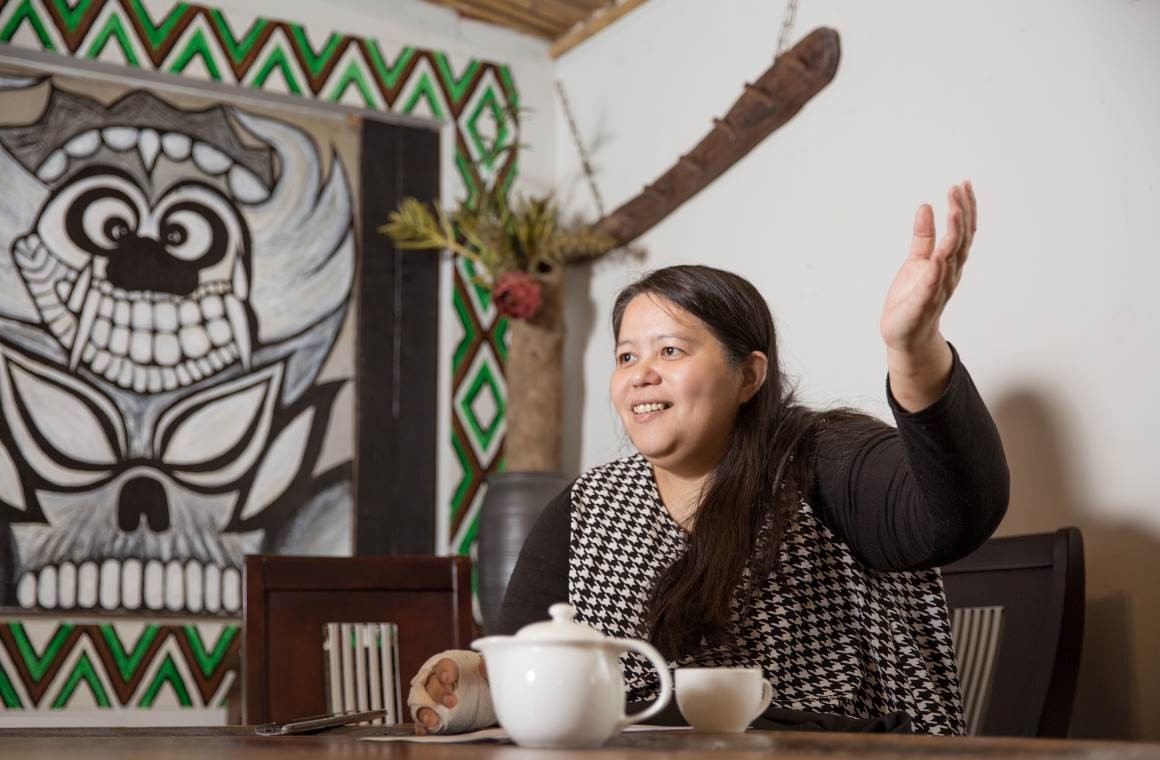 Ms. Ma cheerfully talks about what they have gone through since founded the association and she considers it precious nutrients. (photographed by Lu Jing-Hui)
Taiwan Indigenous Peoples Enterprise and Economic Development Association
Official website: http://vuvu.com.tw/
Facebook:https://www.facebook.com/vuvucompany?ref=hl
Twitter:https://twitter.com/VuVu_Cake
Service Hotline: (02)2647-5011 0938-338809
Order via Fax: (02)2649-0750
Address: 1F., No.13, Ln. 95, Bojue St., Xizhi Dist., New Taipei City