Article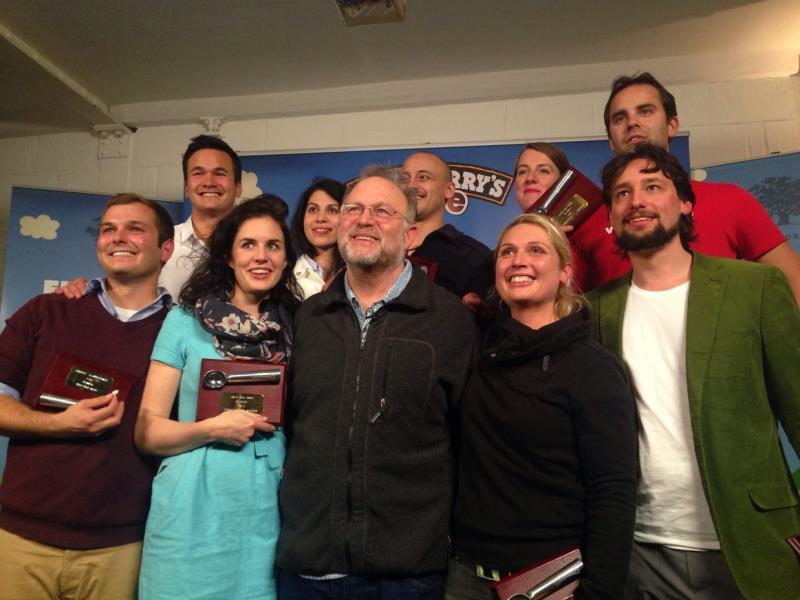 Join Our Core: Inspire the strength to change the world with ice cream
Ben and Jerry hoped to foster their local community's prosperity and expand positive influence through selling ice cream.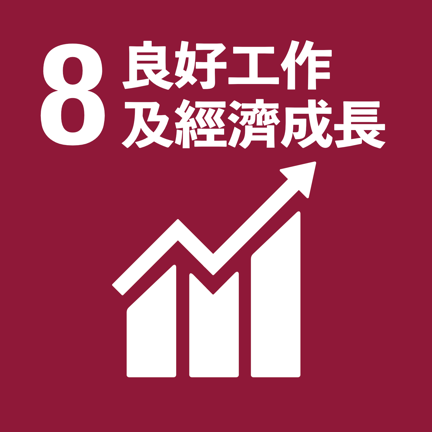 Edited by: Huang Yu-Jung
For many ice cream aficionados, the highlight of the day would be taking out a spoon, opening a carton of ice cream, and scooping it into their mouths to savor the rich, creamy texture before it slowly melts from the tip of their tongues and spreads throughout their mouths. Although Haagen-Dazs is the best-selling premium ice cream brand in Taiwan, Ben & Jerry's, a somewhat lesser known label in Taiwan, is just as prominent as Haagen-Dazs in the US due to its rich and diverse flavors. However, the pride and joy of Ben & Jerry's is actually something hidden inside the ice cream.
Image courtesy of: Ben & Jerry's
Motivated by a Dream
Ben and Jerry were high school classmates who shared the same passion for ice cream. After graduating, they spent 5 dollars learning how to make ice cream borrowed some money and opened their first ice cream parlor in a gas station in Vermont. Thanks to the use of natural, high quality ingredients, Ben & Jerry's quickly became the local hotspot, and branch stores mushroomed around the country. The success of Ben & Jerry's all began with the sowing of a dream inside their ice cream.
Ben and Jerry hoped to foster the prosperity of the local community and expand the positive influence through selling ice cream. They only use milk from happy cows bred by local farmers and purchase ingredients form social enterprises; they also invest their profit in the development of the local community. Their dream is to stimulate prosperity for every link in the industry chain.
Image courtesy of: Ben & Jerry's
A
shoka
1
was inspired by Ben and Jerry's success and started to collaborate with them in 2012 to organize Join Our Core contests, hoping to find people who are just passionate about the world as Ben & Jerry and help young people to maximize their dreams, start successful businesses and exert their influence on society.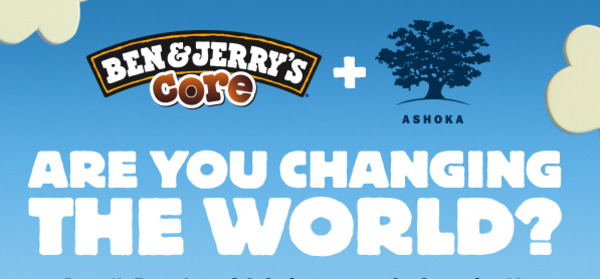 Image courtesy of: Thunderclap
Beginning from 2014, besides European countries Ben & Jerry's also accepted registration from social entrepreneurs in Japan and Singapore to join the competition. Of participants from 11 European and Asian countries, 28 teams made it to the semi-final, where the panel of jurors selected the final winner, which will receive a prize of USD$10,000, visit to the Ben & Jerry's headquarters (return flight tickets included), professional guidance from Ashoka and promotional opportunity to be featured on the printing of hot-selling Ben & Jerry's products.
On October 31, the jury officially announced the champion for 2014. Selected teams come from nine countries: England, Ireland, Denmark, Germany, France, Australia, Netherlands, Switzerland and Sweden, with emphasis placed on various public issues such as food, living, medical care, environmental protection, city and youth development etc. They garnered favorable impressions from the jury with their innovative thinking and effective implementation. ?
Doing Good by Eating Good
In Taiwan, all-you-can-eat restaurants are ubiquitous and most people are well fed and well clothed. The days when people were starving and only ate sweet potatoes to fill their stomachs are gone. However, as oil and raw material prices increase, the global food production cannot keep up with population growth, and the food crisis will continue to exist. Delaying the beginning of a global war over food and minimizing food waste has become the center of attention for many social enterprises.
Food Loop in Germany discovered that German supermarkets throw away over 11 million tons of fresh food every year, equivalent to a waste of £25 billion. In order to improve this situation, the "Products nearing expiry date price reduction system" was introduced to let consumers purchase products that are nearing their expiry date at reduced prices; on the other hand, the supermarkets can also save operating cost and decrease food waste. Through the introduction of Enterprise Resource Planning (ERP) system, the prices of products nearing expiry date are automatically reduced by the system, thus when the consumer or store clerk scan the barcode, they will be able to see the current price effortlessly. In addition, the supermarkets can save the administrative cost of manually labeling price stickers. The Food Loop is expected to implement the "Products nearing expiry date price reduction system" in fresh food supermarkets throughout the world in 2025.
Coincidentally, Food Cloud intends to feed the people in need using millions of tons of food wasted every year in the Ireland. They developed an APP that allows the businesses in the food industry upload information on products that are nearing the expiry date such as quantity and pickup time, and the software will match the information and pass it on to the nearest charity organizations. The notification will be sent according to location and sequence until a match has been made. In doing so, the charity organizations will be able to utilize the resources that would have been wasted and provide more people with food to eat. Furthermore, the food will also find appropriate uses.
Housing for Volunteers
For people dedicated to volunteer service, local accommodation expense is always a major headache. Dot Dot Dot in the UK has noticed this problem and intends to help volunteers to engage in community social services with peace of mind, therefore it has contacted vacant homeowners in the respective regions to propose the innovative concept of "property guardian".
"Dot Dot Dot" interviews volunteers applying for the position of property guardian. As long as they agree to maintain the condition of the house and abide by the regulations such as no smoking or no pets, and provided that they serve community service at least 16 hours every month, they will be able to rent affordable housing at the matched location for £40~75 per week.
Image courtesy of: Dot Dot Dot Property Guardians
Although the conditions of the houses vary, and volunteers may have to bring their own kitchenware, fridge or even require simple painting to make them hospitable, each vacant house will be equipped with hot water, and Dot Dot Dot will assist the volunteers to find inexpensive, quality household essentials as well as help them with tidying up the house. For the homeowners, they not only save considerable house refurbishing and maintenance expenses but also do not have to worry about their empty houses being broken in. Moreover, the social services carried out by the volunteers also help to improve the community environment for the homeowners. For both the volunteers and homeowners, "property guardian" is a definite win-win strategy.
Image courtesy of: Dot Dot Dot Property Guardians
Locals as Key Urban Development Policy Makers
Public participation has not only taken Taiwan by storm, it has also swept over France. In February 2013, the Bulb in Town in France pioneered the first crowdfunding platform in Europe to let local businesses entrenched in financial difficulty such as museums and bookstores to conduct crowdfunding on the platform, where they were given a second chance through the support of the community and people.
Image courtesy of: leblogducommercant
Local bookstore La Libraire des Orgues in Paris could not withstand the onslaught of Amazon and Fnac and found itself in trouble. However, through crowdfunding and the combination of bookstore, cafe and restaurant, it has successfully transformed into a diversified business to keep its doors open. Other examples include successful renovation of museums. In order to show their appreciation to the support of the local citizens through crowdfunding, they also provide dining discounts, museum admission tickets or exhibition invitations to the people. Consequently, the concept has fostered mutualism between business and community to create a positive cycle.
Breaking Energy Monopoly: the Rise of Civil Economy
In the Netherlands, the 80% domestic energy market is monopolized by three major corporations to supply electricity to consumers using fossil fuel. Since the energy suppliers all bear the renewable energy production certificate purchased from abroad, most consumers think that they are using power generated by Mother Nature such as wind power, hydraulic power and solar power. In fact, they are not.
In order to put a stop to this situation, Remco Wilcke, one of the founders of Vandebron came up with a simple idea. Since the Netherlands is famed for its windmills, "Why don't we purchase power directly from the local farmers?" After investigating the concept's feasibility, they pioneered the first online energy-trading platform to let consumers buy electricity directly from independent power producers. All power production resumes on Vandebron such as production method and location are described in detail on the webpage, so that the consumers will be able to make "informed" decisions for their source of energy. At the same time, direct trading on the online platform eliminates the need for a middleman; therefore, the power producers and consumers can sell or buy energy at more reasonable prices, in turn creating a more eco-friendly energy market and civil economy.
Image courtesy of: amsterdamsmartcity
Giving Voice to the Invisible Ones
Over half of the children in the world do not have birth registration records, with unregistered newborns in some regions south of Sub-Saharan Africa reaching 70%. Due to poor local medical care standards, the newborns are not registered at birth and cannot receive vaccinations, causing many of them to come to and leave this world silently. In light of this, Shifo Foundation in Sweden decided to offer these children free vaccination in order to improve their survival rate. Furthermore, the foundation also registered the children's birth and vaccination records in the system to increase the local medical care standard and transparency.
Image courtesy of: Shifo Foundation
Not to be outdone by Sweden, Comeback Industries incubation in Denmark is also committed to helping marginalized youth develop their skills, confidence, and mindset to be successful entrepreneurs. What makes them unique is their approach – rather than regarding these young people as a problem to be fixed, the incubation hub recognizes the value of their alternative perspective and unique abilities. So far, it has successfully improved unemployment among the youths and reduced gang-related crime; at the same time, the unique youths will also become closer to the public by enabling them to get reacquainted with themselves.
Hope Lies in the Hands of Future Generations
Each year's Join Our Core contest attracts numerous aspiring social entrepreneurs to present their best ideas and plans, proclaiming that they will build the next Ben & Jerry's. Join Our Core believes that the future rests in the hands of young people, so they welcome all youths aiming to become the next generation of Ben & Jerry's to tackle the Join Our Core challenge. Let's join the ranks of "dreamers", because this emerging force is set to change the world!
---
1Ashoka: Currently the largest network of social entrepreneurs worldwide. Over the years, it has sponsored over 3,000 Ashoka Fellows across 70 countries putting their system changing ideas into practice on a global scale and cultivating changemakers.
Reference:
Join Our Core-Winner
dot dot dot - UK
Global population growth and food crisis
Food cloud
Foodloop
Bulb in Town
An online marketplace for energy; a world first in The Netherlands-Vanderbron
Buy Your Power From Neighbors- Vanderbron
Shifo foundation

This work is licensed under a Creative Commons Attribution-NoDerivatives 4.0 International License.
Please attribute this article to "Workforce Development Agency, Ministry Of Labor".