Taiwan Local Employment-Social Enterprise Tour
Join fellow social innovators at Taiwan Local Employment- Social Enterprise Tour!
A day before the summit, two social enterprise tours are offered by the local community and practitioners to give attendees an authentic and meaningful experience of social enterprises in central Taiwan as a lead up to "Tomorrow Asia—2018 Asia Pacific Social Enterprise Summit".
Come and see how employment promoting programs created socially valuable jobs that also are profitable in eldercare, agriculture, and eco-rehabilitation, developing into an integral part of Taiwan's social enterprise ecosystem. The whole community is committed to showcasing the best of their practices with DIY activities and in-depth tours that will give attendees a chance to gain insight of how the local social enterprise sector operates first-hand.
Simultaneous interpretation will be provided to facilitate the activities.
(Accupass registration: click here to register)
Event Information
Date: Friday, May 4, 2018
Participants: individuals interested in social enterprises, subject to limited places, 30 people per route
Meeting Time: 8:30 AM, departing at 9:00 AM sharp
Meeting Point: entrance of Taichung Cultural and Creative Industries Park (No.362, Sec. 3, Fuxing Rd., South Dist., Taichung City)
Price: free of charge
 

Lunch included. Light snacks will also be provided at the end of the tour. 
Planned Locations and Itinerary
※Pertinent Information
The tour is divided into two routes (A and B) that start at the same time and place. Please pick and register for one of the routes.
Check in at 8:30 AM and show your e-ticket to the personnel.

Please arrive early at the meeting point so as to not affect the rights and interests of other guests.

This tour is a group activity that requires full participation. Please do not break off from the group and follow instructions.

Simultaneous interpretation will be provided through wireless receivers for the duration of the tour. Contact the personnel to borrow the equipment.

The early summer of Taiwan will be hot. Please dress appropriately, bring water and keep hydrated.

As this tour takes place outdoors, beware of mosquitoes and take extra precautions. Contact the personnel if you need insect repellent or medical supplies.

Please maintain your personal safety at all times. The organizer has made arrangements for basic travel insurance for all participants.

The event organizer reserves the right to change or cancel this itinerary at any time. In case of unaddressed issues, please refer to the official event webpage for the latest announcements.
Route A: Changhua Program – Minority Employment, Food & Agriculture
About the Social Enterprises
※Joyce-Agape Association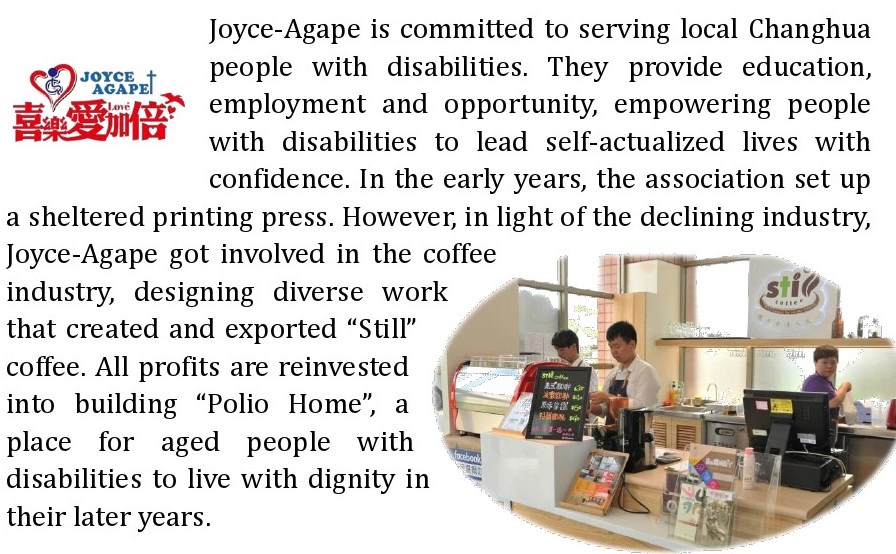 ※Ching-Shui Yan Eco-creative Association
Route B: Nantou Program—Ageing, Food & Agriculture, Minority Employment
About the Social Enterprises
※Long-Yan Lin Welfare Association
※Che-Cheng Recreational Farm Development Association