Statistics show that the male to female ratio of homeless individuals in Taiwan's major cities is about 10 to 1. However, there are virtually no institutions dedicated to helping and housing homeless women. Many homeless women have no choice but to bear the risk and take shelter along homeless men or stay out of sight in society, which prevents them from being noticed by various institutions. Therefore, Taichung City Good Samaritan Women Concerns Association decided to create a home for homeless women. Their belief in this mission continues to this day.
Dedicated to Helping Homeless Women
In 2003, Sister Liu Mei-Miao and the sisters of Maryknoll Convent were handing out food to homeless people near the Taichung Railway Station when they realized that providing a meal is not enough to change a wandering soul. They also discovered the plight of homeless women, who are the most helpless among disadvantaged people. As a result, Taichung City Good Samaritan Women Concerns Association was created, by helping homeless women and providing humanitarian cares, these women could establish confidence and get their lives back on the right track.
The shelter was originally established near the rear exit of Taichung Railway Station. However, when the landlord decided to take back a part of the building for private usage, the Association began a four-year Purchase a Home fundraising event. With the support of resources of diverse origins and support from the public, the Association purchased a three-story building and renovated it into the current Home of Solace, which officially run in April 2015.
The current CEO of the Association Yang Li-ping said, "Over the years, our objective has never changed. As long as we noticed a need in society, we respond to it. We take in disadvantaged destitute women, and women under special circumstances, including victims of domestic violence; women with mental illness, intellectual disability, unwed pregnancy, and drug or alcohol addiction; and former inmates. Our assistance is not limited to homeless women. If a woman is in need, we will lend a helping hand."
Women who have been out on the streets for a long time all have physical or psychological conditions to some extent and are often emotionally closed off. Social workers in the Association take the initiative to contact them every day. It often takes at least one year to get these women to lose their guards and willing to trust social workers so that we are able to provide further services. This way, they can trust people again, and make changes and get a new start.
"In the early days, we took the initiative and spent a long time helping homeless women. After years of effort, we've built up a network with the police, hospitals, prisons, and the Social Affairs Bureau in the greater Taichung area. Now, when there's a woman in need, these units will contact us as soon as possible. This reduces the time of wandering on the streets and at the same time increases the chance of reintegrating into society." Yang Li-ping pointed out that for the past 16 years, the Association has been striving towards this direction. Even though they have no direct cooperation with the public sector, they have somehow become a supporting unit. When these public institutions discover homeless individuals in need, they will contact the Association and refer them to their care.
Care for Homeless Women From Their Hearts
Most social welfare focuses on one specific group. Nevertheless, the homeless population is a common issue that could be overserved in urban areas. In recent years, the Association has focused on helping destitute women. This includes unwed mothers, former inmates, drug or alcohol addicts, and disabled individuals. Every case is handled by 2 social workers, and this arrangement is something hard for most social welfare institutions to achieve. Social workers encounter all kinds of complicated issues and have to learn how to deal with them. They need to offer psychological counseling, provide medical referrals, and help subjects apply for disability cards or low-income subsidies. In addition, they might even run into situations where they have to handle pregnancy care, miscarriages, or preparations for labor. Over the years, the majority of the Association's funds are from fundraising and donations, which are not stable. Nonetheless, Yang Li-ping believes that even if they are short on funds, they have to continue doing what is necessary. She said, "Because we are supported by our faith, our starting point is always to understand what people need, without thinking about the cost. We get people on-board first and look for the funds later. Amazingly, we always happen to have just enough funds. We believe that every individual is a valuable life. As long as we can help people, we will keep on."
Running Workshop with Assistance from Multiple Employment Promoting Project
Even though they don't have abundant funds, the Association believes that they should do more. Therefore, they found another space to open the Teresa Workshop, which offers courses on handmade soap, knitting, beadwork, and decoupage. At first, the point of the workshop was neither to make more money from the crafts nor train homeless women in the vocational job. It was to help them slowly regain confidence through these activities, and convince them that they can complete something well. She said that this is a process of self-discovery, healing, and cultivating the right attitude that can help them to reintegrate into society.
The Association later applied for assistance from the Multiple Employment Promoting Project (MEPP) of Workforce Development Agency (WDA), Ministry of Labor, which provided subsidies for the Association to hire a project manager and two recruits. The project lightened the Association's burden, and the new recruits proved to be very helpful. The project manager helped with administrative tasks and looked for volunteer teachers to open courses. The new recruits promoted and marketed products made in the workshop. Throughout the process, they also became companions to homeless women. This significantly influences their state of mind and allows the social workers to focus on resolving their other needs.
The Association operated the workshop step by step, and the resources provided by WDA gave it an impetus to move forward. Products require brand position and distinctive characteristics in order to compete in the market and be accepted by consumers. With the help of a professional designer recommended by the consultation team of WDA, the Association has come up with a direction for a brand position, and also designed a logo. Yang Li-ping expressed gratitude towards WDA for providing them with resources and opportunities for the workshop to develop its own characteristics and secure a position in the market.
Yang Li-ping says that WDA put great care into advancing the MEPP. The project has offered job opportunities for the disadvantaged, middle-aged, elderly, or unemployed, and improved the quality of service that the Association's social workers could provide. There are supervisors visit monthly to check on how the projects are being implemented and provide timely resources to help institutions move in their intended direction, thus creating mutual benefits.
In the future, the Association plans on using storytelling in their marketing for the workshop. By that means, it is hoped that the public can have a better understanding of the background of homeless individuals, listen to their stories, and erase negative impressions. She said, "The majority of homeless people have had a rougher life than most. If someone can reach out and support them when they are in a bad situation, it can give them the chance to stand up again." Faith keeps them dedicated to this job, she said. It is not about a sense of achievement. Every interaction with these homeless women feels like planting a seed. The hope that they will continue to grow and even blossom one day makes it all worthwhile.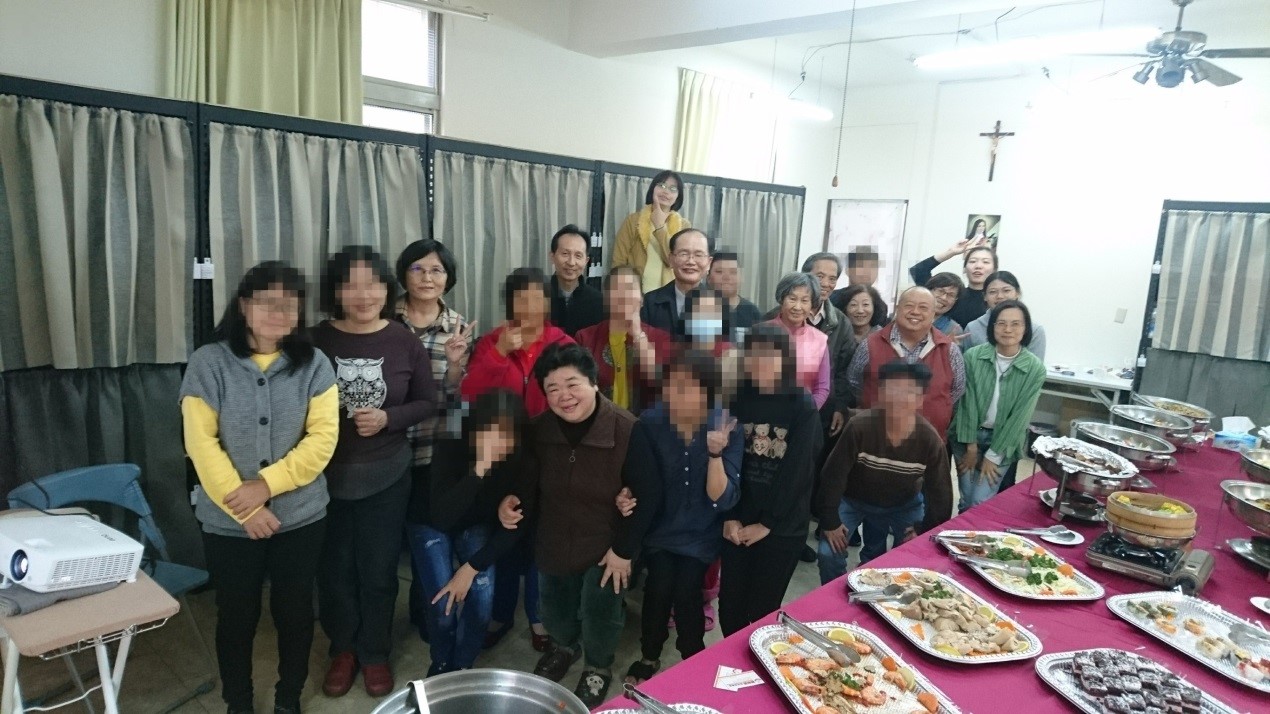 ▲Taichung City Good Samaritan Women Concerns Association provides homeless women with a roof over their heads. CEO Yang Li-ping leads social workers in their effort to contribute selflessly with faith and conviction.
▲Taichung City Good Samaritan Women Concerns Association established Teresa Workshop, which allows homeless women to find a sense of belonging and self-achievement via making handicrafts.
▲Taichung City Good Samaritan Women Concerns Association is like a big family where homeless women can find warmth and motivation to reintegrate into society.
Case Story - Multiple Employment Promoting Project
Interviewee:
Taichung City Good Samaritan Women Concerns Association - Yang Li-ping
---

This work is licensed under a Creative Commons Attribution-NoDerivatives 4.0 International License.
Please attribute this article to "Workforce Development Agency, Ministry Of Labor".