Organic Farming Brings Prosperity
"Growing quietly in the background, mugwort livened up the formerly desolate community and warmed the hearts of many." With her love for the land and her hometown, Huang Yu-chin - executive secretary of the Gaoyuan Community Development Association - leveraged her creativity to not only successfully transform the agriculture structure of the Gaoyuan community but also marketed the products. This achievement impressed local farmers, and its derived income could go to charity.

 
The Agriculture Transformation of Community is Taking Place
There is a significant Hakka population in Taoyuan City. Especially Longtan District, it is the central area of Hakka settlements. Among all sorts of Hakka settlements, Gaoyuan Village is located on the southern edge of Longtan District, as on the highest plateau. It is a very typical rural Hakka community. "Don't marry your daughters to Tongluochuan (old name for southwest Longtan). It takes half a day to fetch a drop to drink. "This saying sums up the characteristics of the Gaoyuan Community and highlights the age-old issue of water shortage. Because there is no river run through the area, the land is somewhat barren.
In the past, locals would plant crops that can survive under drought tolerance like tea and daylilies. Unfortunately, a later influx of imported tea leaves meant the sudden loss of their economic mainstay. To find a new direction for local farmers, Huang Yu-chin - executive secretary of the Gaoyuan Community Development Association - began promoting the cultivation of mugwort, and even developed a product line of mugwort. Her efforts livened up the community and brought it into a whole new light.
Mugwort is commonly used in the Hakka community. It can tolerate many soil conditions and can be harvested all year-round. Before the executive secretary promoted its various uses, mugwort was mostly used in dishes. "Mugwort is great! It's good for the body and the environment." Huang Yu-chin's eyes always light up when talking about this "emerald among medicinal herbs." Since it's such a wonderful herb, she has made it her life's work to develop ways to use it properly.
Since 2007, after some brainstorming by Huang Yu-chin and the villagers, the decision was made to cultivate mugwort, which both represents Hakka culture and can make up the insufficient portion of the economic benefits created by other crops. The community has developed many products made from mugwort, including mugwort incense sticks, mugwort incense coils, mugwort, and lemongrass soap, mugwort-stuffed pillows, a collection of mugwort souvenirs, as well as clothes made of mugwort-dyed fabric. They have also created innovative mugwort tea, wormwood cakes, and steamed mugwort buns. Thus, they have fully utilized practical functions and expanded business opportunities by producing processed mugwort products.
To promote their mugwort business, the Association made plans to have everything in place for production as soon as possible. To do this, Huang Yu-chin applied for the Multiple Employment Promoting Project (MEPP) of Workforce Development Agency (WDA), Ministry of Labor, through which she cultivated many recruits to the cause. Regarding her intentions when applying for the project, she said, "I want to empower partners that are ambitious and interested in what we're doing. Together, we study, develop, market, and promote mugwort so that mugwort products can bring in more money and allow us to repay society."
Middle-Aged Employees Regain Confidence
Huang Yu-chin got many capable helpers through MEPP. Except for the project manager, six of the staff hired via the project are all middle-aged, elderly, or women re-entering the job market. Every one of them has their own story.
One of them is a woman in her fifties. For years, she worked as a seamstress in a factory, but the factory closed due to an economic downturn. Losing her job in middle-age was hard to bear. Luckily, she found a job at the Association's Moxa Studio through MEPP. On the production line, her performance is not only being punctual but also her excellent and extensive sewing experience utilized in the current position taken from her previous job as a seamstress in a factory. She made many designs for Moxa Studio, adding pattern variations to the Hakka floral cloths, shirts, and vests made with mugwort-dyed fabric.
Another recruit hired through MEPP got unemployed out of babysitting. She gradually lost competitiveness in the workforce, and by the time she wanted to return to the job market, she was turned down everywhere due to her age and severe blank experience. Huang Yu-chin said warmly, "This job acquainted her with the mugwort plant. After a year of working at the Association, and familiarizing herself with teamwork and how to communicate with customers, she decided to establish a nail salon in her hometown of Miaoli County. She also sells mugwort products in her salon shop, showing her endorsement and love for mugwort."
Huang Yu-chin never thought that she could show the benefits of mugwort to the public, and simultaneously help employees by improving their lives. She is proud and gratified to see how these employees use their job at the Moxa Studio to transform their mid-life crisis into great opportunities.
However, the employee that impressed Huang Yu-chin the most is a local woman. "In rural areas like this, if you don't know how to ride a scooter or drive a car, you basically have no way of supporting yourself." The employee she speaks of was unemployed for a long time because she lacked these two skills.
After joining the Moxa Studio through MEPP, this employee became acquainted with mugwort, understood how to use mugwort and make products, and learned how to market and promote mugwort products. She became the best salesperson in the workshop and a valued employee, completely overturning people's impression that she was unskilled. It was thanks to this project that she was able to do her best.
Take from the Land, Repay to the Society
MEPP expanded the reach of the mugwort industry of the Gaoyuan Community, not only helping the middle-aged, elderly, or women re-entering the job market to find ways of supporting themselves, but also developing more business opportunities. Huang Yu-chin stated firmly that since their doing is taken from the land and society, half of the profits are given back to the public. The Association uses part of its revenue to provide meals for children, teens, and the elderly, sharing their hard-earned spoils with those in need.
To Huang Yu-chin, what's the most valuable and meaningful is that their mugwort industry brings the community together, and conducting constant land restoration at the same time. Before mugwort can be planted, the land has to be purified. Through MEPP, she convinced local farmers to participate in contract farming of the agroecological restoration plan, which involves the guaranteed purchase of crops grown with natural farming practices instead of conventional farming. At first, her proposal was questioned by many farmers, but she gradually won their approval. "They witnessed our dedication, and then we joined forces. Everyone knows that we have to protect this soil and safeguard our homeland."
Next, she will continue to lead the Association in promoting organic farming, and the restoration of native plants in farm ponds to facilitate aquaponics. She also has plans to develop eco-tourism, hoping to increase job opportunities in the community, and encourage young farmers to return home. Her goal is for Gaoyuan Community to develop into a village of "low-carbon emissions, a friendly atmosphere, and organic farming." By combining the forces of the entire community, taking care of local villagers, and restoring and reflecting upon the land, Gaoyuan Community Development Association revitalized its formerly barren Hakka village. Now, mugwort is grown all over the community. In the future, the Association will continue to market and promote the plant to attract more tourists, and encourage people to develop a closer bond with the land.
▲Executive secretary Huang advocates locally grown, produced, and sold products, bringing a brand new atmosphere to Gaoyuan Community.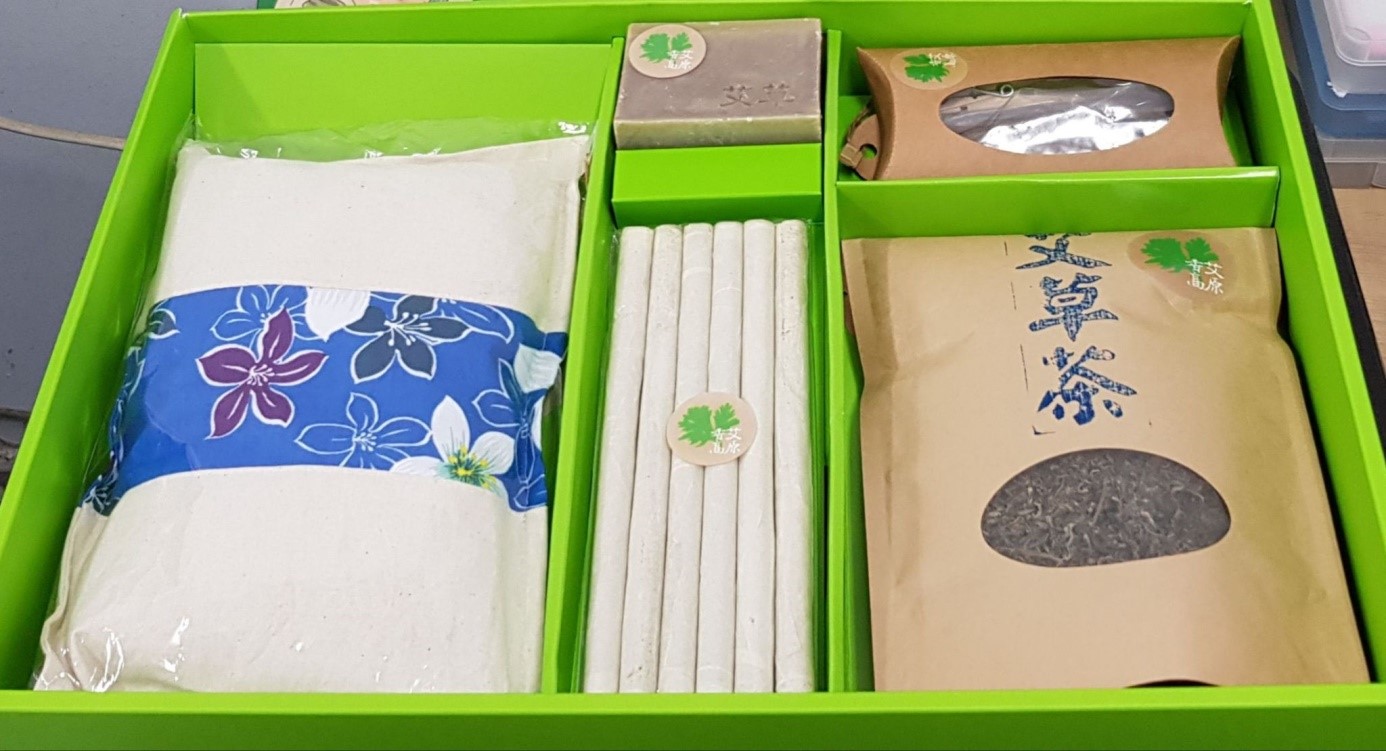 ▲The mugwort gift set also includes all kinds of mugwort products perfect for self-use or giving as a gift. The products can also greatly boost the profile of mugwort.
▲Mugwort is grown all over Gaoyuan Community which attracts many tourists.
Visitors can also come closer to the land through making their own steamed mugwort buns.
Case Story - Multiple Employment Promoting Project
Interviewee:
Gaoyuan Community Development Association in Longtan District, Taoyuan City - Huang Yu-chin
---

This work is licensed under a Creative Commons Attribution-NoDerivatives 4.0 International License. 
Please attribute this article to "Workforce Development Agency, Ministry Of  Labor."