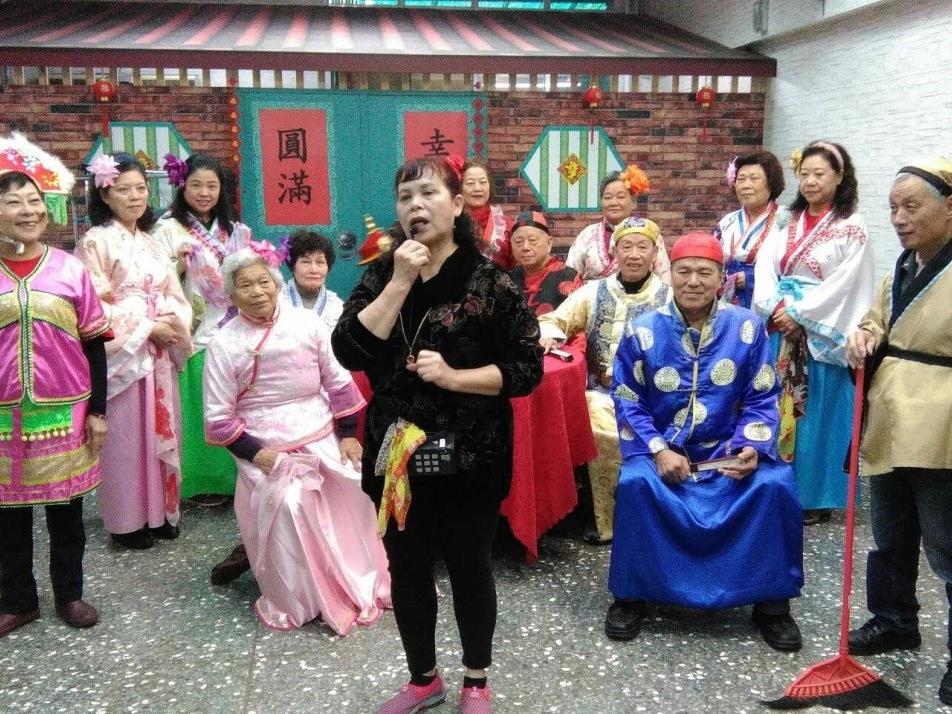 It's lonely to walk without the company. Yet, if people try to join forces, they conquer all. Wu Li-mei has served as the director of the Keelung City Nuan Nuan District Guogang Community Development Association for twenty years. Talking about Guogang's experiences in cooperation with five other communities in Keelung City, she said, "When we tried to promote the community's industries, we found that one community working alone showed little strength. However, if the six units working together, that's a different story."
Six Communities Working Together to Maximize Their Strengths
Keelung City Nuan Nuan District Guogang Community Development Association was founded in 1993. Wu Li-mei said, "When I first joined the association, I served as the executive secretary for four years. The director at the time was often abroad, the chief of this village showed little interest in the community care that we were supposed to do, and I had no experience in community development or elderly care. The association was basically idle for a few years." Then, unexpectedly, she took over the position as its director. Perhaps motivated by responsibility and her perfectionism, she felt that she had to achieve something.
At first, she asked for resources for the city government. She began by setting up a community care center in which provided free meals for the community's senior citizens. To her surprise, the seniors would be uncomfortable with the idea of "getting free meals for nothing", which stopped them from receiving the meals. The association later decided to charge a tiny fee of NT$20 for each meal, which finally opened their minds to accept the free meals.
On Submitting proposals, Wu Li-mei basically had to start from scratch. She took the initiative and applied for any resources that the association could work with, from community afforestation and landscaping, Environmental Protection School, total community construction, and military village activation, to projects of sponsors from private corporates. The experience they accumulated over these years of hard work made Guogang a model community in Keelung. The community received excellent grades in all kinds of evaluations.
Wu Li-mei pointed out that many seniors in the community tend to prevent themselves from participating in community events out of being shy or didn't get used to the bustle. She handles things by assigning tasks to the people suitable for certain tasks or positions. For example, some people are passionate, but he/she might need adequate skills. In that case, she puts people in a group so that the talents can be mutually enhanced. To some seniors, it's important to emphasize their strengths to make them feel valued, and give them a sense of achievement. Once you build up their confidence, they will yearn to leave the house, interact with people, and even help others.
Building Up A Resource Sharing Platform
With the same principle in mind, she tried reaching out across Keelung City's districts like Nuan Nuan, Zhongzheng, Xinyi, and Zhongshan to join forces with Zhongxing, Pingliao, Renshou, Dongming, and Xinjian communities. Their relationship at that time was already friendly, and the six communities decided to apply for the Empowering Employment Program (EEP) of Workforce Development Agency (WDA), Ministry of Labor. Together, they sought to construct the Senior Community Sextuple Platform - Perennial Keelung and establish a joint brand. Synergy made their products diverse, and joint marketing allowed them to integrate more resources.
There were some communities that took on many projects independently in the past. However, their efforts slowed down and faded away after a few years due to a shortage of support and gradually waning passion. Mutual encouragement is achieved by joining the forces of six communities. They can share information, provide transparent information of arrangements of funds, and mutually support each other's events, fundamentally sharing both resources and responsibility. That is the secret of long-term community development.
Currently, the six communities are implementing the EEP together. They have hired 17 recruits and 3 project managers in total, most of them are residents. This way, they can create local job opportunities and reinforce unity. When they first started hiring recruits, said Wu Li-mei, those hired through the program were given tasks like helping the elderly, making meals, and document processing. This was to increase the employment of middle-aged and elderly people. Later, when implementing the program, they thought about assigning the recruits to learn additional skills. The association used training, companionship, and counseling funds to encourage recruits to obtain class C certification in Chinese cuisine. This allows recruits to improve their skills and develop a sense of responsibility towards the program.
Take Guogang for example. First, they had women in the community teach everyone how to make fish balls, rice dumplings, and Chinese New Year meals. Then, they hired culinary instructors to teach Western cuisine. After recruits of the Empowering Employment Program complete these courses, recruits then had the chance to become seed teachers and further served as the senior citizens' mentors. Thus, elderly care and improvement resident's mental and physical health were accomplished simultaneously. These positive influences on the community also nourish the organization and make it more complete.
Integration Between Different Ethnic Groups in Guogang
The history of the Guogang Community began in the Qing dynasty when cargo was shipped along with the Nuan Nuan river port and Keelung River. At first, the community only had five households. In 1949, the KMT government retreated to Taiwan, bringing in countless soldiers from the mainland. In order to avoid potential fires to break out, the troops moved from Keelung Harbor to a temporary settlement site in Gurgaon. After the war died down, many of these soldiers, were currently not on duty, and then got jobs from the government and settled permanently. That is why Guogang has many dormitories for police, teachers, water companies, fisheries, and local government units. The next generation needed education, so all-inclusive education facilities were established in the area. Starting from 1967, a public market, telecommunication office, post office, and power company all moved into the area, making it the first model community of Taiwan, by means of its comprehensive and complete facilities.
Military personnel, police, officials, and teachers weren't the only residents. In the 1990s, large hillside communities developed, which attracted many young families to move into the area. In recent years, immigrants have begun moving to the area through marriage. The repeated integration of different ethnic groups has made the Guogang community more diverse and expanded new horizons for its development.
Wu Li-mei herself is an example. She said jokingly that she was "tricked" to stay in this place. Her hometown is in Yilan County, not Keelung. She had studied and worked in Taipei, and when she was newly married, she was informed by many real estate ads saying that Keelung offered cheap residence and is at 10 minutes away from Taipei. After visiting a house she liked, she moved to Keelung. Little did she know that after getting married, she would have to rush to Taipei every morning as soon as she wakes up. She barely had a chance to eat at the noodle diner downstairs from her building.
Afterward, her child enrolled in Nuanjiang Elementary School, and she began doing community service. Only then did she truly get to know the place that she had called home for 10 years. She went from being head of the PTA to working in the Community Development Association. Even today, having retired from the position of director, she continues to help the association with various tasks. She said that working with the other five communities in Keelung to implement the EEP combined and maximized each community's strengths. This is very beneficial to the communities.
Throughout her years working at the association, she witnessed the local elderly people devote themselves to the community. She saw how they are identified with the land, their love for the community, and their sense of belonging. Without the selfless dedication of these residents, it would have been hard for her to help the community develop into its current state all alone. Past civil movements for the reconstruction of Nuanjiang Bridge and the protection of glacial potholes also illustrate the residents' voluntary care for the community. Wu Li-mei believes that if these experiences can be shared among neighboring communities who are working together, then the region can grow as a unit, and more unexpected surprises might be in store. She will continue to work hard towards this goal.
▲Keelung City Nuan Nuan District Guogang Community Development Association has been very active in recent years, boosting residents' physical and mental energy.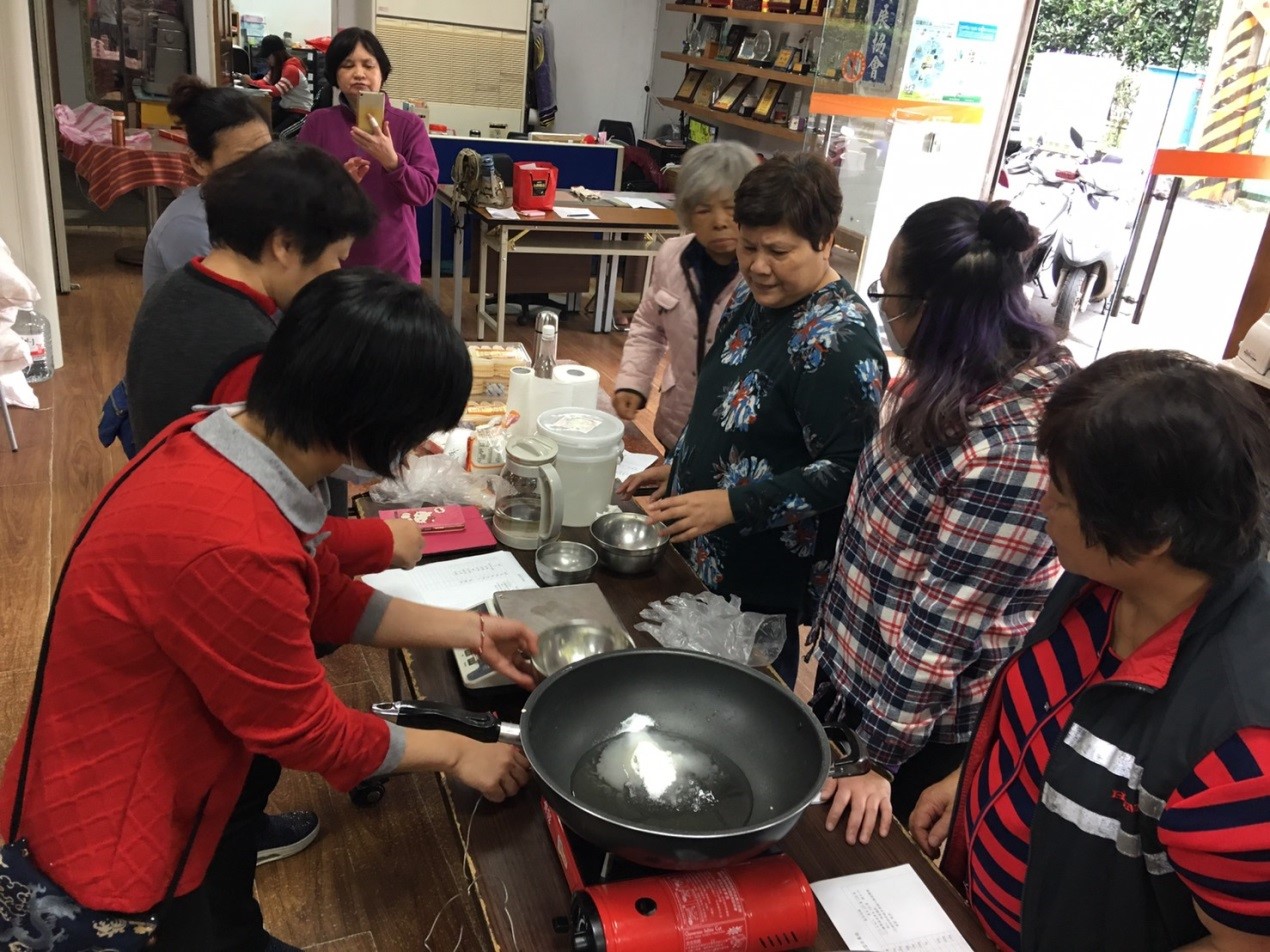 ▲Guogang Community Development Association applied for the Empowering Employment Program of Workforce Development Agency with five other communities in Keelung City. Employees of the Empowering Employment Program worked hard to refine the living quality of these communities' residents.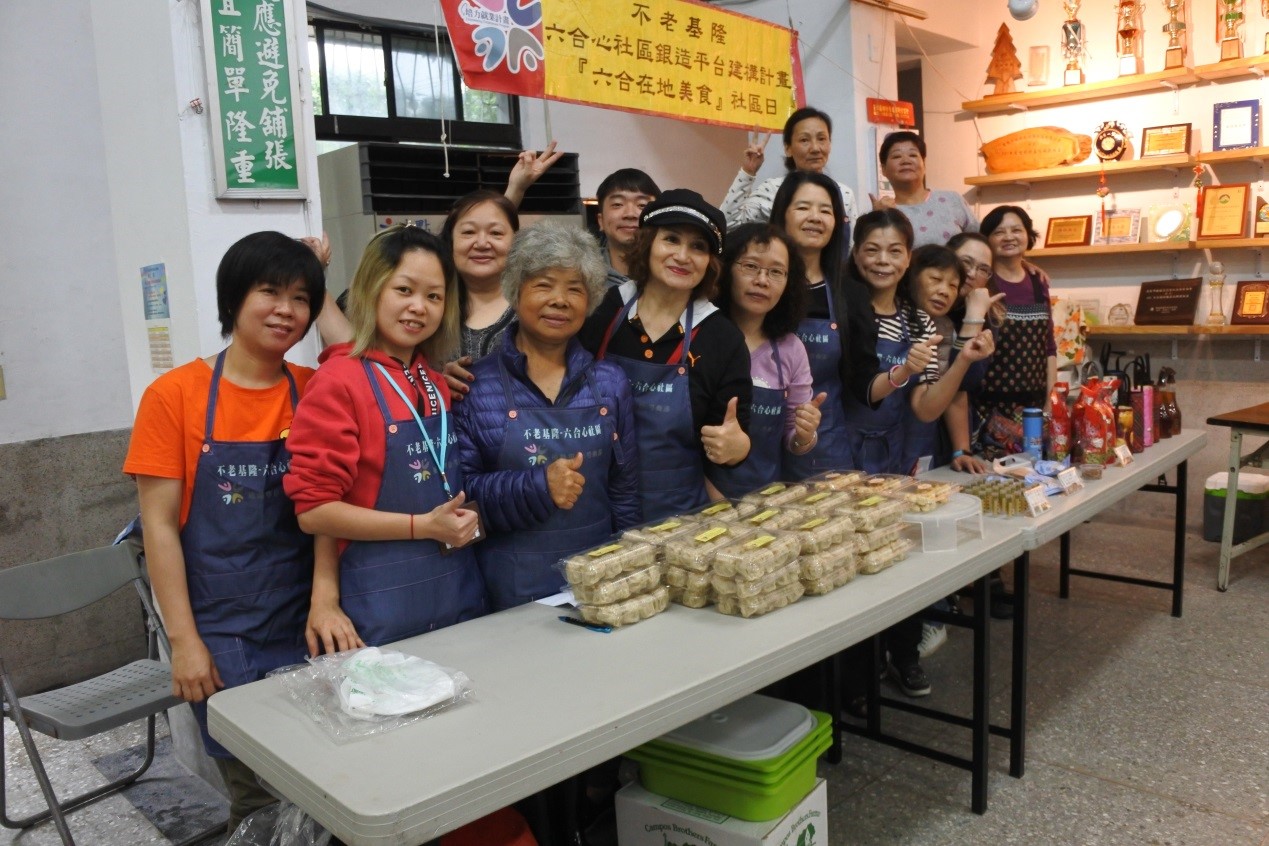 ▲The six communities of Guogang, Zhongxing, Pingliao, Renshou, Dongming, and Xinjian constructed the Senior Community Sextuple Platform - Perennial Keelung as a joint brand.
Case Story - Empowering Employment Program
Interviewee:
Keelung City Nuan Nuan District Guogang Community Development Association - Wu Li-mei
---

This work is licensed under a Creative Commons Attribution-NoDerivatives 4.0 International License. 
Please attribute this article to "Workforce Development Agency, Ministry Of  Labor."