GOAL 11: Sustainable Cities and Communities
GOAL 11: Sustainable Cities and Communities
Is encouraging forestation the way out for the timber industry in Taiwan? Is it genuinely eco-friendly to avoid cutting down trees? Forester Chan Yi-Chou and seven like-minded partners founded the Nantou County Yunglung Forestry Cooperative to find an answer for forestry in Taiwan through environmental education.
A Sustainable Forest Requires Proper Management
The cooperative was founded in 2013. Every member, including Executive Secretary Chan Yi-Chou, is a forester or sawmill owner in Nantou. Most of them shouldered the incredible responsibility of "foresting land for the nation" during the 1980s when government policy encouraged foresting. More than 20 years later today, forestry in Taiwan is on the decline, and it seems like eco-friendliness needs to be redefined.
Yi-Chou said, "Back then, the government encouraged forestry and subsidized foresters for 20 years, but the subsidies each year were based on the survival rate of the trees. Everyone was only concerned about trees' survival, and in the end, overpopulation ensued. Sunlight couldn't reach the earth beneath the trees, grass couldn't grow, and there was no vegetation, so when it rained heavily, the water couldn't go into the earth for the trees to absorb. Overcrowded forests cannot retain water, making landslides and mudslides more likely to occur. The inappropriate forest management brings piles of driftwood in the estuaries whenever a typhoon visits."
In the past, forestation and avoiding to cut down trees were seen as environmentally friendly, but forestry without proper management is a burden to the environment. Yi-Chou added that, when Taiwan was under Japanese rule, they had successful forestation in Alishan and Xitou. Their forestation policy was the same as the policy in Japan today, with proper management that requires cutting down a certain amount of trees periodically and leaving only a portion to help the forest thrive. The other trees chopped down were just the cost of forestry.
"The current situation is like encouraging births without providing proper ways of raising children. Encouraging forestry without proper management will lead to a mess." The government provides subsidies for 20 years, says Chan Yi-Chou, but for foresters, that means that they will face a tough choice in 20 years: Do they chop the trees down and re-apply for subsidies? Or do they stick to planting and keep taking care of these trees? For example, the felling cycle of the native species Taiwan incense cedar is 50 years, so there are 30 years to go after the subsidized period ends. Without income, management becomes an issue.
Yi-Chou was born into a farming family and grew up on a farm. After serving in the military, he returned to his hometown to plant tea, while his father invested in long-term forest management. The family had 30 hectares of forest land. The plan was to cut down trees in rotation every 15 years. They felled two hectares the first time, building a three-story house for living on their land, but in the following year, the price of China fir dropped. Thus, they were unable to handle the rest of the area and had to rely on income from tea farming.
The broken industry chain of the timber industry has also impacted the development of forestry in Taiwan.
The Loss of Forestry Industry Chain in Taiwan
From 1961 to 1981, large amounts of Taiwan's export earnings came from its forests, including China's fir and primary forests. But since 1981, logging in primary forests was banned, cheaper plastic replaced wood as the material for making many everyday objects, and petrochemical industries began to flourish. In the past, wood was generally required from manufacturing to construction, for example, plate mold used in architecture and columns for building. Nowadays wood has been widely replaced by steel and concrete.
The forest industry in Taiwan began to shrink and fall into depression. At the same time, due to rising wages in Taiwan, many timber factories moved to China, including export-oriented factories. This industry migration broke the entire industry chain! Currently, it is nearly impossible to find domestic timber on the market; local wood only makes up 0.5% of the market share. There is no way for wood harvested from forest thinning to circulate in the market, so they end up being made into formworks. Many trees have a beautiful grain and can be made into floors and materials for interior decoration, but due to the broken industry chain, they can only be used to make formworks.
Timber trees native to Taiwan include the Taiwan red cypress, Taiwan yellow cypress, Formosan michelia, cryptomeria-like Taiwania, and Taiwan incense cedar. In the past, most foresters that rented government land planted Japanese cedar, but their competitiveness suffered when Japanese cedar was imported from Japan at a better price. Currently, much of the 50 thousand hectares of private land are used to grow Taiwan incense cedar and foreign mahogany. Japan doesn't produce these types of wood so that they can fetch a much better price. But even if the species is adequate, without management and a repaired industry chain, there is no way to sell these timbers.
From 1971 to 1986 was the peak of the timber industry. There were a complete industry chain and sawmills with drying and preservation equipment throughout areas like Chiayi and Fengyuan. Yi-Chou's hometown Shuili alone had over ten mills in operation. Nowadays, only two mills in Taiwan are equipped with complete settings. And the rest divide lumbering, drying, and preservation between different factories. Besides, shipping timber between these factories increases the cost, making it harder for the industry to improve.
Foresters Form a Cooperative
In 2013, the government encouraged foresters to form a cooperative. This group of people has also hoped to improve the status of the forest industry in Taiwan through unified strength. Still, it is difficult for a private cooperative to establish an industry chain because a lot of capital is required, and the lack of channels is problematic. After the organization was established, the first order of business was education. In recent years, the union has actively conducted environmental education courses at schools, first imparting teachers the concept that "logging isn't necessarily bad for the environment," and then teaching children about sustainability.
In 2015, the cooperative began applying for the Multiple Employment Promoting Project (MEPP) launched by Workforce Development Agency (WDA) . In the first year, the group was still trying to find its feet and ran into some obstacles with human resources. They were eager to fill vacancies but overlooked the importance of hiring the right people for the right job. Some of their recruits had backgrounds that weren't really what the cooperative was seeking, lacking basic knowledge and concepts of environmental education. Often, their contract was due, and they left by the time they were finally trained. In recent years, Yi-Chou and his partners have been changing course, re-examining the way they recruit people, and training recruits to have the ability to teach children about environmental education. Also, he noticed that many forestry graduates have a hard time finding jobs except for public sectors. In 2018, the cooperative recruited a forestry graduate. When his contract with the project expired, they hired him to stay on as an employee. His professional knowledge and solid training made him the perfect candidate to train recruits. Currently, the cooperative has three project recruits and one retained employee. Yi-Chou said, "We divided up the labor at first, but we later discovered that these recruits obtained a great sense of achievement from taking part in development, production, and marketing." The cooperative gradually learned how to manage people through experience, and hopes to find a project manager whose values are in line with theirs.
MEPP Helps Foresters Generate Income
Forestry is a long-term business. Unlike short-term cash crops, it requires professional and costly management such as thinning and pruning, which is hard for the average private forester to keep up with, leading to insufficient pruning or less professional work. Through MEPP, the cooperative hires recruits to help foresters with pruning buys the pruned branches at a reasonable price, and then designs, processes, and markets products made with these branches. They also use these materials in environmental education courses of elementary schools, even organizing a nationwide Love My Home Creative Competition that invited participants to use their imagination and create works that reflect their hometown with natural materials from the environment. The competition was a success and will be even bigger next year.
Branches leftover from pruning can increase foresters' income, help to cover some of the labor costs of pruning and create a model that can be replicated. If this model is successful in Nantou, there's a chance to promote it in other areas, not only to take care of foresters but also to create job opportunities. After collaborating with the MEPP, this is a significant step towards an ideal outcome.
Commercial forests are different from primary forests. With commercial forests, foresters have to nurture them and use them; planting requires management and usage. If forestation is implemented without overall planning, Taiwan will once again lack usable timber after 50 years. Over the past six years, the cooperative has promoted concepts of forestry, gradually changing the government's mind, and further adjusting their model of diversified forestry operations. Forestry is more than forestation, says Yi-Chou. It is also about water and soil conservation and education. More than just a business model, forestry is a public good. Green mountains, clear water, and clean air are all closely tied to forestry. Maintaining forests well is a costly task. In the future, the cooperative will continue to create diverse income streams, help foresters to develop various products with materials left from pruning, and continue to promote the right forestry concepts, all with the hopes to cooperate with the government, reestablish Taiwan's timber industry chain, and make possible sustainable operations of forestry in Taiwan.
▲Yunglung Forestry Cooperative recruits people to help foresters prune branches, and then uses the branches to design process and market products.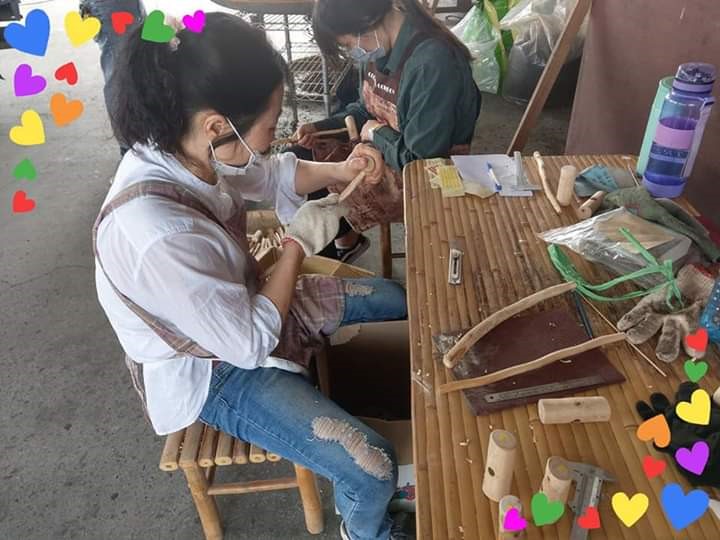 ▲Yunglung Forestry Cooperative buys pruned branches from foresters at a reasonable price and then uses the branches to make products to sell.
▲Yunglung Forestry Cooperative organized the nationwide Love My Home Creative Competition, where participants used natural materials from the environment to create works that connect with their hometown.
Case Story - Multiple Employment Promoting Program
Interviewee:
Chan Yi-Chou - Nantou County Yunglung Forestry Cooperative
---

This work is licensed under a Creative Commons Attribution-NoDerivatives 4.0 International License. 
Please attribute this article to "Workforce Development Agency, Ministry Of  Labor."