GOAL 8: Decent Work and Economic Growth
GOAL 8: Decent Work and Economic Growth
Located in Baoshan Township of Hsinchu County, Hsincheng community, known as "Xincheng Fengtang Leisure Park," is 20-minute away from the downtown area, surrounded by natural forest possessing an opposite feeling to the urban area.
It's Literally A Treasure Mountain
Established in 1994, the Association manages 1,300 populations, one-fifth of seniors above the age of 65. With a loss of human resources and the sugar industry's fading, this community was left in a shadow. Eventually, the organization worked it through. "The sugar industry once played a significant role in Baoshan Township because it was a sugar cane production place. The sector fell; however, the manufacturing system is still here. With a well-blessed natural environment, to restart is not tricky. Gazing at the tourist groups, the CEO Ling-feng Wang said with ease and confidence. Nevertheless, to engage in the Association is like the other side of the moon.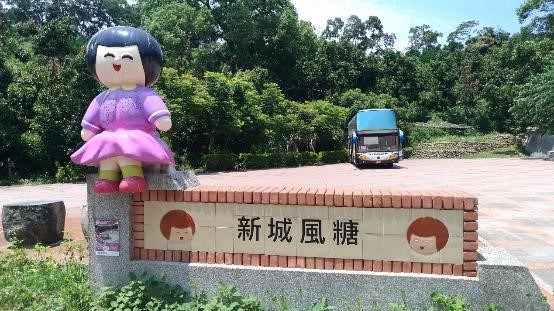 (Photo Story) Featuring its characters, the Park embraces both nature and endless crowds in holidays. Even on weekdays, the place is full of tourists.
Nowadays, people value a healthy life and want to escape away from the concrete jungle. Therefore, the Association figured out a business model focusing on tourism with the integration of community building. The Association constructed a friendly tourist site facilitated with Huilong Eco Boardwalk and Family Camping Area and large agricultural events. For example, visitors gave positive feedbacks after engaging in events like collecting sugarcane juice, making delicious steam bread, creating popsicles, and brewing brown sugar. Showcasing local identities perfectly, the community became a substantial enterprise. The locals produce brown sugar with a proper approach to preserve good nutrition like minerals and vitamins. Its quality receives a credit of acrylamide-free, which is the only one among sugar products in Taiwan. Tourists adore their brown sugar steam bread, brown sugar cake, and gift boxes.
(Photo Story) The Association provides products with qualities of health and taste.
Transformation
Hsingcheng has a glorious history. We are bringing back what we used to be. Of course, the population loss is apparent, yet, the real problem is that no one wants to change. Faded out with sadness, Wang ended this conversation and showed a profound spiritual connection to the land. The Association took care of seniors in its early years as their only service. In recent years, the Association had a chance to restart their way with the assistance of subsidies from Workforce Development (WDA), Ministry of Labor (MOL). From promoting their brand "Xing Cheng Feng Tang" with the returning youths to boost the brand concept "Wind and Sugarcane," the series of products launched with young people's creation and energy. These young fellows set up an official website to raise the Park profile, expand sales channels, and serve as tour guides. The brilliant results showed a lot about their assistance in marketing and tourism.
The Association prepares the community for sustainable development. By connecting the seniors and the youths, people of different ages engage in mutual learning and helping as a complete life cycle, which paves spaces for cultural industry goals. At the same time, about 20% of the income is allocated every year as social welfare and senior activities. For example, the local regular lunch session through Monday to Friday is a practice of mutual care of the elders. In this way, community engagement is well-allocated, and each one can have safe access to others. Aside from community engagement, the Association made other efforts to enhance their homeland. For instance, they made contracts with local farmers, which brings benefits like better procurement prices, local employment opportunities, and guarantees of the continuation of skills and farmland activation. It's more than the eyes can see. The Association leak a little about their long-term plan. Three entrepreneurs were born, and they are eager to promote their local products. Purchasing raw materials produced in Hsingcheng enlarges local income at the same time. The whole community work as a big family and make a win-win for everyone.
With a growing surplus, the community has gradually become capable of recruiting young people. In areas close to the Hsinchu Science Park, it's common to see that people tend to join the Park industries. Nowadays, Hsincheng Community can attract young people who are not interested in the neighboring sectors located in the well-known Science Parks to return. Providing career planning for local students to develop talents, renewing vacant houses to carry out work exchange, the Association connects with the new generation's thinking. Planting, harvesting, and selling local vegetables, rooting down the agricultural experience, the community is working on shortening the distance between the countryside and the city, including the extension of lunch session to their neighbor-Baodou Community more seniors and realize the concept of social enterprise.
Sustainability in Action
The number of annual visitors grows significantly, in which the 2017 figures showed an excellent result. By welcoming nearly 60,000 visitors in 2017, the Park received positive reviews and responses. To reinforce their business as sustainable development, the Park established impressive plans like on-site artists' spaces and nature preservation. "But this is not enough. We hope to improve long-term care services, population aging, and income. Our ambition is to make us a national model as a community of utopia. Not until they unveil ambition do we realize that their actual color. "In the future, we have many to do, but I can't talk too much now. " The CEO is scheming to create a winery estate based on their ability to provide sucrose as the raw material for rum production. At present, there has been a preliminary consensus on cross-industry cooperation with the Association. Their idea to fully utilize the local advantages is forward-looking and innovative, which will carry out the meaning of the name "Treasure Mountain."
Being aware of the significance of "people" for long-term development, the Association provides multiple employment opportunities. They aim at agriculture, tourism, and service to incubate youth entrepreneurship with human resources subsidized by Empowering Employment Program (EEP).
Combining "locality, health, and common good" to realize the idea of a utopian community, this community is walking on the right track and embrace every possibility.
Case story: Empowering Employment Program
Interviewee: CEO, Wang Ling-feng, Hsingcheng Community Development Association
---

This work is licensed under a Creative Commons Attribution-NoDerivatives 4.0 International License. 
Please attribute this article to "Workforce Development Agency, Ministry Of  Labor."