GOAL 8: Decent Work and Economic Growth
GOAL 8: Decent Work and Economic Growth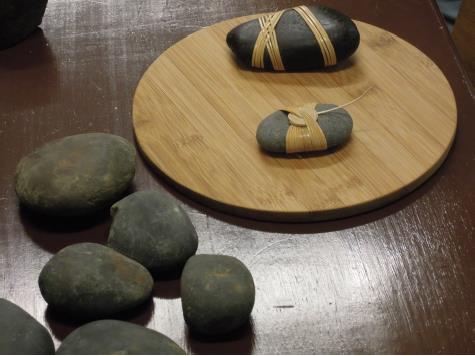 Zhushan (bamboo mountain), as its Chinese name suggests, is a place that grows bamboo, a realm where people enjoy bamboo culture. To respond to market demand and provide high quality and innovative services, the Bamboo Life Culture Association combines cultural elements with local industry by welcoming the participation of young people. The Association discovers new possibilities for bamboo. Furthermore, it builds a platform for youngsters to return home and start up their own business. It has created a new future for this small town.

The Bamboo Art Renaissance
Walking into a noisy workshop, we see a group of young people learning bamboo plaiting. Ms. Jiang, who is teaching this skill, is trying to combine bamboo plaiting and stone art in her teaching program. To her, this enjoyable job has become part of her life.
The latest bamboo QR Code is also on display in a corner of the workshop. The staff members are working hard organizing materials and making products. The bamboo QR Code will become part of the overall image put on the signboards of the 100 shops in Zhushan. Visitors just need to scan the QR Code with their mobile devices and they can search for relevant information. This is a cultural and creative service that integrates artistry and marketing strategy. Traditional bamboo culture and ever-changing information technology work together and form a beautiful combination.
Chang, a student who came to Zhushan for work exchange, made the Zhushan Map of the Common Good out of acrylic. He spent almost two months completing this work. He gathered and organized local information, presenting the details layer by layer with the map so that visitors may see Zhushan from various perspectives from its natural landscape and architectural features, human stories to industry development.
This is the Bamboo Life Culture Association of Zhushan. In addition to hiring local workers to revive bamboo culture and produce bamboo products, the Association also invites young people to take part in work exchange for accommodation. They offer their expertise in Zhushan and explore a better future with this peaceful small town.

Work Exchange: Bringing In New Blood, Giving Youth a Learning Space
Tang Shu-hui, the project manager of the Association's employment program, indicates that it is very difficult for a community-sized association to develop local industry or form into a social enterprise. To accomplish these two goals, an organization needs industry–government– academia collaboration as well as integration of local and external resources.
The Association not only brings a new force to the small town but also promotes its beauty by being open to market demand, embracing external stimulation and support, and inviting capable people to work together. The Association rebuilt empty houses into dormitories for work exchange students. Many of them came for service learning or internship. Many young people hope to contribute here.
The small town is like a home to them. Studying at Providence University, Wang came to take an internship position during the summer break. She shares a touching moment she had in Zhushan. Since people staying in the dorm needed to cook on their own, one morning, she decided to go to the market. She saw an old lady selling bamboo shoots at the roadside, and she approached her. The old lady looked at her and said, "You're not from here, are you?" After engaging her in conversation, Wang learned that the old lady had a granddaughter who was the same age as her and studying away from her home just like she was. The old lady said she (Wang) probably didn't know how to process bamboo shoots, so she peeled some for her and repeatedly taught her how to cook them without making them turn bitter. Being a stranger, she felt herself a part of a big family there. That kind of closeness was something that cannot be found in a city. After she lived there for a while, even the middle-aged woman who ran the noodle stall beside the dorm saw her as family.
Why do young people come here He Pei-jun, the person in charge of the Townway Cultural and Creative Corp., invites young people to come here. He stands at the same level as them and personally expresses gratitude to everyone who comes here. Being liberal and open-minded, he learns with them and always keeps in mind that he doesn't know everything. In the meantime, he gives them space, guiding and encouraging them to grow from practical experience. To avoid?training just for the sake of it, the best way is to be personally involved. This is also how the Association leads its employees.
Doing work exchange, we work in the morning and leave the office to explore Zhushan in the afternoon. He has prepared a must-go list of 60 places in Zhushan, requiring all the participants to visit those places and take notes. Evenings are free time, and those who are available may take part in road running. He wants to encourage more young people to get to know Zhushan within a limited time.

"Transforming tourists into sociologists." This has been his ideal since the establishment of the El Patio Del Cielo B & B, but he also knows that his plan may fail. Nevertheless, "people" are the most precious assets. Instead of producing clones, education should be able to combine various talents, deliver the power of knowledge, and inspire people's passion to give back to society.

Learn from Past Experience: from El Patio Del Cielo to Townway Cultural and Creative Corp.
He has found a way to assist the development of Zhushan from his past business and management experience. When he talks about El Patio Del Cielo, his eyes sparkle. In the beginning, He Pei-jun just wanted to renovate an old house. He then went to 16 different banks for loan financing. An older friend who had served at Taiwan Cooperative Bank took him north to talk with a senior banker. However, the assessment report suggested that he demolish the old house and build a new one to create sufficient economic scale. He could not accept this suggestion, "because I chose this house not for money but for culture."

When he was at rock bottom and the house was about to be foreclosed, he was lucky to receive the support of many people. A short film of the Cultural Affairs Bureau of Nantou County, Sky Yard, was the turning point of his financial condition. Compared with the situation seven years ago, he says there are always better options now. He encourages young people to be optimistic when dealing with frustration. Don't worry that things are going to get worse because there's no time to worry.

Later, when local residents came to renovate the old house, he even asked the housekeeper of El Patio Del Cielo to assist them in setting up relevant systems. He then repaired historic trails built during the Japanese colonial period. He offers Happy Footsteps lunch boxes for tourists and uses local products, which are low cost and high value, as the supplies of his B & B. All these efforts reveal his original intent to contribute to the community.

Building a Platform for Micro Enterprises
He stresses that knowledge acquired is not to enhance employability. To encourage young people to travel, explore, learn and change society, he uses limited resources to build a system by inviting volunteers to be part of the plan. Meanwhile, he also assists young people to learn and start up their own businesses. Sometimes his partners feel frustrated when going outside for service. He would try to lead them to be self-motivated by encouraging them to explore solutions on their own. "If we do it again, where can we improve?" He encourages his partners to learn new ways and bring those old methods back.

A business venture is an adventure. Sometimes it can be too project-oriented to be put into practice. Once resource supplies are suspended, the whole plan may not continue. Everyone's efforts might just go up in smoke. Instead of proposing two products, he would rather make 20 of them and put them all on the market. He would let the market select the best one and enhance its quality.

In his thinking, start-up businesses need to think backwards. They should begin by making connections in the existing market. When the partners found the potential to start up a business through their innovative services, the nearly 100,000 tourists over the past seven years and the more than 100,000 online social network supporters can form the strongest market demand. By converting support into actions, the Association strives to be a platform of micro enterprises, turning the space, the environment, and the community of this small town into useful resources.

Take the night runs held by Zhushan Marathon Club for example. Due to the influence of social networking, this activity brought 500-600 people to Zhushan. The township office even had to carry out traffic controls. To encourage people to see the beauty of Zhushan, he designed the two most beautiful routes and made a short film based on them. This project brought business opportunities to this small town. Moreover, it has enhanced people's involvement in community affairs. Furthermore, a studio was established for the marketing of local culture.

To encourage the participation of young people, the Association makes the most of those precious cultural resources. In addition, it makes use of existing social networks, developing and supporting young entrepreneurs and social enterprises.

"Making things easy." He shares his tips on how to achieve continuous enthusiastic participation. Being open-minded, he concentrates on beneficial methods and discusses ideas with others. Then he talked about his vision. It is a dream similar to that realized in Confucius'The Commonwealth of Great Unity. He hopes to motivate young people, leading them to care about society, exert themselves, and realize their unique dreams with full confidence. They feel needed when receiving gratitude from local residents. The Association is expected to become a platform. With everyone's efforts, step by step, it will revive this small town and create a better tomorrow.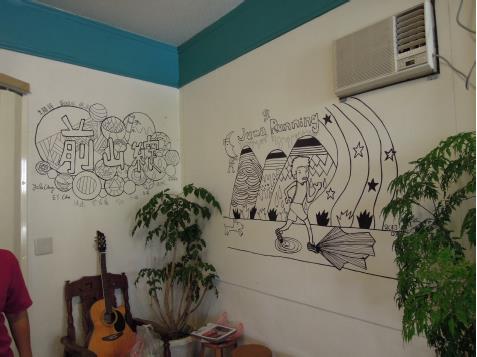 The Association used an empty house to build a space for young people who come for work exchange, allowing them to decorate the space on their own.



By combining the skill of bamboo plaiting and various mediums, the Association has shown a new essence of bamboo culture.
 

This work is licensed under a Creative Commons Attribution-NoDerivatives 4.0 International License.
Please attribute this article to "Workforce Development Agency, Ministry Of Labor".