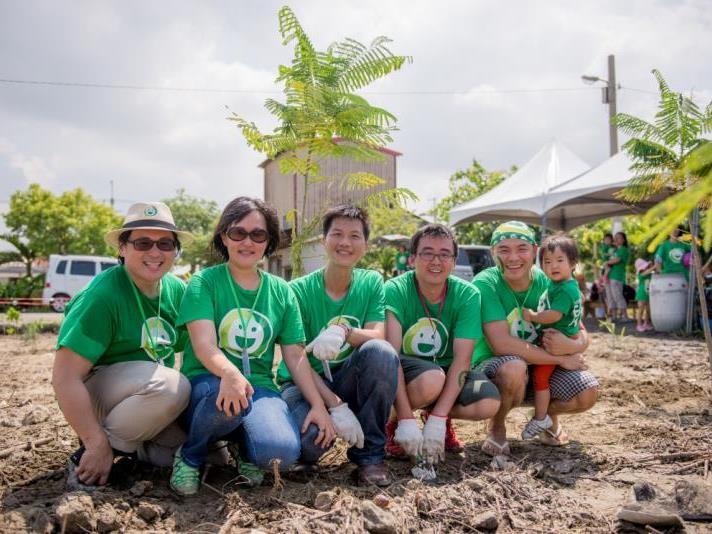 Promoting Green Industries by Planting Trees and Replacing Lights
On January 22, 2015, the Doomsday Clock was adjusted two minutes forward and it now stands at 11:57 pm, only three minutes away from midnight, which represents the end of the world. The Bulletin of the Atomic Scientists of the University of Chicago made this adjustment in consideration of the acceleration of climate change. The clock is now the closest to doomsday since the end of the Cold War.
The invention of LED is an encouraging development against the backdrop of the avalanche-like energy crisis. LED bulbs are 70% more energy saving than traditional bulbs and require less than half the wattage to generate the same luminosity. The service life of LED lamps is 7.5 times longer than that of traditional lamps and can reach up to 30-50,000 hours. They don't generate UV rays and long-term exposure does not pose any health risks. In addition, they generate very little heat and thereby help reduce air conditioning use. Electricity costs can be decreased by 10-15% during the summer months.
It is however regrettable that the penetration rate of LED lighting in Taiwan is low despite the fact that Taiwan is a major manufacturer of LED products which are exported all over the world. The co-founder of DOMI Earth, Ms. Tammy (De-Qi) Hu, explains, "When consumers enter a large store, they can find traditional bulbs under 100 NTD and LED bulbs for 199, 399, and 699 NTD on the shelves. What would I select if I were a consumer? Sometimes LED lights start to flicker and emit blue light after less than 6 months of use. How can you expect consumers to continue to buy these lights?"
"Our core concept is 'Minus one plus one'. 'Minus one' refers to the replacement of traditional lamps with LED lighting and the decrease of energy consumption and carbon emissions by using energy saving technology. 'Plus one' refers to contributions to environmental protection and sowing the seeds for our children's future. These two key aspects are clearly specified in all contracts with clients and implemented on a constant basis. They remain unchanged unlike CSR concepts, which are modified on an annual basis." Tammy emphasized that the main focus of the company is making positive contributions to society instead of marketing strategies in the context of commercial activities.
The sight of the devastated land sparked the passion to launch.                                DOMI is Latin for "Home". In addition to the determination to protect Earth, the word has a very special meaning for the "founding gardeners" who left their hometowns in their youth. Tammy left Taiwan to study in England when she was 15. After her graduation she went to China to work in the fields of PR, marketing, Internet, and media for over ten years. She recently returned to settle down in her hometown with her children.
Even after 10 years of absence, the air in Kaohsiung is still permeated with brine and Tammy's hometown still effuses warmth and hospitality. However, when she could only watch as exhaust of passing scooters cloud her daughter's face, Tammy deeply felt that the land was suffering. The documentary titled "Beyond Beauty: Taiwan from Above" produced and directed by aerial photographer Bo-Lin Qi further shattered her ideas of beauty. She recalls, "I first went to Cingjing Farm before my fifteenth birthday and returned several times when I came home during the holidays while studying abroad. At that time, I viewed my homeland as a travel destination. I was delighted to see so many sheep and guesthouses, but I didn't realize that all this came at a very high price. Now that I really live here, I suddenly feel that there is something wrong."
Later on, she realized during gatherings with friends employed in technology and Internet firms that everyone was deeply worried about the environment their children are growing up in. She was surprised when several senior professionals self-effacingly told her during a technology industry meeting, "There used to be fish and shrimp in the rivers when we were little. Now they are gone and the water has turned red and green. We are truly sorry."
Living as an expat almost half her life, Tammy only has vague memories of her hometown that people question her, "Are you a mainlander or a foreigner?" For the sake of the next generation, she decided to change the current state of the environment in cooperation with several friends from different professional backgrounds who were about the same age and had returned from abroad. It turned out that one of her partners was very familiar with the LED industry. Using LED as bricks and trees as mortar, the partners decided to jointly build "DOMI", a home that strives to improve the environment for the future generations.
Simplification: Dividing the Business Model into Three Steps                                    "Many people think we sell LED products and some people consider us liars since it is impossible to produce LED products without a factory." Facing these misunderstandings, Tammy provides the following explanation, "We all need lighting in our daily lives. We therefore use the simplest method to help people replace lighting devices. For most people this is only a tiny adjustment in their daily lives, which generates significant power-saving effects without the mercury pollution that may be caused by traditional lighting devices. So why not go ahead with it?"
Taiwan is a global leader in the optoelectronics industry and the LED industry is the pride of Taiwan. It is a shame that local citizens use very few LED products. The relatively high prices are the main reason for this phenomenon. The public can't accept these prices. DOMI has therefore designed a simple business model to induce citizens to change their consumption habits. The whole process consists of three steps:
The first step is "Change". DOMI has developed an energy calculator based on the Taipower electricity bill formula. Families and enterprises may calculate their energy conservation and carbon reduction effects obtained through the replacement of traditional with LED lighting by entering basic power consumption data. In addition, DOMI has combined lumen, wattage, price, and warranty periods into a "Cost-Performance Index" to facilitate the selection of products by consumers. This index enables consumers to purchase products based on clear cost-benefit data. To advocate energy saving, DOMI also designed energy saving leadership workshops for enterprise employees to spread the knowledge to family and friends. To educate children on energy, they published a picture book "Electricity Monster in My Home" and produced a series of musicals so parents can invite their children to learn and join the energy saving movement while fostering their parent-child relationship.
Energy Saving DIY Box and "Electricity Monster in My Home" picture book
The second step is "Action". After replacing the bulbs, DOMI organizes a "green tree party" and invites their clients' families to plant trees. Over the past three years, over 3,000 trees have been planted, such as the Formosan Michelia and flamegold trees in the Hsinchu mountain area and horsetail trees along the coastal area in Tainan. This year, DOMI planted native Formosan gum trees in Pingxi. Some customers inquire whether they can get a discount if they don't plant any trees. Tammy always replies with a smile, "The planted trees are paid from our own funds and it is clearly specified in the contract the money you spent is converted into a certain number of trees planted. We are going to plant them whether you join us or not and we will indicate the name of your company."
DOMI invites young and old family members of customers to jointly participate tree planting activities to achieve the purpose of education through entertainment.
The third step is "Ripple Effect". All enterprises that replace traditional lights with LED lighting are eligible to use DOMI RIPPLE identification marks that specify electricity savings and the number of planted trees. This allows businesses to publicize their good deeds with great confidence. They may also use the website banners, pins, and store cards of the PRIDE system to attract the attention of customers. This enables them to initiate a dialog. For instance, curious customers will ask them: "What's the meaning of that doll sticker next to the door?" "What's this pin for?" "Where did you plant those trees?"
Tammy points out, "A corporate branding system is a commercialized marketing method and licenses usually require considerable investments. We have discovered that small companies lack resources for marketing activities, while energy conservation and the planting of trees are a source of pride. DOMI marks are therefore completely free."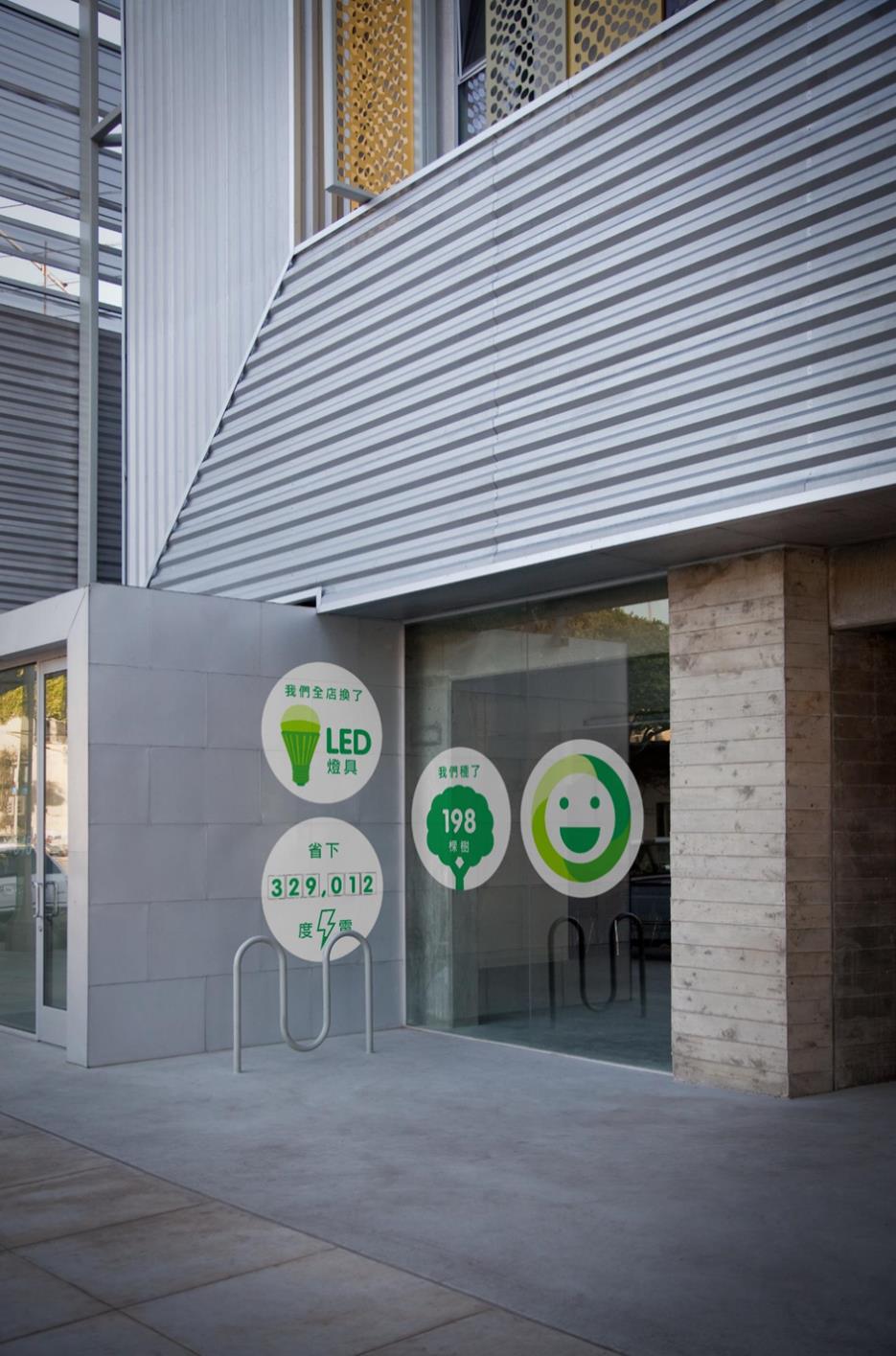 DOMI RIPPLE identification marks specify electricity savings and the number of planted trees allowing businesses to publicize their good deeds with great confidence.
Establishing their Brand Internationally with B Corp Certification                                 DOMI firmly believes that tree planting is neither a one-time activity nor spending money to build an image but represents environmental education for customers in a relaxed environment. In the same vein, simple and transparent business methods to induce the public are more effective than pedantic sermons on energy conservation and carbon reduction.
Tammy emphasizes, "Thresholds should not be raised that it deters consumers from doing good deeds. That is why we conducted in-depth research of LED and electricity fees and provide consumers with related information forthrightly. This way the purpose of investments in LED products is clear and energy-saving effects are immediately reflected in the electricity bill for the next month." Tainan City Government, Prudential Life Insurance, Wholecome Pharmacy in Hsinchu, and Family Pharmacy in Tainan have fully replaced traditional lighting with LED devices and provide full assistance in the enlistment of other enterprises. Currently, DOMI has more than 300 corporate clients.
Self-transformation is the starting point of change. DOMI is not only committed to transforming others but also pursues self-improvement. In 2014, DOMI voluntarily participated in the certifications conducted by B Corporation, a large-scale US organization. The assessment covers the company's entire operation and measures the positive impact of the company in areas of governance, workers, community, the environment, as well as the product or service the company provides. As far as corporate governance is concerned, DOMI applies technology and business models that change the company from inside out, creating a better environment. To take care of its employees, the company works to create a friendly and passionate team that loves their jobs, enjoys life, and strives to realize their own goals. To foster community relations, workers seeking re-employment and students are hired as "gardeners" to promote energy-conservation concepts. To make sure that they are environmentally friendly, they adjusted their office and habits; for corporate clients, they wish to spread the impact and concepts behind "green tree party" and at the same time invite all citizens to participate. In the future, DOMI hopes to include customer influence in their core concept "Minus one, plus one" and "DOMI impact trilogy" bringing about more social impact.
Tammy points out that this certification is based on quantitative data and that concrete information must be provided for every dimension. This is followed by a phone interview of the company supervisor conducted by B Corp Headquarters to gain a full understanding of the accuracy of the provided data. Finally, a comprehensive assessment is carried out with a required passing score of 80. B Corp publishes the impact reports and scores of over 1,000 enterprises in more than 30 countries on the Internet to allow mutual contacts, observations, and cooperation between communities.
After DOMI became the first certified B-type enterprise in Taiwan, they pushed for other companies to join the social and environmental value impact movement. In 2015, they established B Corp Asia Association, officially cooperating with America's B Lab Asia Headquarters to promote the social impact business model, making money while improving one's own community, workers, and environment. Also having transparent governance makes the company and consumers accountable to each other, maintaining a positive cycle.
These young entrepreneurs with an average age of 38 are slowly building the greenest and most natural home of their dreams. Due to their efforts, technology exudes warmth and commerce is infused with human kindness, creating a home that we can call our own.
DOMI has been founded by a group of young partners with diverse backgrounds such as the media, technology, and the Internet. They are jointly committed to utilizing LED and tree planting to save the earth.

This work is licensed under a Creative Commons Attribution-NoDerivatives 4.0 International License.
Please attribute this article to "Workforce Development Agency, Ministry Of Labor".