GOAL 8: Decent Work and Economic Growth
GOAL 8: Decent Work and Economic Growth
Residents of Jiaxian District, Kaohsiung once lamented, "We've had enough! Why do typhoons and earthquakes always hit Jiaxian? Bereaved families can be seen holding Buddhist ceremonies followed by Taoist and Charity society rituals in an alternating manner all over the district."
This area is located at the intersection of provincial highways No.20 and 21, which is also the crossroads of destiny. In the summer of 2009, Typhoon Morakot caused a devastating mudslide that buried Xiaolin Village instantaneously. The next morning, all that could be seen of the village was the desolate sight of churning mud.
Alan (Song-Yu) Tsai is a local youth who grew up in Xiaolin Village and later studied, worked, and founded his own business in Taipei. After a mad, restless rush back home, he couldn't find his family-owned grocery store, nor could he locate his mother, brother, sister-in-law, and niece. In a night, 474 residents were entombed in the mudslide, transformed into brave spirits guardians of the land.
Namaxia, Liugui, and Taoyuan are districts situated further up in the mountains along provincial highways No.20 and 21 that also sustained heavy damages and grievous losses from the typhoon. During a press conference, Alan impulsively took the microphone from the village head and methodically expressed his views on reconstruction. He was then promptly elected chairman of the Self-Help Association and Reconstruction Association. Thinking back to how Xiaolin Village nourished and raised him, Alan rolled up his sleeves and led the way on the reconstruction work without a second thought.
Aged Hometown Plums Transformed the Fate of the Tribe
Initially, he built a small-scale baking factory inside prefabricated housing constructed by the government to manufacture simple processed food such as pastry and jams to sell them under the brand name of "Sunshine Xiaolin". It could be because of the disaster's deep impression in people's minds, as consumers were always willing to open their wallets to purchase the products after hearing Xiaolin Village's plight.
However, after a while Alan started thinking, "Although these pastries have 'Xiaolin' in their name, they contain taro from Jiaxian, pineapples from Dashu, pumpkins from Shanlin, even half of the hand-made jams are made from imported fruit. So where can we see Xiaolin?" He sighed and continued, "All Xiaolin's farmlands have been obliterated by the mudslide, so of course there wouldn't be any crops."
On the third anniversary of the disaster, Alan received the Award for Outstanding Contributions by NGOs for Morakot Disaster Relief. However, he was not in the least delighted and kept deliberating when and how to tender his resignation to the local residents. Industry deadlocks, personnel disputes, shrinking bank savings, and various other problems were piling up, making him feel powerless and incapable to help his home village rebuild.
However, on this very same day, he received a bottle of 10-year aged plum paste from the CEO of the Fu Pei-Mei Foundation, Mr. Bing-Xin Pan. When Alan took a sip of the plum paste, he was deeply touched by the titillating taste dancing on his taste buds. He then promptly visited the creator of the plum paste, Mr. Tian-Xu Jian, CEO of Allion Labs.
Alan asked, "Where did these plums come from?" Jian answered with a smile, "Young man, these plums are from Xiaolin Village!" This statement hit Song-Yu like a bolt of lightning. He had not expected that the disorganized trees on the mountain slopes of his home village, which were untended and overgrown with weeds, would guide him on the path of his life in such a brilliant and miraculous manner.
The long journey of preserved plums from Japan to Taiwan
Jian once held a high position in Universal Scientific Industrial Co., Ltd., but gave up his career after his father succumbed to cancer over ten years ago. His father was excellent shape without any signs of health issues. Jian was therefore shocked when his doctor pointed out that the excessive acid accumulated inside his father's body over many years due to his eating habits had induced cancer.
After his father's funeral, he gave up his original career and focused on the search for alkali foods to balance the pH level inside his own body. Unfortunately, preserved fruits, which are extremely tasty, contain many artificial additives. Natural plum extract, on the other hand, has an extremely sour taste and is hard to swallow. When Jian attended a plum festival in Wakayama Prefecture in Japan, he met Mr. Kawahara and tasted his fermented plums with an amazing flavor. Kawahara told him that he uses an "exclusive technique to cure these plums which no one else in the world is familiar with. But I'm not capable of turning these plums into marketable products since it would cost around 1 billion Yen."
Jian told him right away, "I want to purchase the exclusive rights for this technique." Kawahara agreed and revealed that, "The best plums can be found in the mountain region of Kaohsiung in Taiwan. Indigenous tribes do not use any pesticides or chemicals inhabit this area. These plums are ideal for making plum paste."
Upon his return to Taiwan, Jian started to purchase large quantities of plums from plum farmers in Kaohsiung's mountain region. He sealed these plums in barrels and stored them in a mountain area near Tainan. However, all these plums were buried underneath the ground by a mudslide triggered by Typhoon Morakot. Jian waited until the Tomb Sweeping Festival of the following year before delegating people to excavate the barrels.
Over 10 years had passed by since the sealing of the barrels. As they were unsealed, a fresh fragrance exuding new hope emitted from the barrels. Jian sent these plums back to Xiaolin Village in batches thereby breathing new life and brightness into the devastated area.
"Neways 2021" aims to establish a plum corridor formed by provincial highways No. 20 and 21 and an integrated up- and downstream supply chain.
Establishing a plum corridor for mutual benefit
Why are plums grown in Kaohsiung so special? Alan explains, "This is the result of a strange combination of accidental circumstances. Growing plums is not lucrative, since traders pay low prices, harvest periods are short, and ripe fruits start to rot if they are not transported down the mountains within three days. However, the roads connecting the mountain region of Kaohsiung to the outside world are prone to landslides, which further reduce the profits of plum farmers. Consequently, plum trees are planted on steep mountain slopes and almost no pesticides or chemical fertilizers are applied to reduce costs. The resulting fruit are therefore completely natural and free of chemicals."
On the other hand, Jian's original intention for purchasing plums was to improve his health and create business opportunities. After this fateful encounter with Alan, he decided to hand the 10-year aged plums and the exclusive fermenting technique over to the Xiaolin residents free of charge. Mr. Bing-Xin Pan then enlisted a bakery expert to teach the villagers how to blend the aged plum paste, dough, and filling to create plum pastry with a delicate taste and a flavor that is a perfect blend of sweetness, tartness, and savoriness. Alan states with great emotion, "I never thought I would be able to see the heritage of our forefathers bear fruit after the whole village had been wiped out. It seems as if they are encouraging us to never give up and cling to any faint hope."
Alan then started to wonder whether it was appropriate for the non-profit reconstruction association to engage in for-profit activities on a long-term basis. Expanded assistance for the resurrection of the local industries in Jiaxian, Taoyuan, and Namaxia Districts cannot solely rely on the efforts of the association. He therefore decided to establish "Neways 2021", a social enterprise named after provincial highways No.20 and 21. Firstly, they purchased plums from farmers in Wulipu in Jiaxian, Taoyuan, and Namaxia Districts at 15 NTD, higher than the market price of 8 NTD at the time. Farmers can earn 35 NTD by selling processed salted plums. The plums are then transported to the reconstruction areas at the bottom of the mountains where they are further processed and turned into candied plums by local residents, which can be sold for 85 NTD. After all processes have been completed, the plums are placed in sealed barrels where they are stored for ten years until the fermentation process is complete.
Plum-rose pastry is a star product, made with plum paste that has fermented for 10 years and features a perfect mixture of tartness and sweetness. 
Industrial revitalization and reviving the spirit of Xiaolin Village
The ten-year fermentation process represents a great challenge for Neways 2021 but is also a blessing for the residents living along the corridor formed by the two provincial highways. Alan smiles and said, "We once opened the barrels and tasted the plums less than 10 years after they had been buried, but the flavor was not right. The plums tasted a bit too bitter and sour. We can't explain why, but it takes exactly 10 years to get the flavor right."
After this ten-year process, Neways 2021 adds Italian Balsamic vinegar stored for over 10 years. In other words, the plum paste is made by blending plums with wine vinegar. The resulting product can be used as seasoning for various dishes or turned into a beverage by diluting it with water. Plum-Rose jam is made by adding rose petals from Iran, which have been soaked in honey for 30 days to fermented plums and cooking the mixture for a certain time. Plum-rose jam can also be turned into fragrant plum-rose pastry by utilizing the "Sunshine Xiaolin" bakery skills. Other products include plum jam, plum pastry, and plum enzyme drinks. Alan points out that all products are made without adding artificial pectin and that he is fully committed to fulfilling the mission bestowed upon him by nature.
Neways 2021 has recently acquired a 4-hectare plot of land located near "Sunshine Xiaolin" and "Yongling Farm" to expand its business scope. This land will be converted into a cooperative farm with the goal of developing plum processing and creating an agriculture-based cultural and creative park area. He plans to create a plum industry corridor spanning the mountain regions, slopes, and foothill regions to ensure a stable income for practitioners over the whole year and tap the economic potential of plums, which used to be regarded as worthless.
Through a synthesis of production, processing, and service, Neways 2021 is gradually evolving into a multifunctional and diversified business forming a new mutual-benefit structure. The former residents of Xiaolin Village are unable to return to the site of their former home village, but have regained their original spirit of perseverance and resilience.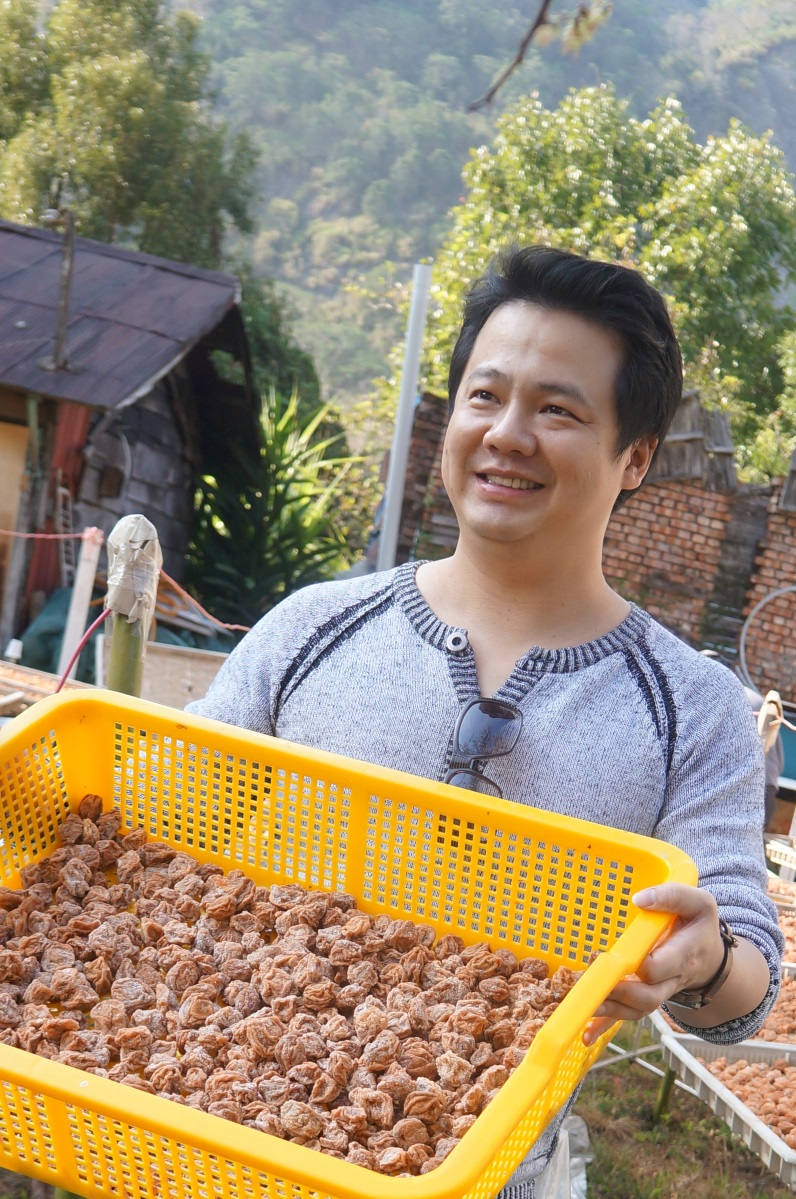 Neways 2021 founder Alan (Song-Yu) Tsai has led his fellow tribe members to create a new lifeline based on plums in the aftermath of the Morakot tragedy.

This work is licensed under a Creative Commons Attribution-NoDerivatives 4.0 International License.
Please attribute this article to "Workforce Development Agency, Ministry Of Labor".