Ms. Zhang, a Parkinson's patient, lives in a small seaside fishing village in Sanzhi District of New Taipei City, which is a one-hour drive from Taipei City. She has lived here on her own for many years, with the howling winds as her sole company. For follow-up visits to the hospital, she has to get up very early to catch the coastal highway bus. Upon reaching the hospital after an exhausting journey, she has to register, wait for her turn, and collect her medication before taking the bus back home. This usually takes the greater part of a day.
This routine is typical for most residents living in remote areas and most chronic patients who require frequent doctor's visits. Just for a pack of regular medication, they have to make the long, mentally draining, and physically exhausting trip to the hospital.
iHealth pharmacy was established as the first of its kind in Taiwan in 2010. Professional pharmacists personally deliver meds to patients' homes located in the nearby Wulai area or coastal areas in the north or in tribal communities in remote and secluded areas of Mount Ali and the central mountain range. When patients with reduced mobility, dementia patients, and isolated seniors hear the sound of the doorbell, they know that their medication has arrived.
Johnny (Zhao-Yun) Wang and Wen-Zhi Chen, two pharmacists who are not willing to be stuck in the same routine in their pharmacies, provide these services.
Pharmacists take the initiative by shedding the shackles of their pharmacies       "For a long time, Taiwanese pharmacists have resembled convenience store clerks with a sole focus on sales and billing. In fact, pharmacists can fulfill many functions other than filling prescriptions." Johnny points out, "Pharmacists are experts at combining different types of medicine. For instance, patients might be taking Chinese medicine and supplementing it with health food in addition to taking the prescribed Western medicine. The most basic task of a pharmacist is to assess drug-drug interactions and the possibility of overdosing." Unfortunately, it is hard to accomplish these tasks inside a pharmacy. On top of that, pharmacists also have to deal with long working hours, low sense of achievement, and low life quality. This has always been a vexing issue for Johnny, who switched from his original major to pharmacology.
Johnny moved to Canada to study at a local senior high school and majored in civil engineering at university. Although his father constantly encouraged him to take over their family pharmacy ever since he was a child, the excessive workload made him hesitate. To his surprise, Taiwan officially implemented the National Health Insurance system and the Separation of Prescribing and Dispensing in his junior year. This gave Johnny a glimpse of a brighter future for the health care industry and he was finally willing to return to Taiwan and enroll in the Department of Pharmacology of Taipei Medical University as a freshman.
Upon graduation, Johnny served as a pharmacist in the family-owned pharmacy and successively joined the Taiwan Association of Clinical Pharmacists and the Taiwan Association of Young Pharmacists, which assist the government in promoting international exchanges. Through his membership in these associations, he gained a better understanding of the operation methods of community pharmacies in Europe and America and developed an ambition to establish a large-scale community pharmacy chain in Taiwan.
When he opened his first branch store, he encountered a serious obstacle. "70% of all citizens in Taiwan prefer to collect their medication in hospitals due to trust issues and community pharmacies therefore don't dare to carry large inventories of a wide variety of prescription drugs because they are afraid they might expire. In addition, competition is extremely fierce if two pharmacies open in the same community. Pharmacists therefore have to focus on the sale of health care products, medical equipment, and maternity and infant products, which does not allow them to exhibit their professionalism and customers usually wonder whether the products they sell are really good for them or whether they are only promoted to maximize sales performance." Due to the gradually worsening environment, it is getting progressively harder to attract outstanding pharmacists to work in community pharmacies.
In the face of this dilemma, Johnny suddenly remembered that Japanese pharmacies tend to allow patients to pick up several months' worth of medications each visit, while US pharmacies regularly mail meds to patients' homes, and community pharmacists in Germany personally visit patients. Upon reflecting on the practices of these advanced countries, he suddenly had a flash of inspiration: "Since community pharmacies have trouble attracting qualified manpower, pharmacists might as well personally visit people's homes." Wen-Zhi, a fellow member of the Taiwan Association of Young Pharmacists supported this point of view and the two of them started to make the necessary preparations for this new groundbreaking approach.
After conducting relevant research, they realized that the Taiwanese government already had policies in place that promote home delivery of meds. However, due to program execution deadlines, the whole scheme had already ended. The two partners therefore secretly decided that the industry should carry on the flame ignited by the government. They then went on to create the iHealth pharmacy concept and gradually standardized their service package.
Multi-faceted operations-From home delivery of medications to long-term care
Clients provide information pertaining to prescriptions issued by doctors by phone, fax, or image transmission and iHealth pharmacists fill these prescriptions and personally deliver the medications to patients' homes within a specified period and provide usage instructions. Taking meds is not a simple matter. In fact, many patients take repeated doses without even knowing it. Johnny states, "People see different doctors for toothaches, headaches, and leg pain and end up taking large amounts of the same painkillers. Some patients also simultaneously take western and Chinese medicine combined with health foods. These medications may actually be incompatible and we help solve the issue of drug-drug interactions."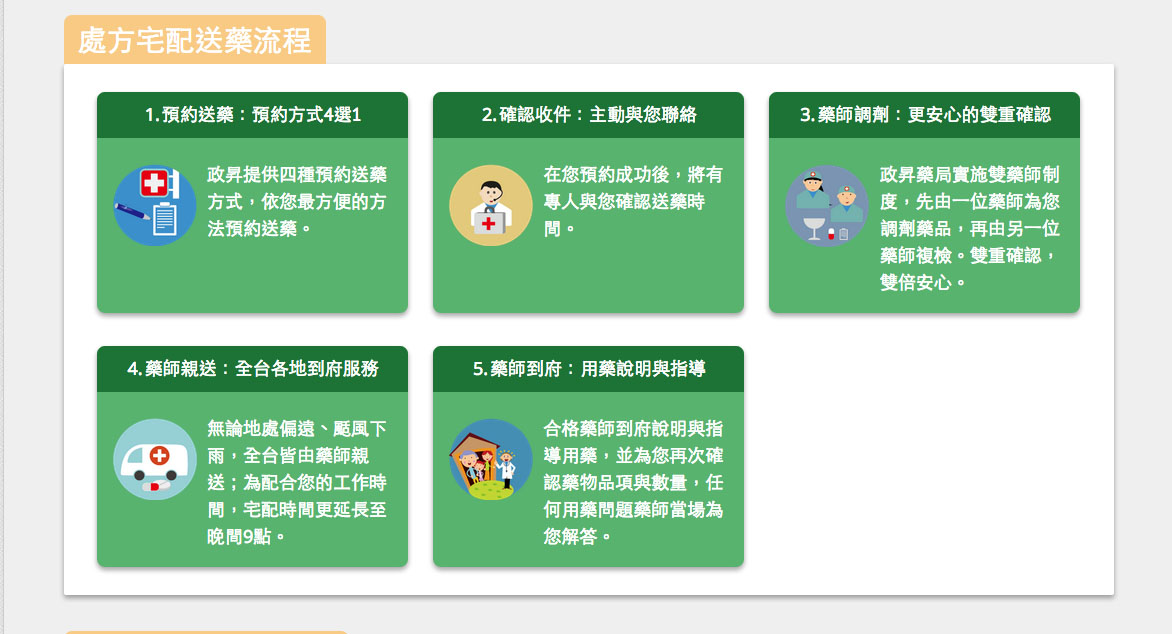 After clients transmit their prescriptions to iHealth, pharmacists deliver the meds to patients' homes within a specified period and provide usage instructions.
In Johnny's eyes, pharmacists are no longer laborers following the same routine once they choose to provide services outside their pharmacies. In addition to instructions related to meds, pharmacists who deliver meds also provide advice on home layout. For instance, if patients suffer symptoms such as vertigo, they ensure that the space between the patient's room and the bathroom is free of obstructions to prevent falls. In addition, pharmacies also faithfully record medication cycles of patients and deliver the next batch of meds to patients' homes prior to the end of the current cycle completely free of charge.
These comprehensive and free services have raised doubts. People often call to ask the following questions:                                                                                                                                                                         "Are your meds the same that I get in a hospital?"
"Of course!"
"Are your services completely free? " Yes!"
"Yes!"                                                                                                                                                                                           "So how do you make money?" Johnny patiently answers all questions asked by callers, but they usually reply, "Oh! OK, I'll think about it!" This indicates that they are not fully convinced. Even the National Health Insurance Administration, the City Department of Health, and the Ministry of Health and Welfare constantly investigate the legality of iHealth. Johnny adds humorously, "Many people can't understand why a pharmacy would be located on the 15th floor. How can you do business at that height?"
 
In fact, the business model of iHealth is not unusual at all since the National Health Insurance system allocates a service fee of 60 NTD to the pharmacists for every single chronic patient prescription. This arrangement allows iHealth to accumulate required resources bit by bit. This ingenious concept quickly attracted the attention of SMS (Senior Marketing System), the largest long-term care information company in Japan, which planned to acquire a share of iHealth. However, Johnny refused this request because "I honestly don't know how to use their money since we are still not sure whether this business model is viable or not and we don't dare to rashly accept third-party capital."
Looking back on the first month after foundation of iHealth, only 5-6 prescriptions were processed. In the following months, the number of prescriptions per month remained at around 30, which led to constant losses. Just as Johnny was racking his brains, SMS gave him some business suggestions. He then had a brilliant idea and immediately shifted his focus to nursing home residents as his target customers. Whenever iHealth initiates cooperation with an organization, it simultaneously provides services for 49 patients. After several years, almost 40% of all nursing homes in Taiwan have turned into the company's clients and a total of 10,000 prescriptions are processed per month. In turn, their revenue and number of employees doubled on an annual basis.
The Temple Model - Infusing urban resources into remote rural areas                    However, Johnny and Wen-Zhi have not lost track of their original purpose of establishing a pharmacy with home delivery services and continue to expand into mountain and coastal areas. They once received an order from a chronic patient in a tribal community in the Wulai area. After calculating the costs and benefits, Johnny realized that for a profit of only 100 NTD they had to hike 25 km to reach the village from the foot of the mountain. As he discussed the matter with his colleagues, they all agreed that they should not say no.
Since that time, they have accepted orders from the Mount Ali area and the Jiaxian and Liugu areas in Kaohsiung without the slightest hesitation. By embracing this philosophy, iHealth has been able to expand its service range to every remote corner, mountain peak, and shore area of Taiwan as well as the offshore islands. Johnny states confidently, "I expect every mountain top in Taiwan to be ours without any competitors!"
iHealth offers a wide assortment of meds and delivers to locations in all cities and counties of Taiwan
Johnny refers to this mutual-assistance model between urban and rural areas as "Health for Two" or "Temple Model". He points out that "The more urban clients we are able to attract the more resources are available to provide services for patients in remote areas. This resembles the gods in a temple who receive a large number of donations from compassionate worshippers, but the beneficiaries of the blessings encompass people from all walks of life."
Upon a process of consolidation, Johnny finally accepted the investment offer from SMS and iHealth turned into the Taiwanese subsidiary of SMS. He then further emulated the Japanese experiences by setting up a 24h real-time consultation hotline for pharmaceuticals as well as a mobile care network. The public can take advantage of this hotline to receive consultation services provided by professional pharmacists without any waiting times. These services are also available for non-clients.
In addition, the "COCO Pharma Database-An inquiry system for drug-drug interactions" represents the only medication database in Chinese in the world. This database allows professional pharmacists to query side effects of drug-drug interactions in a rapid manner. The "Subsidy Network" provides information related to applications for government subsidies. "CareJob Smiling Caregiver" assists in the matching of caregivers with patient homes, hospitals, and organizations. "Home for Mom and Dad" on the other hand recommends suitable nursing organizations in accordance with user requirements. With the advent of an aged society, iHealth is firmly committed to long-term care and aims to provide mobile medical care resources for communities. Johnny points out that this "home delivery system is only a platform and that the goal is to induce doctors, dietitians, and therapists to use the channels established by iHealth to visit people's homes to provide medical care, nutrition services, and rehabilitation services." In addition, meal delivery, cleaning services, and home repair and care are other service types planned for the future.
"We aim to avail ourselves of these opportunities to bring public hygiene, health care, and community building concepts to people's homes and improve living environments and life quality by focusing on small details in the fields of food, clothing, housing, and transportation." It therefore appears that iHealth is not only a pharmacy but rather a domestic helper with concern for life values.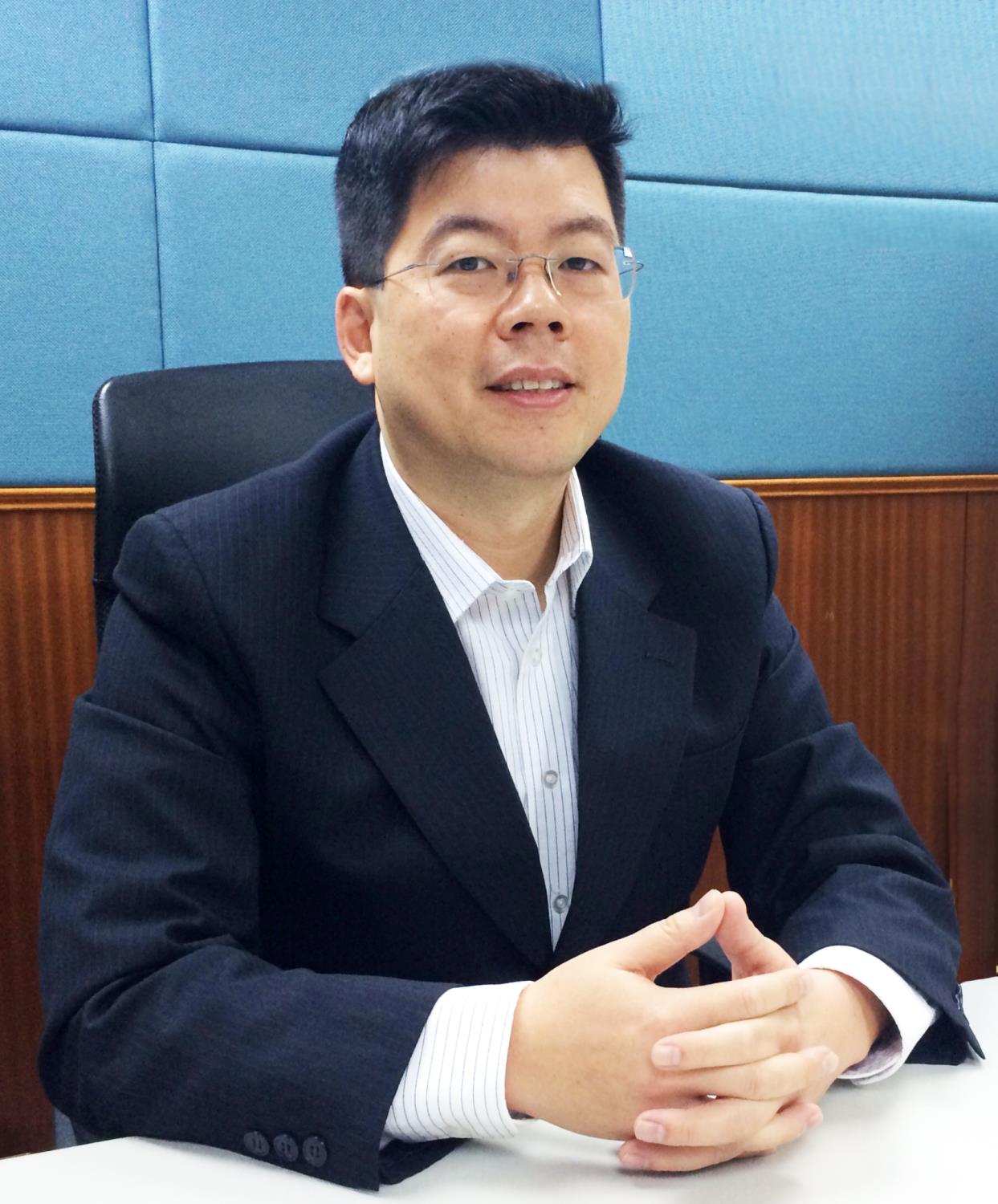 Mr. Johnny (Zhao-Yun) Wang switched from civil engineering to pharmacology and pioneered a home delivery system for medicine in Taiwan

This work is licensed under a Creative Commons Attribution-NoDerivatives 4.0 International License.
Please attribute this article to "Workforce Development Agency, Ministry Of Labor".