GOAL 17: Partnerships to achieve the Goal
GOAL 17: Partnerships to achieve the Goal
An Interview with Hua Wei-Jie, Manager of Pingtung Indigenous People's Taiwu Coffee Production Cooperatives
Written / Photographed by Yuan Ting-Yao
Outside the glass window, coffee farmers are holding their breath and staring at the machine with a booming voice and swinging back and forth to pass green beans through a perforated container. In one more week, the annual Pingtung Coffee Evaluation Competition will be held and all coffee farmers will present their best green beans to compete.
Ulaljuc Tribal Café offers the freshest and best Indigenous tribe coffee in Pingtung. (photographed by Yuan Ting-Yao)
The Best Green Beans Picked by Advanced Machines
The density of coffee beans determines its aroma, which is the key to its smoothness.
In the past, however careful coffee farmers were, they only can pick the best green beans of a density of 880g/L. Yet, with a professional machine, green beans with a density of 920g/L can be picked quickly. "a density of 880 and 920 do not seem that much different, yet, taste is very different. The floral scent of the latter is clearly stronger and the taste is just superb!" Coffee farmers shared their experiences of using advanced green bean sorting machine.
After green beans were sorted, the beans were measured again with the device: density of 940g/L – it broke the record again! The coffee farmer was thrilled and carried the beans carefully back home, sorting these beans again to make sure each bean is a masterpiece. Because all green beans are so good, it must be very hard for the judges to choose the winner.
"Taiwu Organic Coffee Development Center" was completed and open for the public at the end of 2017. It is a factory equipped with the most-advanced machines for wet & dry treatment, accurate measurement, sorting and packing. The center plays an important role in technical assistance, production and coffee bean bidding in southern Taiwan. In addition to ensuring the quality of green beans and the prices, it also provides hardware to coffee farmers in Pingtung, helping them produce prime green coffee beans.
Taiwu Organic Coffee Received Recognition for Its High Quality after Lots of Efforts.
There were still not a few customers at Ulaljuc Tribal Café in workdays. Almost everyone has a cup of pour-over coffee in their hands. They drank coffee not just for the support for indigenous enterprises. They also are fascinated by the coffee aroma, showing recognition and pursuance for specialty coffee.
Pingtung is the largest coffee production province in Taiwan with more than 300 hectares. Half of the area is situated in Taiwu Town. Established in 2012, "Taiwu Coffee Production Cooperatives" helps market the local organic coffee beans. Currently, the total coffee growing areas, under contract, rented or owned by coffee farmers, reached to 40 hectares with a total annual (2017) production of 15 tons.
As the production and marketing center for local coffee beans, the cooperatives have helped Taiwu Coffee establish its reputation in the market within only a few years. Right after its establishment, their coffee products have received rewards like "Top 10 Souvenirs in Pingtung" and "Coffee for State Banquet" and won championship several times in the "Pingtung Coffee Evaluation Competition". As for national coffee competitions, it received the Golden Quality Award in Taiwan Local Specialty Coffee Bean Evaluation in 2016, the 2nd Prize in the 2017 Taiwan Organic Coffee Competition and the 3rd place in the "Best of Taiwan Coffee". Besides making a name for itself in Taiwan, "Coffee Review" – an internationally-acclaimed coffee review magazine, gave it 93 points. Furthermore, it received "The Top Three Most Representative Coffee in Asia-Pacific Region Award" and many coffee experts in Asia and Europe regarded Taiwu Coffee as the high-quality coffee.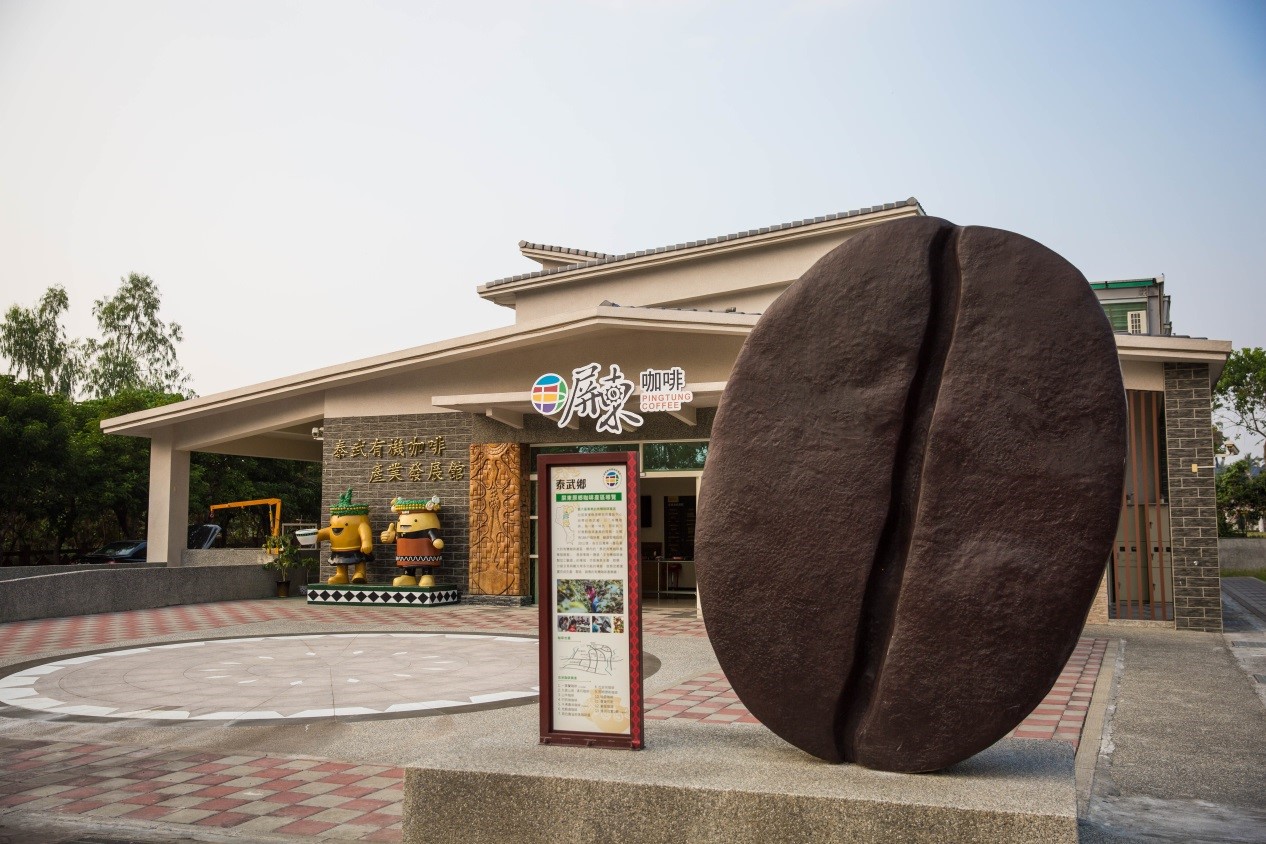 "Taiwu Organic Coffee Development Center" is equipped with the most advanced and completed coffee-related machines in Taiwan. (photographed by Yuang Ting-Yao)
In view of the international coffee industry is highly competitive, stable supplies of green beans are a key factor. In 2014, the Taiwan government has integrated all agricultural resources for coffee in Pingtung. Centering on the cooperatives, "Pingtung Indigenous People's Coffee Alliance" is founded as well as the construction of "Taiwu Organic Coffee Development Center". They aimed to boost the coffee industry in Pingtung with a production procedure with all software and hardware.
Not surprisingly, in November 2017, when Mr. R. Miguel Nezam, founder of LLC (ISLA Custom Coffees) from Hawaii, USA revisited Taiwan, he was very surprised about the scale development of coffee production and the quality of coffee beans. Hence, he signed a 10-year contract with the alliance and a contract to purchase 7 tons of green beans. It is very encouraging for all coffee farmers in Pingtung.
Hua Wei-Jie, the key player in promoting Pingtung indigenous people's coffee. (photographed by Yuang Ting-Yao)
The Successful Experience of the Cooperatives led to the rise of the Coffee Industry in Pingtung
"Taiwu Coffee Production Cooperatives" has been working on combining upstream and downstream of the supply chain in Pingtung coffee industry, and also is the key contributor to Pingtung coffee industry. From Taiwu Coffee Production and Marketing Group at the beginning to Taiwu Coffee Production Cooperatives, then to "Pingtung County Indigenous People's Coffee Alliance", the key promoter behind it is Hua Wei-Jie, the manager of the cooperatives.
Mr. Hua considered the Empowerment Employment Program promoted by the Ministry of Labor helped him overcome the financial problems when he returned home to start over again in 2009. Thanks for this program, he was able to found the cooperatives and work with dozens of coffee plantations in the tribe to realize his dream of introducing Taiwu coffee to the market. He finally succeeded in making a name for their coffee beans as "organic specialty Coffee" in the intensively competitive coffee industry.
"Advanced equipment is the only way to train professionals." Mr. Hua said proudly. There is lots of advanced equipment in the center such as specific gravity selector, coffee roast analyzer, SCAA certified cupping system, and moisture meter. These devices are equipped only in big manufacturers or enterprises in Taiwan. In other words, the staff at the cooperatives and the center are the most sought-after experts in the coffee industry in the future.
Specific gravity selector for green beans (photographed by Yuan Ting-Yao)
Measuring the density of green beans helps select the best quality green beans (photographed by Yuan Ting-Yao)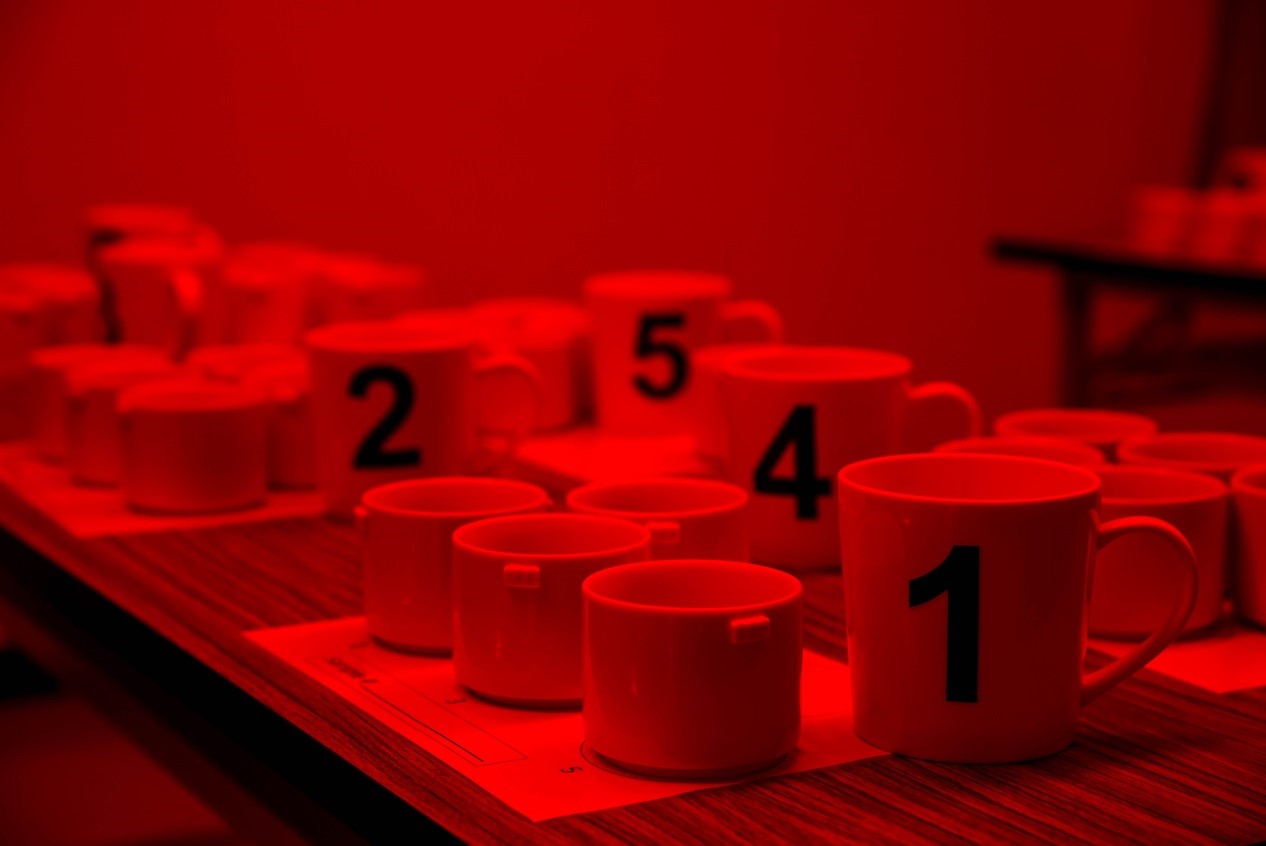 Red light inspection helps sharpen the cupping ability of the staff. (photographed by Yuan Ting-Yao)
Currently, the cooperatives have trained talents for coffee guidance, R & D, production, and E-commerce. It is not only a key player in the coffee industry but also tightly connects to the development of the local industry. The cooperatives have been implementing programs such as rural revitalization, lottery feedback funds, and agriculture 4.0 to benefit the local agricultural villages. At the meantime, it keeps up with latest technological services such as VR for production area and GIS so that buyers from abroad or other places will better know their coffee beans and online trading will thus be facilitated.
Learn from the Maori and Head for Self-dependence
While attending the "Social Enterprise World Forum" held in September 2017 in New Zealand, Mr. Hua also paid a visit to the Maori and that trip really made an impression on him.
"The Maori is very wise. Their population is very close to the population of the indigenous people in Taiwan. They are able to use sources such as springs and geothermal energy to the fullest. Starting by investing the geothermal power plant and use its revenues to buy cows and sheep for developing the dairy processing plant. With the money, they further used the advantages of geothermal power to grow tomatoes in greenhouses. Then, they invested all the revenues from the above in traditional botanical gardens to promote tourism, which offers job opportunities to more Maori and increases their confidence."
"Sustainability and Regeneration" is the wisdom of Maori." Mr. Hua noticed that this shared the same goal with "organic and specialty coffee" that the cooperatives have been promoting for years.  Developing organic farming aimed to protect the precious lands of their ancestors. The center expects to receive the certification of "organic processing" at the end of this year. In the future, with the certification of HACCP and ISO22000 in place, the cooperatives are going to achieve the ultimate goal that all coffee beans are "organic and of specialty grade" and earns the reputation of Pingtung for Taiwan's specialty coffee.
According to Mr. Hua, the production hardware was completed. The production and marketing system were also built. That completion not only makes coffee farmers happy but also puts ease on buyers. The cooperatives would like to offer more local job opportunities through overall business management, creating a win-win situation for everyone.
Create Happy Coffee Industry
Now, for Pingtung indigenous coffee farmers, their pursuance of environmental sustainability, advanced technologies and professional knowledge are already beyond the economic needs and values.
In 2018, the center will promote a series of educational training, and seminars for international certification for local coffee professionals. It aims to nurture more indigenous talents for the coffee industry and attract more young people to return home to start over again!
"Helping people lives a better life is our ultimate goal." Mr. Hua said. On the way of promoting coffee industry in the tribe, he had overcome all difficulties and realized his original intention. His dream for the future is to spread his experience of cultivating coffee industry to other nations in the third world or Asia growing and producing coffee. Also, he wants to help the local coffee farmers there upgrade their techniques, equipment and sales channels, and achieve a better promise than "fair trade". He expects to elevate the coffee industry to the position bringing himself and others happiness.
Pingtung Indigenous People's Taiwu Coffee Production Cooperatives
Official Website: https://ulaljuc.qdm.com.tw/
Facebook:>https://www.facebook.com/TaiwuUlaluce/
Address: No.7, Dawushan 1st St., Daiwu Village, Taiwu Township, Pingtung County
Tel No.: 08-7837131
Fax No.: 08-7837528
Business hours: 9:00-18:00, Mon. thru. Fri.
Email address: ulaljuc@gmail.com