GOAL 11: Sustainable Cities and Communities
GOAL 11: Sustainable Cities and Communities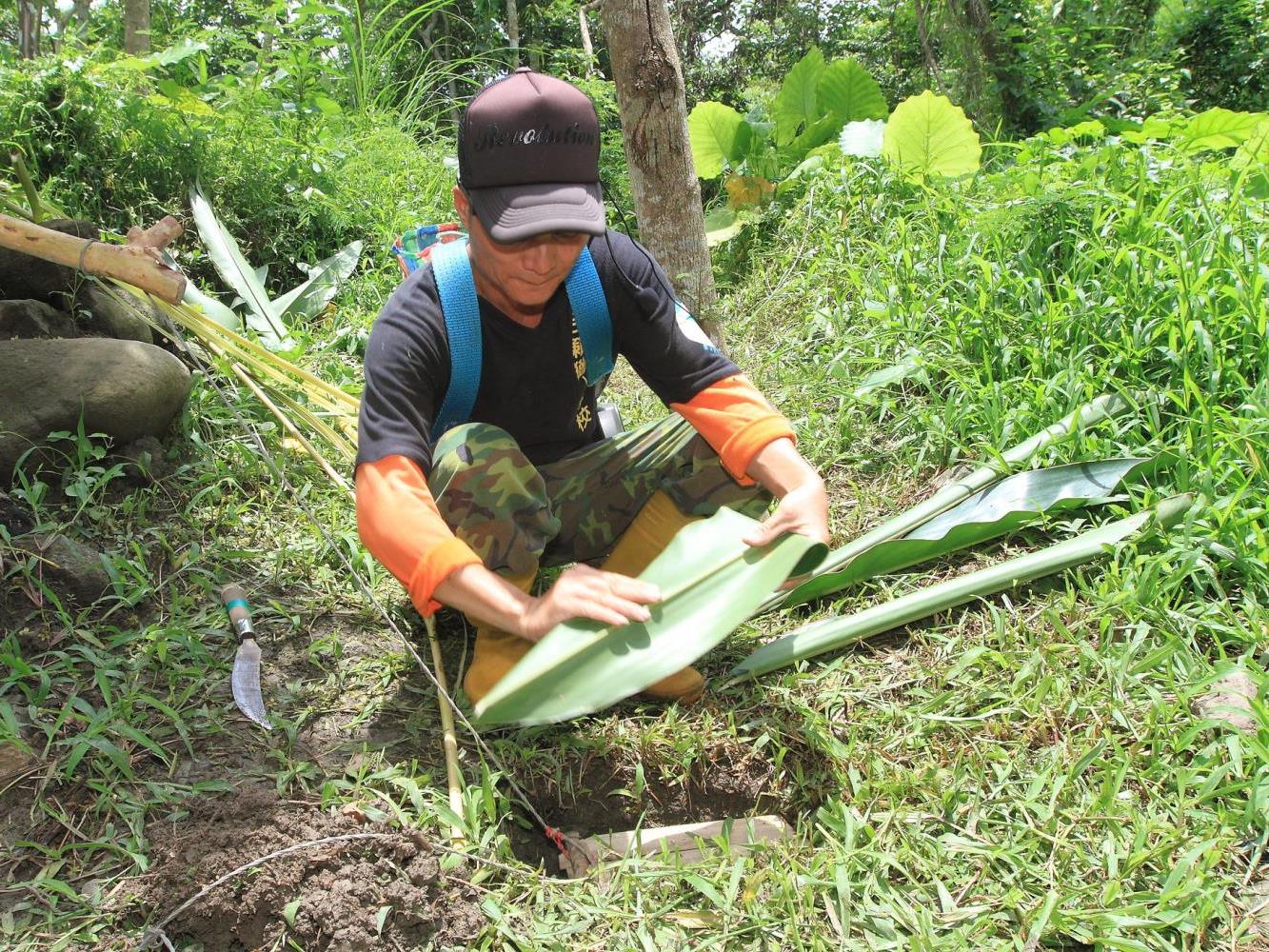 An Interview with Ms. Chen Hui-Hui, the Executive Secretary of Hualien County Sustainable Development Association for Ecology, Culture, Leisure and Innovative & Creative Industries (Cidal Hunter School Team)
Written by Li Pei-Qi / Photographed by Wu Dong-Jun
Because of a mountain climbing accident, an Amis young man decided to return home with his wife to do something for his native tribe. Then, he found Amis old hunters' wisdom and skills are so precious but he knew nothing about them. Thus, He was concerned about his tribe as it declines.
A peaceful village is 24 km away from the Provincial Highway 11 in Hualien. The Amis calls it "Ciwidiyan" meaning "a place full of leeches". In the past, leeches were everywhere in the paddy fields because the water there was clean without any pesticide pollutions. In the 17th century, the Dutch found it and named it "Sibilian", meaning "a beautiful village". After Taiwan was restored, it was renamed "Shu-Lian"- a pronunciation similar to Sibilian.
Situated in a valley basin surrounded by forests, Shulian is one of the four oldest Amis tribes. In 2008, 4 young Amis who came back home and established the Cidal Hunter School (Cidal is Amis, meaning "the sun"). The skills from the elders are necessary to survive in nature in the tribe and they taught visitors environmental ethics at the same time.
 Chen Ju-Lin (right) + Chen Hui-Hui (left)  (photographed by Wu Dong-Jun)
"Multi Employment Promotion Program" Ensures Hunters to Pass Down the Traditional Skills Without Worrying Financial Problems.
Fara Xijiang (Chen Gu-Lin) used to be an animal trainer at Hualien Ocean Park. One day he and his wife, Banai Falao (Chen Hui-Hui) went back to his hometown - Shulian to participate in mountain rescue. He was a volunteer firefighter and had taken part in many private rescues for years. When he was armed to the teeth to take part in the mountain rescue with other old hunters, he was surprised that they only carried a hunting knife with them. "How can you take part in a rescue mission without proper gears?" Fara was suspicious about that. However, he went with them and ended up getting very surprised. "Well, you can get everything from nature just with a hunting knife."
The thought occurred to Fara's mind. "I am ignorant about the Amis tradition and culture though I am Amis. If they are not passed down, those treasure will disappear." Especially, lots of young people left the tribe for work; therefore, there are only the elderly and the children living in the tribe. Who the tradition and culture could be passed down to? Therefore, he motivated two Amis people, both working in the hotel and engaged in tourism, to come back to Shulian together striving for the tribe.
However, for Fara and Banai who didn't have many funds, the main pressure undoubtedly is the cost including necessary equipment, personnel, and office when they start a business to pass down the tribal culture. With their relatives' support, they acquired the funds for school bit by bit. Banai frankly said," It is easier to make money to sustain ourselves but it is difficult to set up a school. Then we would like to give up many times."
Besides, Fara is not a native of Shuilian and he is not fluent in Amis. he was so frustrated whenever he tried to find resources in the tribe or ask for advice from the elders. He was doubted to make use of the tribe for his benefits. Plus, they were so badly off that they couldn't contribute to the tribe and the villagers as the business just started up. Fara and Banai decided to found "Hualian County Sustainable Development Association for Ecology, Culture, Leisure and Innovative & Creative Industries". Hearing the information of budget supplement from the friends, they also applied for "Multi Employment Promotion Program" to the Workforce Development Agency, solving the difficulties of manpower shortage. "Our hunter coaches can focus on passing down the culture without worrying about incomes." said Banai.   
The hunters teach how to make a trap ( photographed by Wu Dong-Jun )
Empowerment Employment Program Assist to Restore Indigenous Tradition
Thanks to Fara, Banai and the elders' efforts, hunter training programs finally comes out, including starting a fire, gathering, hunting, catching, and learning about animals, plants and the Amis food culture. Students can experience outdoor activities in the courses. Gradually, the school claimed to fame, making Shulian Tribe known to the public. The villagers changed their mind and approved what Fara and Banai have done. The hunters gained pride and confidence in the programs. "They never thought that hunting, a piece of cake for them, can be a profession passing down to the next generation" Banai emphasized. Moreover, Cidal Hunter School hopes to promote nature ethics to the public since the earth have been polluted seriously today.
In 2014, Cidal Hunter applied to the Workforce Development Agency for "Multi Employment Promotion Program" again. The program comprises regular training for its staffs to pass down the environmental education and ethnic culture. In addition, the staffs will also take part in training or counseling guidance programs provided by other organizations. The school will invite professional lecturers to teach them. Banai said, "We had courses in mountains, sea, and stream. Therefore, for students' safety, we arrange more coaches to participate in emergency aid and rescue training courses to get licenses. Fara, on the other hand, was a certified environmental educator, working hard to boost the purpose of the association_promoting nature and environmental education.
Nevertheless, Banai confessed they need to strengthen how to run and manage the school as well as market their brand. "As the number of staffs in the association is increasing, but we don't know how to manage our staffs well. Another problem is that we don't how to market our school. However, marketing has been very important nowadays. If we don't know how to run, manage or market our school, the association cannot run smoothly and cannot make profits. Even though Fara has a good idea of running the association, it is difficult to carry out, not to mention passing down the culture." Banai talked. In fact, if you add Cidal Hunter School as a friend on Facebook, you will notice how devoted they are to running and managing the school: the frequent posts updates, and the games to interact with its fans. As for its contents, not only do they record all the visits and the latest news in the tribe, but also share an observation of nature on Facebook. You felt as if you were there with them in Cidal Hunter School by browsing their Facebook.
Experience Activity for Visitors (photographed by journalist We Dong-Jun)
It's a School for Everyone
What was the most remarkable achievement after taking part in the "Multi Employment Promotion Program" and "Empowerment Employment Program"?She answered," The program helps the tribe to pass down the culture. We are glad when other tribes went to Cidal Hunter School to learn a lot about Amis culture or learn how to manage a community." Indeed, as technology is improving fast, tribal tradition is easily replaced and forgotten. What' worse, few young people would stay the tribes due to a lack of opportunities. However, the purpose of Cidar Hunter School tried to solve the problem. In Cidar Hunter School visitors can learn tribal cultures and the villagers have a chance to share the experience.
.What's more, the association won the prize of "Multi Employment Promotion Program" and "Empowerment Employment Program" due to it's efforts to the community reconstruction and education of ecology. It was also rewarded for the education of national ecology. All their hard work paid off in the end, and they get great recognition. "We show gratitude for getting budget supplement and resources from the Workforce Development Agency. At the first time, we wrote a proposal to the Workforce Development Agency, we were worried about losing the chance for a budget supplement, which was also a chance of turning over the fortune of the tribe." Banai said.
The achievement of Cidal Hunter School gives credit for the persistence of Fara and Banai, the endeavor of the elderly in the tribes and the support of the villagers. Yet, it was such a pity that Fara died of sickness in 2017, which left many goals unaccomplished. At first, we worried to ask Banai what is the next plan for the school and it would cause Banai to grieve over Fara's death. However,
she seemed strong and told us that environmental education is always the goal for Fara. Thus, we will set a tribal kitchen to show Amis food culture – edible wild herbs to more people." Like the video commentating, Fara posted on Facebook, "The principal of Cidal Hunter School doesn't worry. We promise we will take the responsibility of passing down Pangcah ( the term Amis refers themselves ) culture.
Provided by Cidal Hunter School

This work is licensed under a Creative Commons Attribution-NoDerivatives 4.0 International License.
Please attribute this article to "Workforce Development Agency, Ministry Of Labor".