GOAL 11: Sustainable Cities and Communities
GOAL 11: Sustainable Cities and Communities
An Interview with Mr. Sung, Chairman of Taitung County Kakawasan Cooperative
Written & Photographed by Huang Zhi-Jia
People in Kakawasan tribe grow rice, yet in recent years, the tribe starts to make a name for itself thanks to its shell-ginger leaf hats. These sturdy and stylish hats have attracted many retailers for business cooperation. Now, people in the tribe founded Kakawasan Cooperative and collaborated with other tribes to promote their products. According to Mr. Sung Po-Fang, the chairman of Kakawasan Cooperative, this business attracts young people to take part in producing shell-ginger leaf hats. Hence, more and more young people will return hometown and contribute to this tribal business.
Previously Working in the Insurance Industry, Mr.Sung Switched His Career Path and Shouldered the Responsibility of the Tribe Affairs 
Mr. Sung used to work in the bank for more than 10 years, yet it didn't help him survive the financial crisis. Then he decided to quit and went back to his tribe, changing his career path to insurance. When he sold insurance policies, he noticed the distress his tribe suffers. He started to handle the tribal affairs after assuming the position of the tribal chairman. He was later elected as the chairman of Kakawasan Community Development Association. He was concerned about tribal affairs. As his position changed, Mr.Sung focused on how to promote the tribe. Mr.Sung also decided to propose "Tribal Development Plan" to Indigenous Peoples Commission and do 3-year-long research since then.
"There is nothing special in Kakawasan." Mr. Sung confessed. The tribe was moved here in 1980. Although it's an Amis tribe, the houses here are all Minnan-styled construction made of concrete and brick. The tribe is away from mountains and sea. Most of the people here make a living by farming. There is nothing special in the tribe! There was not a cornerstone to start a business, which really gave him a headache.
However, Mr. Sung began to explore the tribe owing to Tribal Development Plan. He noticed that women here love shell-ginger weaving and they are also good at it! He discovered that most of the locals love to use shell-ginger leaf for weaving. Every part of shell-ginger can be used. The pressed dried shell-ginger stalks are used to weave shell-ginger mats and baskets. Most of the women in the tribe are very skilled at weaving, so Mr.Sung decided to promote the business relating to shell-ginger.
Innovative Shell-Ginger Woven Products were Born
Mr. Sung said you could find shell-ginger woven products in almost every Amis tribe because shell-gingers are everywhere in tribes. Although the weaving skills in Kakawasan are not especially outstanding comparing to those of other tribes, Mr. Sung still decided to choose shell-ginger woven products to be promoted and wanted to make the best products.
The locals gathered and cooperated to make the shell-ginger weaving products. Some of them went to the mountains to get shell gingers. Another dried and pressed them and the other finally delivered them to the women and girls for weaving. Making woven baskets and mats required stems of the same width. The most of left parts are the so-called remnants. Mr. Sung always felt bad when these remnants were tossed to the fire to be burned.
"It is not easy to get shell gingers!" Mr. Sung told us. These shell gingers are gathered by lots of people. Through a complicated process, shell gingers are made into weaving materials. Shell ginger stems are flexible, water-resistant, sturdy, and durable with a light floral fragrance. It is such a pity to burn all the remnants. Thus, he called a meeting to gather women and girls in the tribe to bring some remnants home, trying to come up with some new ideas to create mass-produced woven products.
The female in the tribe are so creative that they use shell-ginger stems to make handcrafts. Among shell-ginger hancrafts, a beetle nut basket amazed Mr. Sung the most. There are beetle nuts, betel leaves, lime, and a knife inside the beetle nut basket passed around at a gathering. When it was passed to Mr. Sung, he dumped out all beetle nuts and put the basket over his head saying, "This is it! Let's make shell-ginger leaf hats!"
People in the tribe use the remnants to make long shell-ginger ropes, further made into shell-ginger leaf hats. Even the threads used to sew the hats are made of shell-ginger stems. The hats are made of 100% shell gingers. For the weaving skills, our tribal women went to Miaoli to learn from a professional. They even invited the teacher to the tribe. Ultimately, they developed the standard weaving skills and the result – shell-ginger leaf hats are sturdy and of great texture. The design of shell-ginger leaf hats is simple but the hats with blue-dyed clothes have more diverse patterns and seem more stylish.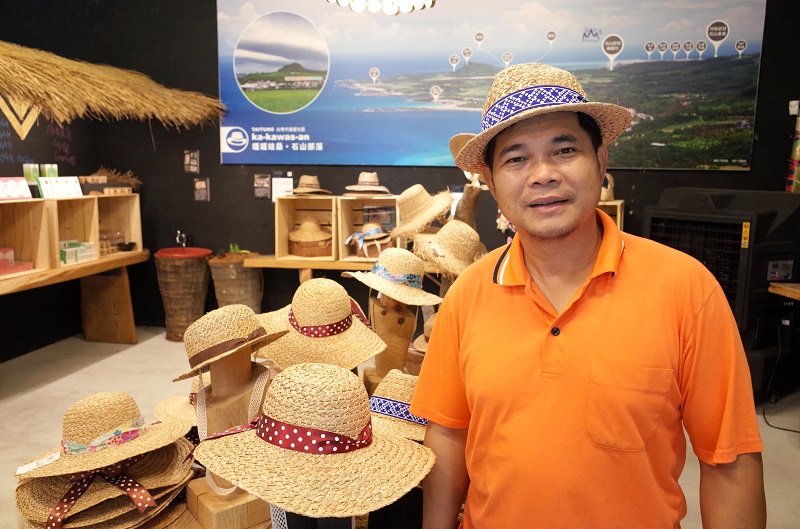 Shell-ginger leaf hats made by the locals lead by Mr. Sung are very popular. (photographed by Huang Zhi-Jia)
Mr. Sung Sought for Cooperation with Japan
Mr. Sung spent lots of time looking for equipment to make shell-ginger leaf ropes. He finally found the manufacturer. When he saw ropes made of rice straws, once again, he grabbed the chance to make a fortune. He assessed the production for making shell-ginger ropes as well as the possibilities of introducing the ropes.
According to Mr. Sung, many locals in their tribe rely on agriculture for livelihood. Rice straws are usually burned or buried after harvest. If rice straws can be made into any products, it is a good chance for benefits. Thanks to the help of the equipment manufacturer, Mr. Sung reached a consensus with the company exporting Shimenawa (straw ropes). They invited potential Japanese buyers to visit the tribe and finally reached a cooperation agreement.
Shimenawa (straw ropes) can be found in temples in Japan. Shimenawa made of rice straws is hung on the beams and tori at the entrance, accompanying a sense of solemnity and praying for good luck. The OEM of Shimenawa breathes new life to the rice straws of the tribe. The locals even developed the Shimenawa amulets to pray for romantic love, career, and good grades.
Mr. Sung ( middle) leads the locals to make Shimenawa, turning rice straws into business opportunities. (photographed by Huang Zhi-Jia)
Multi-Empowerment Program Creates More Opportunities
According to Mr. Sung, the subsidy from" Multi-Employment Promotion Program" of the Ministry of Labor allows the tribe to have more money for manpower and controlling the materials. Last year, after Typhoon Nepartak, in order to promote their industrial upgrade, "Empowerment Employment Program" is used instead. Eight locals got employed and more people may participate in necessary training. More designs and products are thus developed.
"Empowerment Employment Program" offers 8 more job opportunities, and job vacancies are diverse: ten tribal women are hired to make woven hats; ten locals are employed to make Shimenawa; people are paid to pick shell-ginger flowers; farmers are contracted to grow special kind of rice to make Shimenawa. A sales center is established in Taitung Sugar Refinery. Moreover, an industry chain and job opportunities are developed. The job opportunities in the tribe are no longer restricted to agriculture.
Kakawasang Community established the Eastern Coastal Aboriginal Community Cooperative in 2012 and business opportunities are created through cooperation among tribes. Mr. Sung said the popularity of shell-ginger hats has attracted retailers all over Taiwan to place orders. Currently, the demands for shell-ginger hats are greater than its supplies. Shimenawa is also sold well. Market channels are not problems anymore. Therefore, the objective for the cooperative is to involve more tribes to join the industry chain and to divide work into different parts such as collecting, preparing materials and weaving. With the joining of Tolan Tribe at Donghe Town and tribe in Kuanshan Town, the industrial chain has gradually formed.
"If young people can make a living in the tribe, they would surely want to come back!" Mr. Sung said. The resident population in the tribe is only 400 and most of them are middle-aged and old-aged people. However, since the sales for shell-ginger hats and Shimenawa are getting on track, young people return the tribe. We can see some couples strive to work together and take care of their elders at the same time. Mr.Sung said with a smile, "With these young people involving, our tribe looks so lively and the future looks hopeful!"

This work is licensed under a Creative Commons Attribution-NoDerivatives 4.0 International License.
Please attribute this article to "Workforce Development Agency, Ministry Of Labor".