Perhaps you've never noticed, but somewhere in Taiwan, there is a place full of love, built for people living with HIV/AIDS (PLWHA) and former drug addicts affected by HIV/AIDS. Through regular schedules and professional training, the association helps them retrieve their dignity, and find a means of living. Like the morning dew glistens in the sun, injured souls shine again with love. At Chao-lu (Literally means "Morning Dew" in Mandarin) Rehabilitation Farm of Taiwan Lourdes Association, the bright sun guides these helpless people to rebirth.
Farm and Solace for Soul Restoration
Taiwan Lourdes Association is a non-profit organization that, in the spirit of care and equality, strives to save PLWHA, former drug addicts affected by HIV/AIDS, and their families from poverty, pain, and discrimination. The association provides care, improves their living standards, and protects their human rights. At the same time, the association hopes to dispel public prejudices towards PLWHA through campaigns and education.
Former drug addicts have to overcome many obstacles to reintegrate into society. Nonetheless, the greatest barrier comes from within. It might be hard for us to imagine, but they often harbor enormous guilt for their experiences of drug use. This makes them more susceptible to hidden discrimination and temptations in society, and more likely to give up on themselves. The transitional period between leaving a halfway house and reintegrating into society is difficult for former inmates infected with HIV/AIDS due to drug addiction. Therefore, the association always wanted to find a location to offer short-term accommodation for former inmates. Such a place would provide work relief, and allow former inmates to adjust and process their emotions in an intermediary setting.
As fate would have it, in April 2012, the association was able to lease a plot of farmland in Heping District of Taichung City for free with the help of kind benefactors. This allowed them to build a welcoming home. The association named this place Chao-lu Rehabilitation Farm. Here, with the help of professional social workers and farm managers, former inmates can work on mending their bodies, minds, and souls through farm labor, group activities, and therapy sessions. They can prepare to reintegrate into society and strive to retrieve their dignity.
Morning Dew Glows in the Sun
Love and Achievement Nourish Former Inmates
With the help of the Multiple Employment Promoting Program (MEPP) of Workforce Development Agency (WDA), Ministry of Labor, the farm was able to hire three recruits and a project manager. The three recruits play crucial roles at the farm. Working every day from dawn to dusk, they help to plant crops, trim branches, and bag, pick, and package fruits for shipping. Most importantly, they get to assist in other local tasks, shouldering management and leadership responsibilities that give them a great sense of achievement.
Project manager Peng Yun-chung said, "Chao-lu Rehabilitation Farm currently produces three main agricultural products: nectarines, persimmons, and bird's-nest ferns. We also added more variety to our products by selling homemade jams and sauces. Furthermore, this is a farm full of love and hope. The plump fruits we harvest each season are the results of former inmates' strong conviction and hard work."
Peng Yun-chung talked about cases from MEPP. One story involved an older member from a rural community. After being released from prison for many years, he was still unable to return to a normal life. "He had left home for many years. Everyone in his hometown knew one another, and they would gossip. This made him feel uneasy at home. He was also afraid that his old 'drug buddies' would show up at his house." This man found Chao-lu Rehabilitation Farm through MEPP. He gradually found peace of mind in the disciplined farm life, and gradually became more confident around others. After the project concluded, he took home the products made from the crops he had planted at the farm. The sense of achievement he felt brought tears to his eyes. It was such a simple emotion, but one he hadn't experienced for many years.
However, there are more than just "visible" achievements, Peng Yun-chung pointed out: "His character underwent even greater changes. He was relatively older and had formed many bad habits. For one, he was always bad at controlling his emotions. During his years at the farm, however, he not only grew accustomed to living in a group but also learned to reflect upon himself instead of always blaming others. This mustn't have been easy." Peng Yun-chung analyzed, "I think that former inmates helped by MEPP are more stable. After a year of observation, they showed a lot of change in terms of group adaptation and their interpersonal relationships."
The person from the other case was also hired to work at the farm through MEPP. His family strongly disapproved of him because of his drug use, and even cut ties with him completely. They saw how his lifestyle and abilities gradually returned to normal through disciplined work and services at the mountain farm. His family felt the changes in him and welcomed him back after two years. He was able to go back to his family, an example of love reaching beyond the farm and into families.
The Ability to Identify People's Value is the Biggest Reward
Project manager Peng Yun-chung had complicated feelings when seeing the growth in the lives of people they'd helped. A retired lieutenant commander, he used to engage in financial management in the military. With his current job, however, he was able to sense people's change. He also felt that his life had been positively influenced. "Back in the military, if you do something wrong, you get punished immediately. However, this method doesn't work with the people we are providing care for. If I'd stuck to this old attitude, I'd have had fights left and right. I had to do a lot of psychological and lifestyle adjustments coming here. The biggest reward for me has been learning to cultivate patience. This is especially important when tasks pile up. Finding the balance between taking care of others and facing one's own emotions is a challenge," Peng Yun-chung said eloquently of his internal process.
Peng Yun-chung's coworkers, on the other hand, say that the most impressive thing about him is his ability to "identify one's value". Different issues exist in every case. As the project manager of the Association, he manages everything precisely and provides proper assistance. This requires not just patience, but also love and respect. With Peng Yun-chung at the helm, the farm is not driven by production. Instead, it creates the most moving scenery by helping people.
The touching part of this project is its continuation. Lourdes Association was impressed by the changes that MEPP had brought. Ms. Ku, the director of the association, said fondly, "Because the project is renewed annually, we can arrange for a year's worth of farming labor, group activities, dealing with emotions, and professional classes for individual cases. This allows them to lead a more stable life and be better prepared to reintegrate into society. When we first started, the people we were helping gave up easily, so we didn't have many successful cases of reintegration into society..." This success became the model for other cases and gave the association a better idea of how to run things. In the future, the association will continue to compile examples of stable cases in order to develop a management rule-of-thumb. Chao-lu Rehabilitation Farm can thereby become not just an intermediary location but also a warm home for former addicts.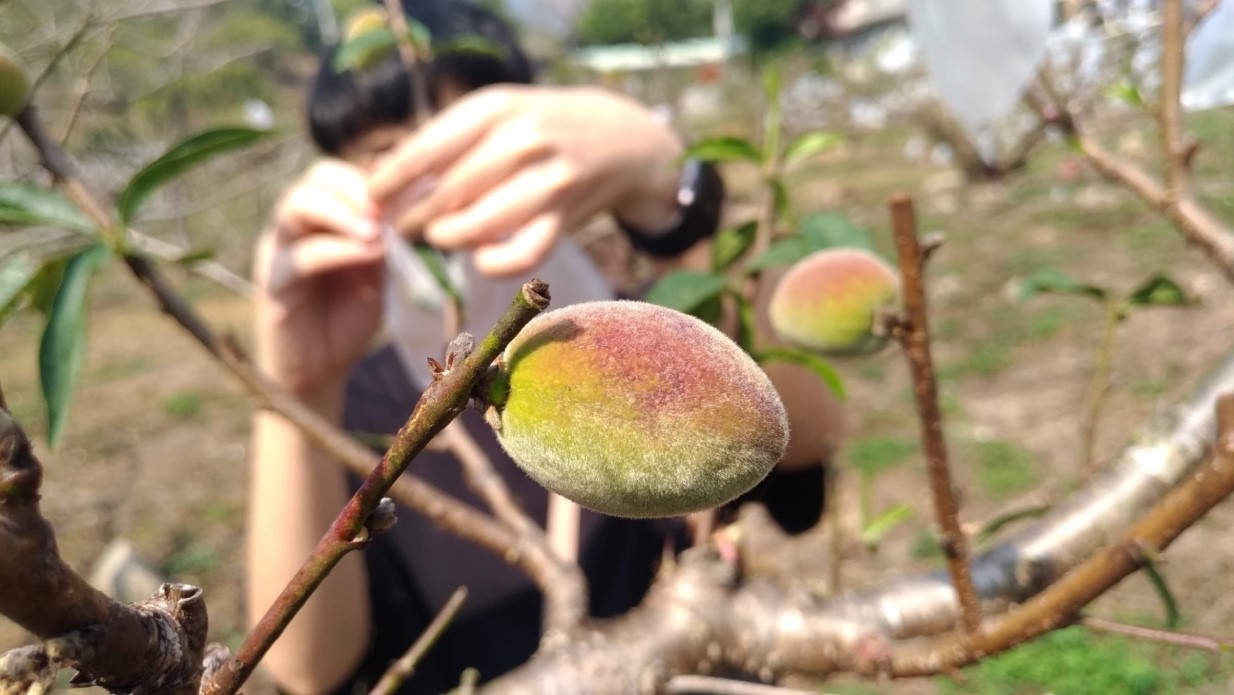 ▲Nectarines are one of the three major products of Chao-lu Rehabilitation Farm. Guests of Chao-lu Rehabilitation Farm work from dawn to dusk. Nectarines need to be painstakingly bagged to produce plump fruits.
▲Persimmons are also one of the three major products of Chao-lu Rehabilitation Farm. They are harvested during autumn. The persimmons in the photo are ready to be shipped.
▲Aside from fresh products, Chao-lu Rehabilitation Farm also produces homemade jams and sauces to expand commercial benefits to its crops.
Case Story - Multiple Employment Promoting Project
Interviewee:
Taiwan Lourdes Association - Project Manager Peng Yun-chung
---

This work is licensed under a Creative Commons Attribution-NoDerivatives 4.0 International License. 
Please attribute this article to "Workforce Development Agency, Ministry Of  Labor."