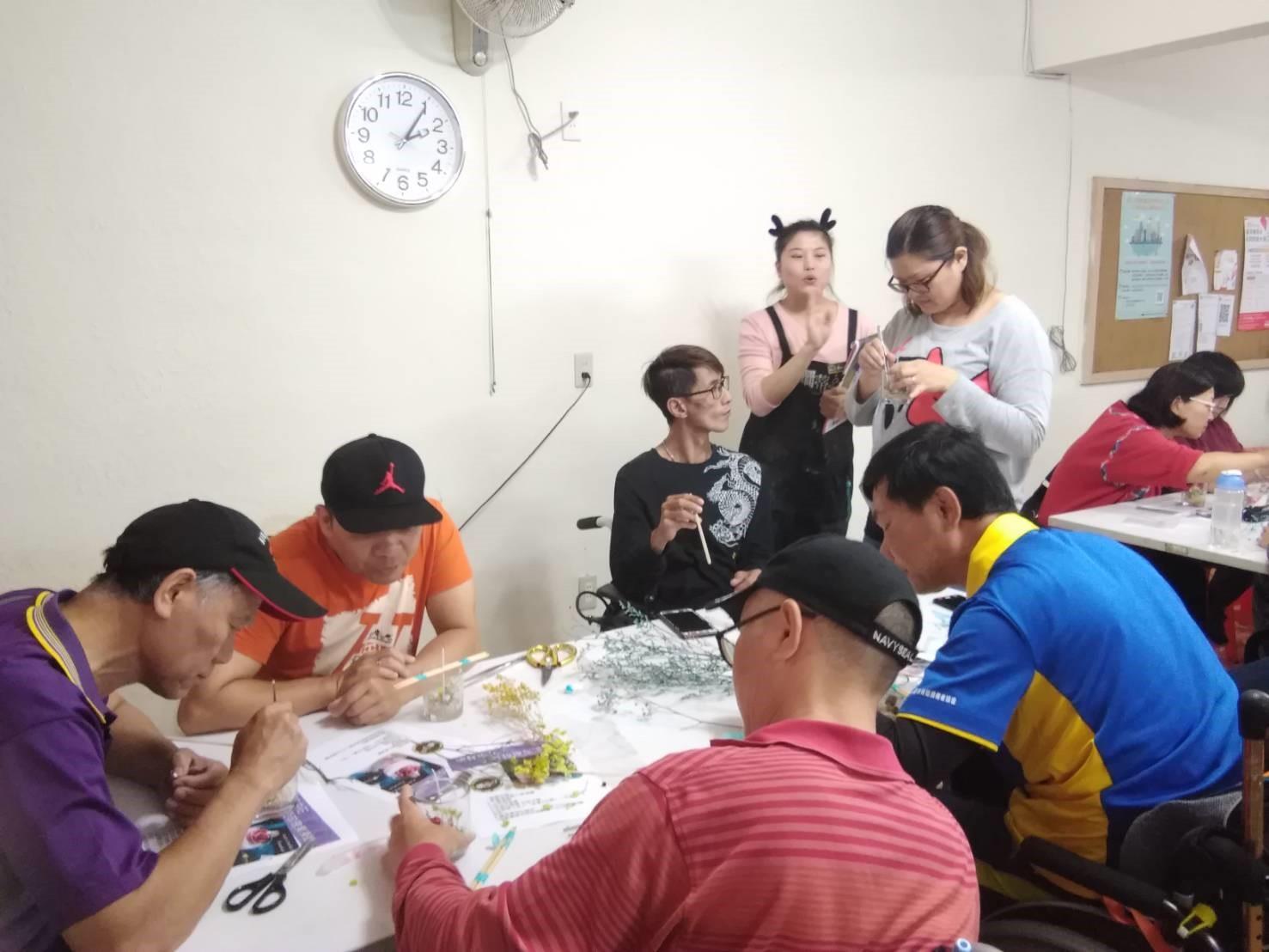 Like the narrow, winding, and undulating roads of Keelung, the life of those suffering from spinal cord injury is a rough path. Keelung City Association of Spinal Cord Injury hopes to lend them a helping hand and allow them to brave the road ahead with a smile.
Inaccessible Environments Inhibit Spinal Cord Injury Patients
With the ocean on one side and mountains on the other, Keelung City is home to the beautiful scenery. But unfortunately, many spinal cord injury patients have a hard time appreciating the view. Numerous undulating roads make accessible facilities relatively harder to install and often lacking, so going out can be a great challenge for patients.
Keelung City Association of Spinal Cord Injury was founded in 1995. The founder also suffers from spinal cord injury and understands how many patients might have a negative outlook on life. He and a few partners founded the Association with the hopes to facilitate interaction and encouragement between patients to help them think positively. Currently, the main focuses of the Association include consultation, medical referral, employment services, psychological recovery, assistive resource services, volunteer services, home care services, entrepreneurship assistance, emergency rescue, and running the Recovery Bus.
Hsu Jin-Pei, the Association's current Executive Secretary said, "The Association started out by doing house calls. We brought daycare resources into patients' homes, organized activities for patients to go outdoors, and gave the rest of the family a break. By participating in different activities together, patients find that they are all the same, which helps them open up to one another and see that they can also have a good time in wheelchairs instead of lamenting at home."
Spinal Cord Injury Patients Face Difficulties Finding Work and Adjusting to Society
Spinal cord injury refers to acute external trauma with damage to the spinal cord and nerves, causing dysfunctions in movement, sensation, as well as bowel and urinary control. It is usually caused by tremendous outside forces such as a car crash, falling, being crushed by heavy objects, sports injuries, or gunshot wounds that displace or fracture the spine. Roughly half of all spinal cord injury patients suffer from cervical spinal injuries, which result in quadriplegia. Thoracic, lumbar, or sacral injuries, on the other hand, cause paraplegia.
Aside from movement and sensory dysfunction, spinal cord injury also causes a loss in the bowel and urinary control as well as sexual dysfunction. Respiratory issues and anomalies of the autonomic nervous system are also common. Furthermore, these physical symptoms are often closely followed by psychological frustration, financial pressure, social adaption issues, and even family problems. There are roughly 1,200 new cases of spinal cord injury in Taiwan each year, the majority of which are caused by car accidents (over 50%). Almost two-thirds of patients are between the ages of 20 and 49, male to female ratio is about 5 to 1, and over 90% need the assistance of a wheelchair. Nearby 40% of them earn a low income, and about 50% of them don't have a steady income.
It is hard for spinal cord injury patients to compete with average people in the workforce, Hsu Jin-Pei pointed out. They can only rely on government subsidies that encourage businesses to hire them, but if the government ever withdraws the subsidies, these businesses will usually let them go. She said, "Honestly, patients have to overcome so many obstacles even to simply go to work. For example, sitting for too long can cause pressure ulcers, so patients need to move around after working for a while. However, this requires assistance. They also have to carry urine collection bags with them at all times, which is not only inconvenient but also prone to causing infections. Some patients might be fine one day and gone the next."
For spinal cord injury patients, social adaption and income are the two biggest issues. The Association started out by doing house calls and encouraging patients to meet up and support one another, but in recent years, it is actively looking for ways to help patients beyond the house calls.
By a twist of fate, Director Juan of the Keelung Employment Service Center reached out to social welfare organizations in his jurisdiction and told them about the Workforce Development Agency's (WDA) different programs and how to apply. The Association then realized that applying for the Multiple Employment Promoting Program (MEPP) could be the way forward.
Doing More for "Insiders" Through the Multiple Employment Promoting Program
The Association needs resources to do things said Hsu Jin-Pei, but other than that, what truly matters for patients is having the ability to take care of themselves. By applying for the Multiple Employment Promoting Program (MEPP), the Association could hit two birds with one stone. On the one hand, it was able to help patients learn relevant skills, and on the other, patients could share their experiences at other organizations, become more confident in their work as well as self-sufficient, and relieve their financial struggles.
She said that through charitable hospital visits, patients can get to know other patients. They often refer to themselves as "insiders" and exchange practical information, such as the conditions of restrooms in various areas and where to find accessible restaurants. Over the years, the Association has also conducted a few surveys of accessible restaurants and hotels. This process of mutual support is especially meaningful for patients and also gives them a chance to practice their speaking skills. These patients go around advocating spinal cord injury prevention because a family is saved as one accident is avoided. The Association has also noticed that people with injuries are progressively younger, with the main factor are car accidents, drunk driving, and sports injuries.
It often takes a long time to get through to patients. Hsu Jin-Pei mentioned a patient who is now a director of the Association as an example. It had taken a long process of convincing and withdrawal to try and get him out of the house, but the Association persevered and finally managed to help him move on from his reclusive lifestyle hiding from society and crowds. Now, he is able to speak at other organizations and actively participates in events held by the organization. It has been a long and difficult process, but the Association will never easily give up on anyone.
Over the years, the Association has helped seven patients become street performers. They were all patients that never left the house but now perform all over Taiwan. The Association also provides handicraft classes, teaching patients how to weave shopping bags and make things with paper clay. The Association also interacts with other spinal cord injury organizations, participating and performing well in events like croquet matches.
Find a Product Unique to the Association
Over the past two years, Hsu Jin-Pei found an instructor teaching how to make gemstone candles online, and sought her help in developing a product unique to the Association. Unlike the mainstream gel candles, gemstone candles are not limited to specific molds and can be made with any container at hand. Hsu Jin-Pei and other leaders of the association agreed that patients could learn the craft and hold public DIY courses or even make custom products.
The Association could not afford to hire outside consultants for help in marketing, packaging, promotion, sales, or even product development. Thankfully, the MEPP not only provided subsidies for staffing but also offered the help of a consultant team that trains participants on marketing and promotion, tremendous assistance to the Association.
Through the MEPP, the Association has been able to fully coordinate the manpower to conduct house calls and help women re-entering the job market, spinal cord injury patients in the association, disadvantaged groups, and members of low-income families to find jobs and increase their productivity. The Association has worked with the MEPP for many years. Despite its limitations, the Association will do its best in the future to decrease reliance on subsidies, retain more staff hired through the project, and become a trusted partner in the eyes of patients.
▲The Keelung City Association of Spinal Cord Injury arranges gemstone candle DIY courses
to help spinal cord injury patients develop special skills.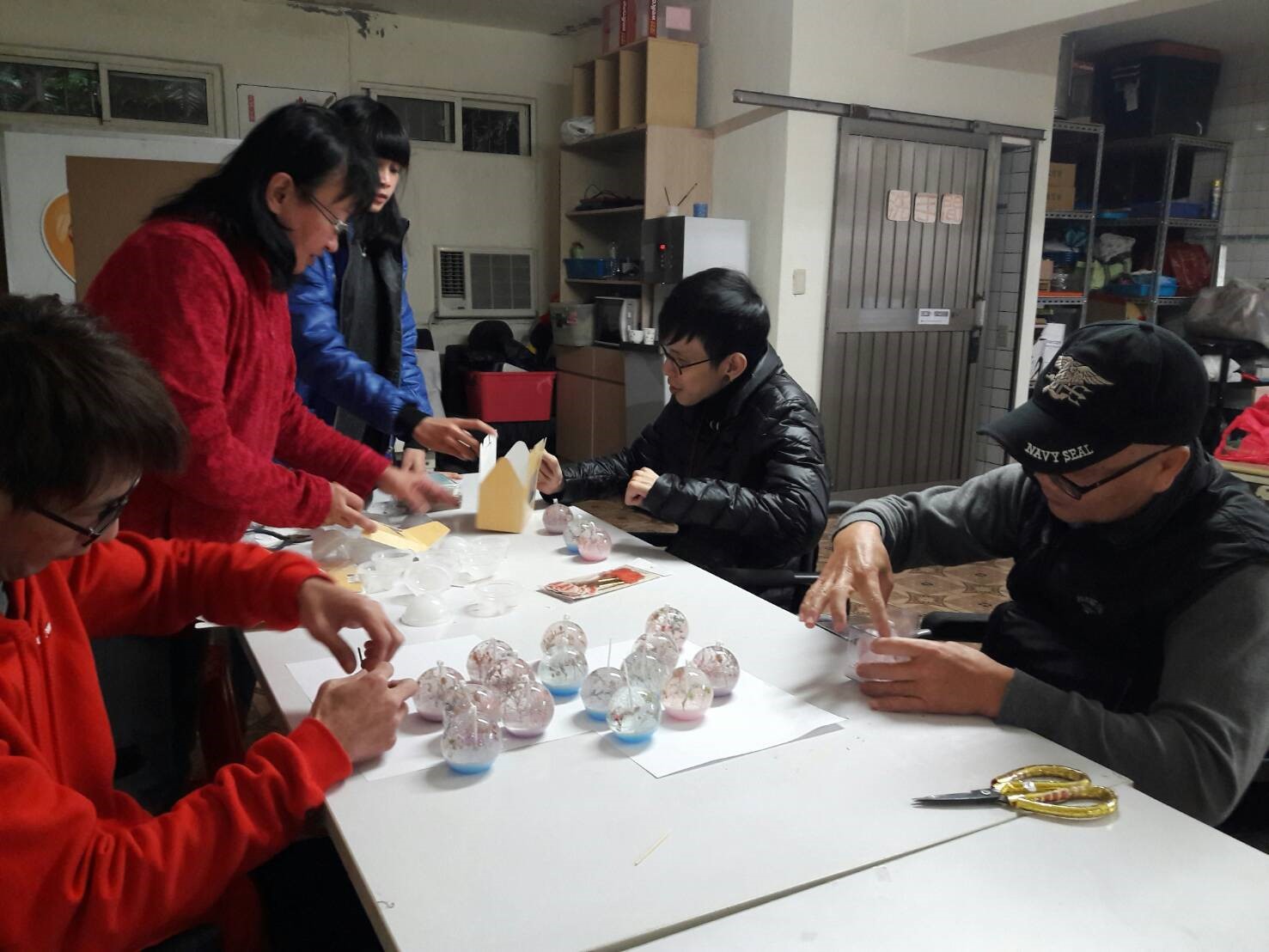 ▲Gemstone candles don't require special molds. They can be made with
any container and are perfect for customization.
▲Association members weaving handmade shopping bags.
Case Story - Multiple Employment Promoting Program
Interviewee-Hsu Jin-Pei - Keelung City Association of Spinal Cord Injury
---

This work is licensed under a Creative Commons Attribution-NoDerivatives 4.0 International License. 
Please attribute this article to "Workforce Development Agency, Ministry Of  Labor".