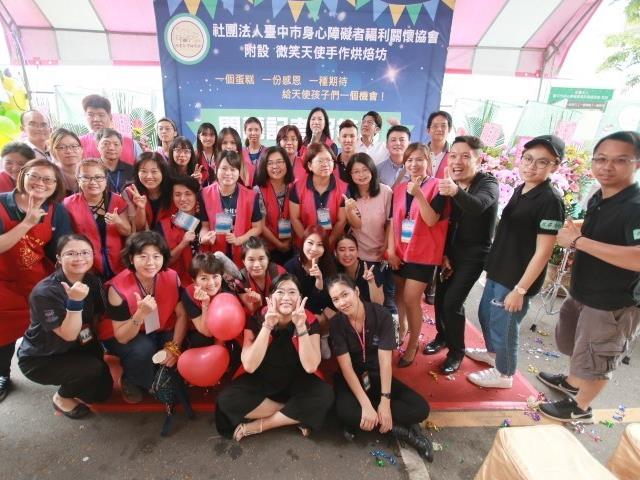 We don't want to simply receive kindness from others. When we are capable of giving back, we also want to be givers.
Smiling Angel Bakery Hopes to Become Self-Sufficient
Taichung City Welfare for the Disabled Association was founded in 2014. It started out as several special education teachers were aware that disabled students with Class C baking licenses would have a hard time being hired by companies or bakeries after graduating. Under this circumstance, they decided to establish the Smiling Angel Bakery in a joint venture with the parents, hoping to give these children a place to use the skills they learned in school.
The association's deputy CEO Yang Jing-Hsuan used to be a customer of the bakery. She later joined the association as a volunteer before officially becoming an employee, Yang leads the team to go forward since she was their project manager. She told us: "On popularity, we are still far behind other long-running organizations. In the beginning, 11 out of 10 people had never heard of Smiling Angel! She had been volunteering at large, well-known social welfare groups such as the Genesis Social Welfare Foundation and Taiwan Fund for Children and Families since high school. After encountering Smiling Angel, she realized that there are some small social welfare groups that wanted to do more, but had trouble securing the resources to carry out their vision, so she decided to join their efforts.
She said that the association established as a social enterprise from the beginning in hopes of being self-sufficient one day. So, they introduced business models, hoping to make their products more competitive on the market. With her background as a nutritionist, Yang Jing-Hsuan believes that products must be delicious, healthy, and safe in order to be trusted by consumers. If the association solely rely on pity, fail to establish connections with consumers, then our products won't be accepted. Since the bakery was established, at least one class B or higher-class certification baker is regularly arranged on site. The products are required to be healthy and low-sugar, and the association spends a lot of money to send the products to regular testing.
"Disabled children have a long way to go after graduating from school to join the workforce and corporations", said Yang Jing-Hsuan, "so the association was established in hopes of aiding this transition." By directly purchasing Smiling Angel products, companies and consumers not only provide the association with more income but also give disabled people job opportunities.
The association currently provides services to disabled individuals, their families, and communities. The association hopes to assist people with disabilities so that they have the same rights and opportunities as ordinary people in every aspect, such as food, clothing, housing, and transportation.
Helping Disabled Children, Families, and Communities
In addition to cultivating skills and attitudes for work and earning a decent salary, each individual should also learn how to live on their own. While the association takes care of these disabled children for 8 hours, their families have to take care of them for a lifetime. The association is willing to walk the extra mile with the families; it takes care of the children, giving parents a chance to rest or time to work. Professional social workers at the association assist family members in helping the student establish the same learning models at home. The association also helps low-income families to apply for relevant resources that can lighten their load. Not every family knows how to care for a disabled child. The association helps families learn about professional care. As for the communal aspect, disabled children will still have to integrate with the community. They need to learn how to live in the community, and the community's acceptance of disabled children is also crucial. The Association took the initiative to organize community events and promote Smiling Angel products to show the public that disabled children are not different from everyone else, despite they might communicate and react slower. These events allow the public to approach them, become acquainted, and break down stereotypes.
Aside from teaching disabled children skills and attitudes for work, the association also hopes to cultivate their social skills, emotional management, communication, and self-expression. Yang Jing-Hsuan stated that teachers and parents can't always be by their side. These children need to learn how to make decisions of their own, learn how to communicate their needs, and live well on their own after returning to the community. "We often tell parents that there will come a day when we have to learn to let go. Before that day comes, we need to make sure that they can live without us. There were cases in the past where parents took their children's lives with their own. We want disabled children to learn how to live like the rest of us, and how to communicate with the community and with others", said Yang Jing-Hsuan.
In the five years since it was founded, Taichung City Welfare for the Disabled Association has successfully helped five disabled students find work outside. The association also employs teachers that are disabled themselves, as well as middle-aged and elderly employees. By providing assistance to resolve social issues, the association also offers people in need the opportunity of self-realization through their work in the Association.
Multiple Employment Promoting Program Helps with Staff and Training
Yang Jing-Hsuan said that the salaries social welfare units can offer are less than ideal. When the association was first established, they were short on staff and money, but everyone on the team had an understanding. They had a very clear idea of why they were there, and why they were doing this. This is the core idea of the entire association. The Multiple Employment Promoting Program (MEPP) of the Workforce Development Agency (WDA) gave the association subsidies that allowed them to hire more staff. They also provided education and training courses that helped the team establish an operating model and train their staff. At the end of 2016, the association hired an elderly employee and a disabled employee. In 2017, another elderly employee joined the team. In February 2018, the association moved to its current location. Assistance from the MEPP helped to relieve staffing pressure. The current project manager and store manager are both employees trained through last year's project. Both are fully capable of working on their own. Without subsidies from this WDA's project, the association would struggle during the current stage, but we hope to work towards the goal of self-sufficiency.
"We want to speak our dreams out loud and to gather the people, ideas, resources, and funds that can make these things happen. So far, WDA is doing a well-rounded job at the MEPP. In the future, we hope to see a better promotion that will allow more people to see these achievements. After all, people don't often get to see social work and how we help the disadvantaged. Perhaps with government resources and the power of the media, we can let more people see this project, gain more press coverage to help children realize their dreams, and let the world see their hard work", said Yang Jing-Hsuan.
Children are Our Love, And Giving is Learning
The association moved from Dali District to South District in 2018. Though they had to rent a worn 37-year-old building, the new base is still a lot more spacious. In addition to the bakery, store, packaging department, and classrooms for the children, they now have space for an aerobics room and audiovisual room, which they previously had to rent outside. Most spaces are accessible for physically disabled children.
But they still face trial after trial. The association has worked hard to give the children more opportunities to show themselves. In the past two years, the association has organized annual thanksgiving concerts for the children. The year before last counted with 130 staff members and 400 people in the audience. By 2018, the scale had expanded to 210 staff members and 1,200 people in the audience. However, the 2018 performance had to be delayed because the sprinkler system at Taichung's Chung Hsing Hall malfunctioned, damaging the sound system. In January 2019, as they were rushing to make Chinese New Year gift boxes, a pipe in the 37-year-old building burst, flooding the entire storage space. Many packaged gift boxes and materials were ruined, causing nearly 500 thousand NTD in damages. These two floods were more than upsetting for the staff at the association, but Yang Jing-Hsuan also saw how the children had grown. They took the initiative to help with the cleanup, almost missing the last bus home!
Yang Jing-Hsuan said that she hopes people find the products of Smiling Angel Bakery delicious and safe; that the stories behind these products touch people and prompt their support, allowing the products to shine; and that the children's hard work is seen. She is most touched by how the children and those in the association love one another like family. When the children find a job, they come and share the news. When there's an event, the children also come back to volunteer. She said, "Instead of saying I give these children a lot of love, you could say that I get a lot of love from them!"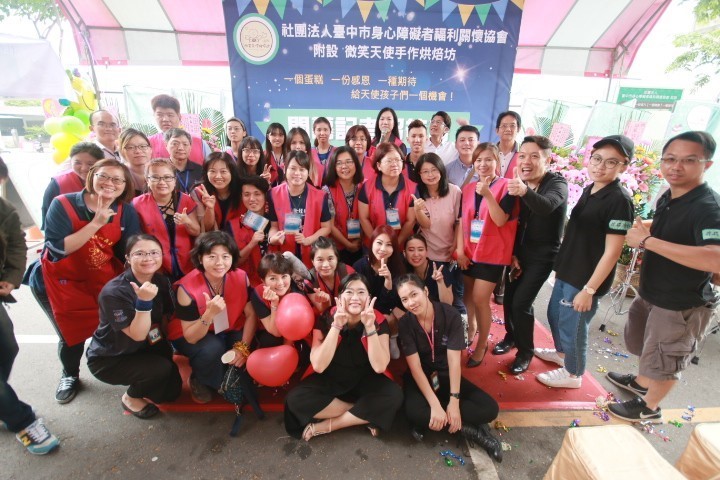 ▲The day of the opening after the move was the fruit of everyone's labor.
▲The staff and children act like a family, supporting one another as they complete each and every task.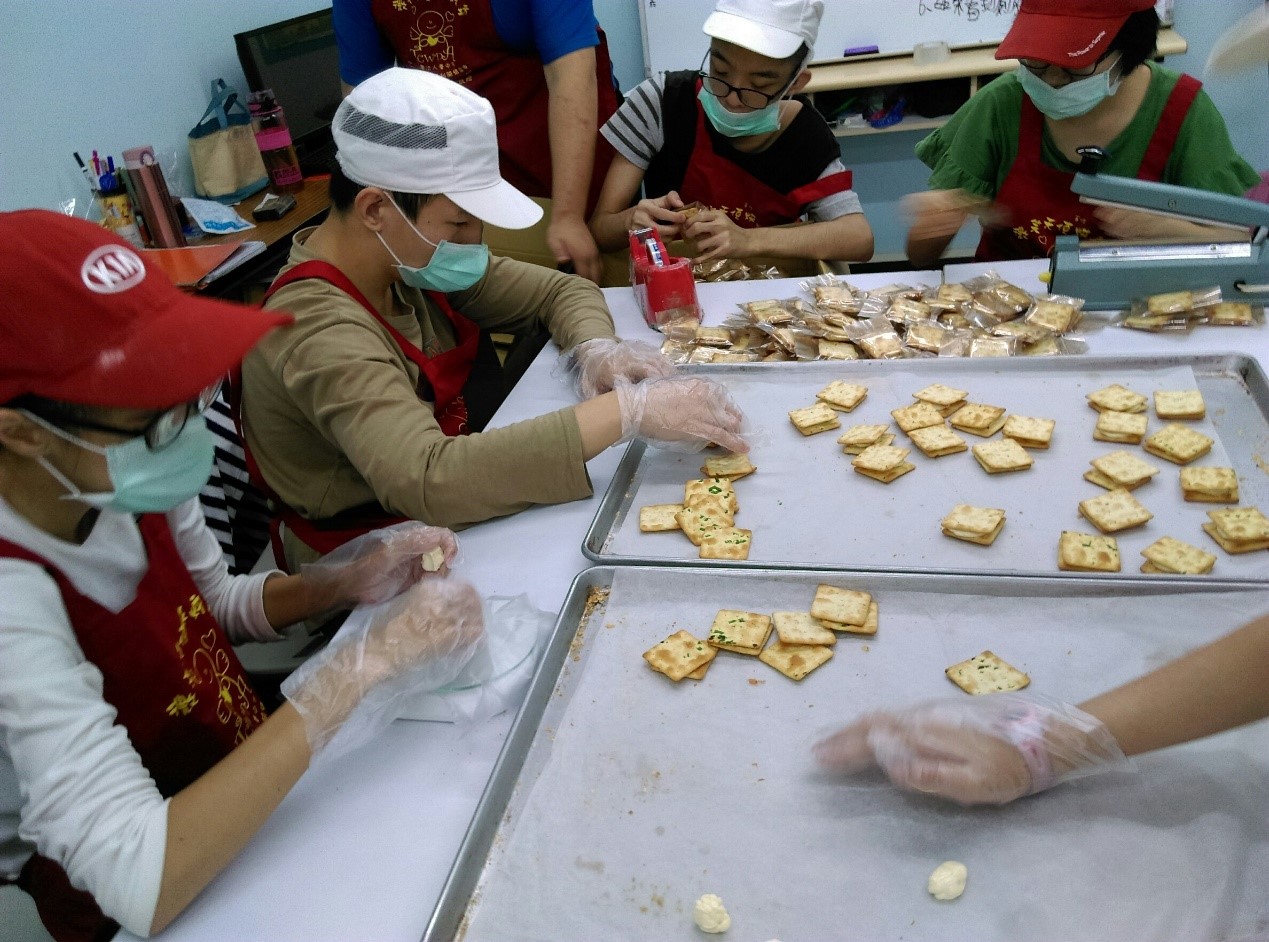 ▲Through hands-on work, these students not only learn technical skills but also
                        build up their confidence to take on challenges.
Case Story - Multiple Employment Promoting Program
Interviewee- Yang Jing-Hsuan - Taichung City Welfare for the Disabled Association
---

This work is licensed under a Creative Commons Attribution-NoDerivatives 4.0 International License. 
Please attribute this article to "Workforce Development Agency, Ministry Of Labor".