Founded on 23rd November 2013, Yilan County Family Care Association aims to assist single parents. They associate various resources. Its focus on serving the disadvantaged females, provide emergency support, consulting guidance, employment, legal advice, rent subsidy, and accompanying assistance for families with growing children. The Association earned its reputation out of its social services.
Family is What We Care
With the recent expansion, the Association assisted the case transition from the Social Department of local government and proactively connected social workers and volunteers to further take care of the more disadvantaged family. However, given that the limited manpower and resources, it's hard to move on in a restricted situation.
Then, the Association applied for the Multi-Employment Promotion Program (MEPP) launched by Workforce Development Agency (WDA), Ministry of Labor (MOL) in 2017. With the subsidized human resources, the Association improved the single mothers' economic status fundamentally by skill training and career plan. They aimed at giving single mothers a soft landing when returning to society and the workplace.
"The endpoint is much farther than we thought as you engaged in social welfare."
The executive secretary Ms. Liu has been serving in the Association for many years.
She's qualified as the representative of the first line of the Association.
She takes care of the subsidy application and management, administration, and communication. You can always see her working hard. Also, we can feel her passion for social welfare through conversation.
"We all know that providing subsidy to those people we'd like to take care of is not enough. Since the most ideal situation is that every single-parent family can reach a stable life with a steady income. Through MEPP subsidies, we hired a professional to set up a complete skill training session for empowering single mothers. We then decided to execute exquisite sewing craftsmanship training. Yilan has been a significant textile industry city, and it still is now. Always, the industry activities decrease as local human resources faded away. We chose exquisite sewing craftsmanship for matching the local economy and those single mothers seeking jobs.
Ms. Liu talked smoothly, giving us a complete blueprint, they sketched.
From the perspective of consumers' needs, the Association developed diversified products. It made the most generous use of recycled second-hand denim clothes. (Photo story)
An Economy Power That Helps Others and Helps Yourself
However, after all, ready-made garments and OEMs still remain in the way of per-piece pay rate. The price of each remuneration is not satisfying. The Association colleagues came up with great ideas from their experiences of keeping pets. They recycle second-hand denim clothes to make furry dolls for pets and develop a so-called "circular economy."
On the one hand, they promote environmentally friendly concepts by using recycled clothes to cut down costs and doing good to the ecosystem. On the other hand, they create job opportunities for single parents and disadvantaged women to solve their economic problems. The sewing training accompanies these women building up skills and confidence. Last, this circular economy combines social welfare platforms like the famous "Red Turtle" and events to generate multiple product values.
These events saw great success by selling out lots of products, created a couple of employment opportunities, and attracted social attention more than ever.
"Based on this achievement, the Association decided to carry on the MEPP program and expand products and connect more social welfare institutions. From baby groceries to safety belts for the elderly in nursing homes, the Association reached an initial consensus with the long-term care center for the affiliated care center of Hexin Hospital. At the same time, the Association also contacted the National Taiwan University Children's Hospital. The Association would like to provide comforting items like cute dolls to those young patients. They are carrying out the concept of "take and return."
"The Association seeks and works with alliances such as Abao Education Foundation and the Yilan County Welfare Association for the Autistic People.
They plan to hold fundraising events and charity activities to enlarge their social impact. jointly with other institutions, so that more people can take part in social welfare and devote themselves."
There is a significant animal doll among their products, which is different from the ordinary sewing skills in the shops. It is specially designed for pets' needs of biting. After special processing, it is more beautiful and resistant. (Photo Story)
"We've trained 6 single mothers who successfully got employed, but we are not satisfied." Speaking of carrying out social welfare, Ms. Liu is always confident with ideas, just like this time. She already sought out a solution for the current vocational training. Next, the Association will take relevant skills for women, including bakery, coffee grinding, beauty and hair salon, massage, and nail arts. The Association will hire professionals to teach skills and provide more career paths as options for the women they serve. They will also consider market demand and workplace safety to meet market expectations.
Co-Living and Co-Rooting
"When we are not receiving assistance from MEPP, the funds were mainly donations from local nobilities and personal committees' sponsors, and application of government grants with multiple projects. Since our resources are scattered, and the amount was not steady, we cannot depend on this outdated approach." This potential risk was kept in Ms. Liu's mind for a long time. With the ongoing promotion of MEPP, the service extent grew from 10-20 single-parent family cases in 2015 to more than 200 cases in 2017. The Association did well.
With continuous development, the Association would like to do more when there are spaces to go further. They expect a co-living family as their ultimate goal. It will contain a mutual assistance residence, DIY activities, pet recreation, a simple dinner stall, and a product selling site. In this way, this combination could enable everyone to live together and take care of each one. Besides, a sustainable approach is apparent as this could expand and attach local Yilan tourist resources to provide travel services.
"Although the road is longer than our expectation, still, we can start moving and become closer to the end with every single step. "The Association works in a low profile and reverses the typical impression that the disadvantaged people are dependent on grants. The Association also proves that they can meet the market demand to create values. Building up a self-sustained subscription platform and forming a string of helping pools to help more vulnerable families. The supportive pillars are the customers' recognition. As they are purchasing products, it might help a single mother or even a family.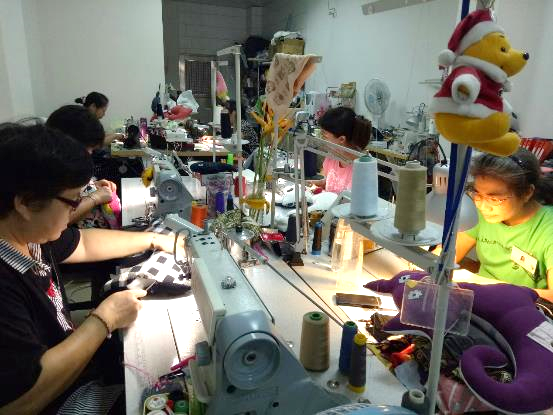 Women who are reentering the workplace have better passion than young people, and they need to bear the financial burden. Faced with such an opportunity, they are very content and cherish good luck. (Photo Story)
Case Story: Multi-Employment Promotion Program
Interviewee: Yilan County Family Care Association, Executive Secretary Yoichi Liu
---

This work is licensed under a Creative Commons Attribution-NoDerivatives 4.0 International License. 
Please attribute this article to "Workforce Development Agency, Ministry Of  Labor."