GOAL 11: Sustainable Cities and Communities
GOAL 11: Sustainable Cities and Communities
In 2015, the non-profit organization "Reporters without Borders" published the World Press Freedom Index. Taiwan is ranked 51st on this index, the highest ranking in Asia. However, greater freedom has apparently not led to corresponding self-discipline. Numerous media vie for exclusive coverage and ignore fact-finding. Stalking, sneaky photos, and digging into people's private lives are all too common and sleazy and pornographic images are ubiquitous. What is most regrettable is that this actually leads to higher viewer rates. Is it the media or the viewers who are interested in these topics? Is this phenomenon a result of low ethics or lack of knowledge on the part of the audience? This eternal cycle of uncertainty gradually turns this island with an apparent abundance of information into an intellectual wasteland.
Fortunately, Hsiao-Fei Feng, Hui-Yi Zhuang, Ming-Hong Xiao, Wei-Lin Yang, and Wen-Hao Wang, five representatives from the fields of media, the Internet, agriculture, and crafts, were fed up with this media environment and decided to jointly create a brand-new news platform named "News & Market" in 2011.
This platform not only reports news but also sells agricultural products, uncovers malpractices, and explores new options in the field of agriculture. What is even more important, they do not sell newspapers, do not accept advertisements, and fully rely on annual donations of 300 NTD by the founders and the proceeds from product sales to support the news department. Hsiao-Fei Feng points out that "the mainstream media in Taiwan do not pay much attention to food, agriculture, land, and environmental issues, which is alright because it creates a niche for our independent media!" They are also fully aware of the fact that a small minority cannot transform the whole media structure. However, they are willing to serve as a shining beacon in the long dark night.
First Encounter with Farming Villages after the 921 Earthquake
News & Market possesses two excellent tools to make profits. However, they are not willing to combine these tools to maximize their commercial efficiency. Hsiao-Fei Feng points out that "We report news and sell products, but we impose a strict ban on the promotion of our own products in news reports. We also refrain from selling highly popular agricultural products and focus on assisting small farmers in the sale of slow-moving items." This principle might seem foolish in the eyes of bystanders, but judging from the process since her early engagement in news and agriculture, Hsiao-Fei Feng has always remained true to her ideals.
In 1999, the largest earthquake in a century struck Taiwan. Casualties in central Taiwan were very high. Hsiao-Fei Feng, who was a reporter back then, laid down her work and hurried to Zhongliao in Nantou to show concern for the situation after the disaster. When she saw the collapsed walls and debris, she broke down and cried and could not provide any assistance. The only effort she was capable of was the transmission of information for local residents. She rolled up her sleeves and founded "Zhongliao News". In the following days, she commuted between Taichung and Nantou on a daily basis. She did not mind at all that each trip took almost two hours and got up early in the morning to deliver the newspaper.
However, newspaper deliveries could not solve community problems and had no direct positive effect on industrial reconstruction. After several years of hardship, Hsiao-Fei Feng decided to promote pesticide-free farming in Zhongliao. She firmly believed that by achieving positive results she would be able to prove to farmers that this method was feasible.
She thereupon took over the 1-hectare orange orchard of Mr. Liao, the father of her friend Mr. Xue-Tang Liao, and gradually explored farming techniques under the guidance of a professor of horticulture. "I felt like a freshman of the department of horticulture and had to start from scratch. All these efforts were worthwhile since it is much worse not to be able to achieve one's own goals."
Hsiao-Fei Feng still recalls that she was devastated when small amounts of pesticide were detected in the first batch that she submitted for inspection. After that, she deliberately extended the pesticide-withholding period with the result that no pesticide residues were detected henceforth. However, the harvest time exceeded the most suitable period, which resulted in poor quality. In the third year, she gritted her teeth and completely gave up using pesticides. Miraculously, the orange trees grew sturdier and taller without pesticides and the fruit were sweeter and juicier.
Seeing is Believing: Championing of the Ethics of Journalism
During these seven years in the Xidiyao area in Zhongliao, Hsiao-Fei Feng personally experienced the hardships of farming and the difficulties of selling agricultural products. After she left Zhongliao, she therefore still felt emotionally attached to farming.
In 2004, Hsiao-Fei Feng established the "Small village – Taiwan Community News Network" which focused on the reporting of humanitarian stories from various communities. In 2009, she founded the "Independent Morakot News Network" to track the progress of reconstruction of areas struck by Typhoon Morakot. After that, she created "News & Market" in cooperation with four partners from different fields. She serves as chief editor and product developer, while Wen-Hao Wang serves as reporter and the other three partners are engaged in the product department.
The first promoted product was red flesh plums from the Meishan tribal community in Taoyuan District in Kaohsiung. After the Morakot disaster, the road leading into the mountains was partly collapsed and destroyed, which increased the difficulty of transporting the ripe fruit down the mountains. They therefore had to be left to rot on the spot. News & Market processed these plums, which are grown without the use of pesticides or chemical fertilizers and turned them into dried fruit, jams, and fruit vinegar. This product series was named "Come Home Plums" implying that farmers can now return to their hometowns to engage in farming in a worry-free manner. These products were received very positively.
They then proceeded to promote grain products such as noodles, bread, and beans in an effort to reduce Taiwan's high reliance on grain and food imports and improve the food self-sufficiency ratio, which has been in steady decline. Every item of each category is personally inspected by Hsiao-Fei Feng to confirm that natural and pesticide-free farming methods have been adopted for the cultivation process before items are offered for sale. She points out that "High-quality peanuts are sweet without cooking. We fry peanuts and grind them to prepare peanut butter in our office every week and serve them fresh to consumers to give them a taste of naturally grown farm products." The same spirit of "Seeing is believing" is applied to news reporting. The partners have no interest in the restless pursuit of exclusive coverage, effectiveness, and click through rates and instead focus on investigative reporting which has been long abandoned by the mainstream media.
In 2013, News & Market reported that planned factory expansion of a bottled water provider in Puli, Nantou posed a danger to the fertile soil used for the cultivation of roses and water bamboo. Popular protest and opposition forced the manufacturer to abandon the project. In the same year, News & Market discovered that certain rice noodle products on the market do not contain any rice, which represents consumer fraud. They therefore revealed these facts in a news report. The manufacturers frankly admitted that the report was accurate, but they were convinced they had not broken any laws and therefore publicly pleaded their innocence. The government thus decided to amend the Act Governing Food Safety and Sanitation requiring food manufacturers to clearly indicate the ingredients of rice noodles in order to safeguard consumer rights and interests.
Seeking Truth from Facts instead of Blind Pursuit of Clicks
Although these news reports drew wide public attention, a lot of the coverage provided by News & Market is hardly noticed by the general public. For instance, the reporters spent a lot of time on an in-depth analysis of the draft amendment of the Act Governing Food Safety and Sanitation, which only generated a click through rate of a little over 300. Another article introduced the management of Paraquat pesticides. Although the author avoided the use of scientific terminology and tried to explain the matter in lay terms, the article had a click through rate of only slightly over 400.
Another phenomenon is related to articles, which discuss law statutes, new academic findings, or technical terms that are of interest to the public. Although a large number of users on Facebook shares these articles, click through rates are astonishingly low, leading the reporters to suspect system malfunctions. Later they realized that readers probably have the following mentality: "This is really important, so I should share it although I don't have time to read it." 
Hsiao-Fei Feng says that the reporters are now slowly accepting the inverse correlation between level of seriousness and click through rate. They have also made the pleasant discovery that News & Market is gradually attracting a growing number of professional readers. For instance, despite the low click through rate for the article on Paraquat, readers of the article include decision makers, researchers, and business professionals. These people play a key role in the community. "Although we keep saying that we don't care about click through rates, the reporters who write the articles still feel upset. But if these "box-office flops" can cause professionals to make progress they definitely have their value."
The high level of patience is one of the main differences between News & Market and other commercial media. In 2014, News & Market discovered that certain detergents contain permethrin insecticide. After problems had been detected in a small batch submitted for inspection, a second inspection was conducted. After the addition of permethrin had been verified, a large amount was submitted for examination. During this process, News & Market discussed relevant research methods with numerous experts. This included the accuracy of the target material, the reliability of the investigation methods, correlations between variables, number of errors to ensure compliance with scientific methods at every step and avoid misjudgments.
Hsiao-Fei Feng points out that these "Investigations took six months total and the authors held constant meetings, conducted repeated verifications, made constant revisions, and incurred expenses out of proportion to the actual effects. I guess no other media organization is willing to spend as much time waiting as News & Market does."
Insistence on Scientific Methods: Frequent Awards for Reporting
This report created an uproar all over the country and the involved businesses were fuming with anger. Homemakers United Foundation furiously held a press conference regarding this report and filed a lawsuit. The manufacturers did not deny that they had added pesticides, but they insisted that the law does not prohibit the use of such substances and they pointed out that they had incurred losses due to this report.
News & Market did not display any fear and the author of the report pointed out that "What a reporter needs most is composure. He should not be overly eager or anxious or he may hurt the subject of his report and his own reputation. During routine reporting we pay special attention to different leads and if something arouses our suspicion, we jot it down and slowly confirm the accuracy of our observations."
Hsiao-Fei Feng also states, "News & Market would be concerned about hurting a bigshot through their reports if they had a wide circle of acquaintances and relied on advertisements to stay afloat. We therefore deliberately minimize contacts to reduce the impact of human relationships."
By embracing a high level of self-discipline, News & Market consecutively received major journalistic awards for the following articles: "War between small farmers and a bottled water plant in Puli", "Investigative report series to uncover the truth about fake rice noodles", "Investigative report series on the misuse of pesticides in detergents", "Future of our children and the food in their bowls-investigative report on school lunches", and "Key turning point in Burma", a report on current state of development of Burmese agriculture. These recognitions include the Excellent Journalism Award, the Consumer Rights Reporting Awards, the Delta Electronics Energy Meteorology and Climate Special Award, and the Mr. Zeng Xubai Public Service Reporting Award.
At the end of 2014, Hsiao-Fei Feng was honored with the first Award for Special Contributions in the field of Journalism to recognize her efforts to overcome the difficulties in Taiwanese journalism. However, she humbly said with a smile, "That doesn't mean anything. They just did not know who to present with this first award. Since they noticed that I was at the end of my rope, they helped me out so I could last a little longer." She paused a moment then she added, "To be able to receive this award in this harsh media environment is a great source of motivation for me. Now I know that you can receive recognitions for doing foolish things."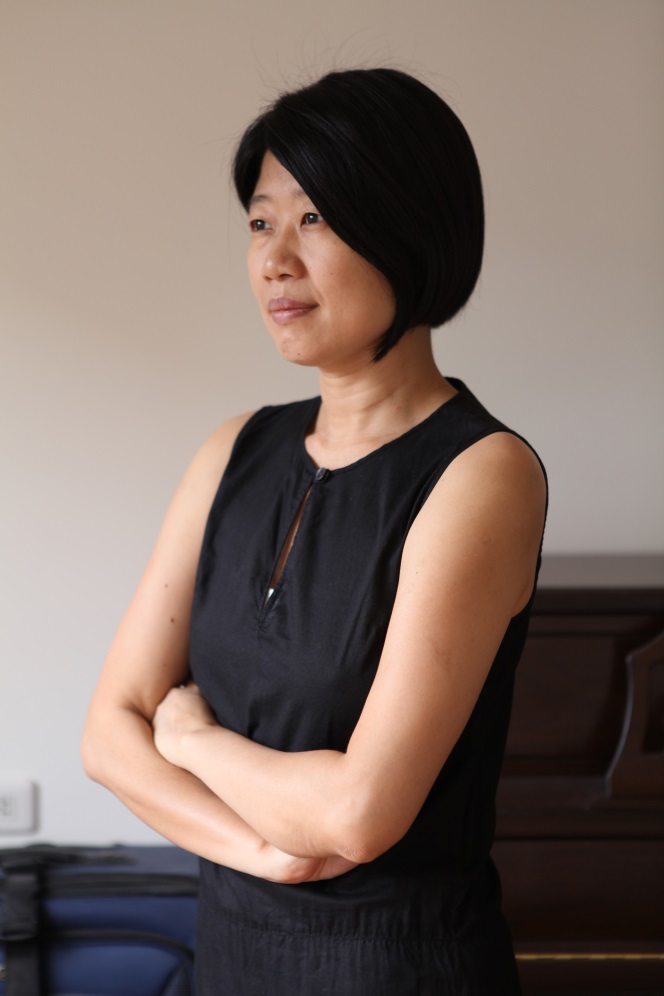 This work is licensed under a Creative Commons Attribution-NoDerivatives 4.0 International License.
Please attribute this article to "Workforce Development Agency, Ministry of Labor".