An Interview with Mr. Xie Shi-Xuan and Ms. Li Pei-Xiang, Chairpersons of TransAsia Sisters Association, Taiwan (TASAT)
Written by Lai Wan-Jing, Photographed by Lu Jing-Hui
Established in 2003, TASAT was formerly known as the Mandarin Literacy Class for immigrant women in Kaohsiung City. In addition to teaching Mandarin, liberating education and empowerment programs were also available in Mandarin Literacy Class. They also guided immigrant women to break the language barriers and have the chance to do what they were good at. "The establishment of Mandarin Literacy Class taught us a lesson: we are not a legal person so we couldn't counsel on programs or work with other private sectors. It all changed until we established TASAT and removed the rather discriminative term of "foreign bribes" from the name of our organization." According to Mr. Xie Shi-Xuan, the chairperson of TASAT, since the establishment of TASAT, they have noticed a lot of immigrant women in northern Taiwan need their help. As a result, they set up the northern branch of TASAT in 2005.
Mr. Xie Shi-Xuan, Chairperson of TASAT (photographed by Lu Jing-Hui)
Those Immigrant women with Professional Skills Ought to Be Recognized
Some of these immigrant women married in Taiwan received education in their countries; some even obtained professional certificates. Thus, the Taiwan government already granted them work rights. However, lots of immigrant women don't know the information above due to lack of promotion, so they assume that they need a work permit. Besides, the information asymmetry contributes to immigrant women's exploitation. "Due to pay transparency, the exploitation has decreased in the recent years but there is lots of space for improvements."
In spite of that, the wage gap and the glass ceiling still happen. The education they received in their countries is usually not recognized in Taiwan so only a few of them get a higher position or management position. The government is now working on the authentication of documents. However, some immigrant women with financial burdens cannot wait so they have no choice but to get entry-level jobs for the time being. For example, there is a nursing shortage in Taiwan but some immigrant women have certificates for registered nurses. Hopefully, the government would speed up the process of authentication, bringing reinforcement to the health care industry in Taiwan.
Give Her the Career Assistance She Needs
The Ministry of Labor also notices immigrant women needs subsidies to start their business, thus, a small number of loans are available for those immigrant families. The startup's failure has increased in recent years. Thus, it is even harder for immigrant women to start their own business. Currently, in addition to offering loans for immigrants, the government is preparing programs for startups and business management.
According to Mr. Xie, they need to pay more attention to immigrant women's labor rights. They did most hated jobs in Taiwan: housekeeping, long-term care, shucking oysters in the fishing villages and picking water chestnuts in agriculture villages. "What's regrettable is quite some immigrant women do unpaid work for their families in Taiwan but they have no right to send money to their families"
TASAT aims not only to provide vocational training to immigrant women but also to help them regain confidence and self-worth. "Immigrant women are capable. They just don't know how they can devote their knowledge and strength to Taiwan. The association doesn't try to "teach" them but it just guides them to discover what they are good at. For example, they can be multi-cultures lecturers. Maybe they don't realize but they are the perfect candidates for spreading culture since they understand the culture of their countries as well as Taiwan. Therefore, we inspire them to share their culture through seminars. There are other choices for them besides beauticians and cooks." Mr. Xie said.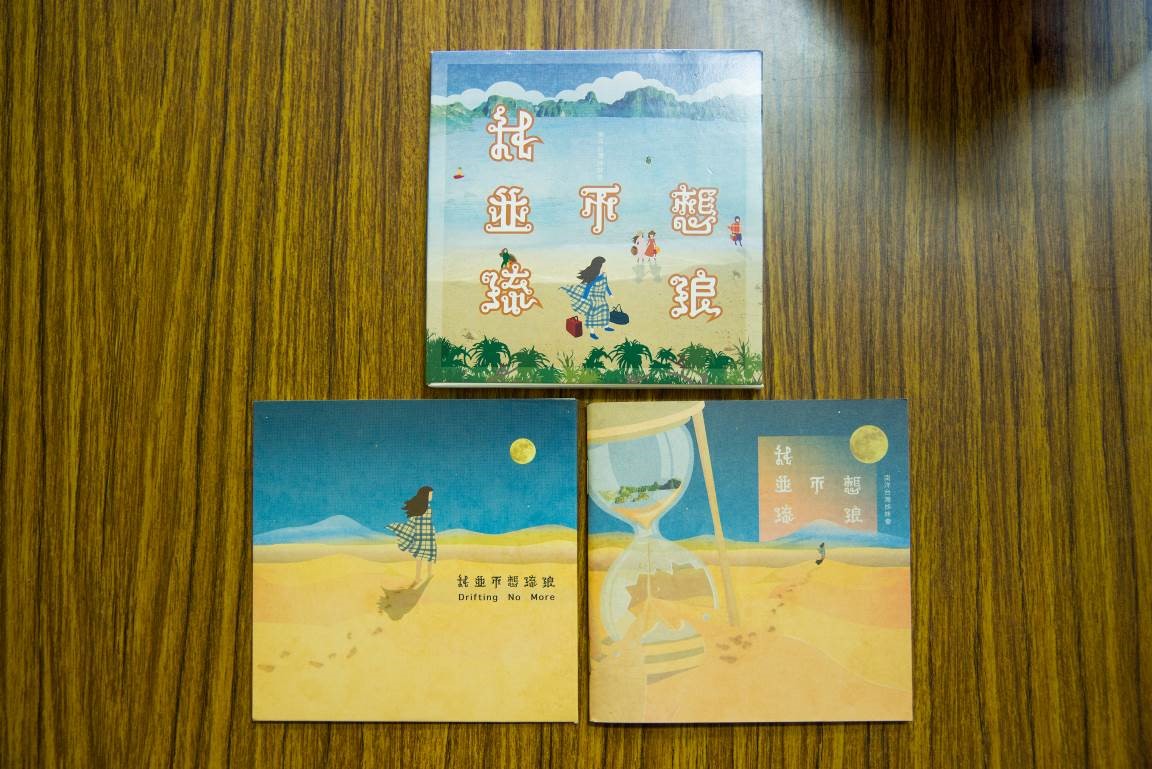 Albums produced by immigrant women from Southeast Asia. (photographed by Lu Jing-Hui)
In May 2017, the album "I Don't Want to Wander Around" was released by immigrant women and the volunteers in the association. Mr. Xie believes music makes a connection with people from different nations, breaks boundaries and becomes the common language and memories for all. "Lyrics were written by immigrant women. their experience in Taiwan is turned into music. It helped them sort out their inner feelings through songs. After the release of this album, they achieved self-cognition and self-affirmation. "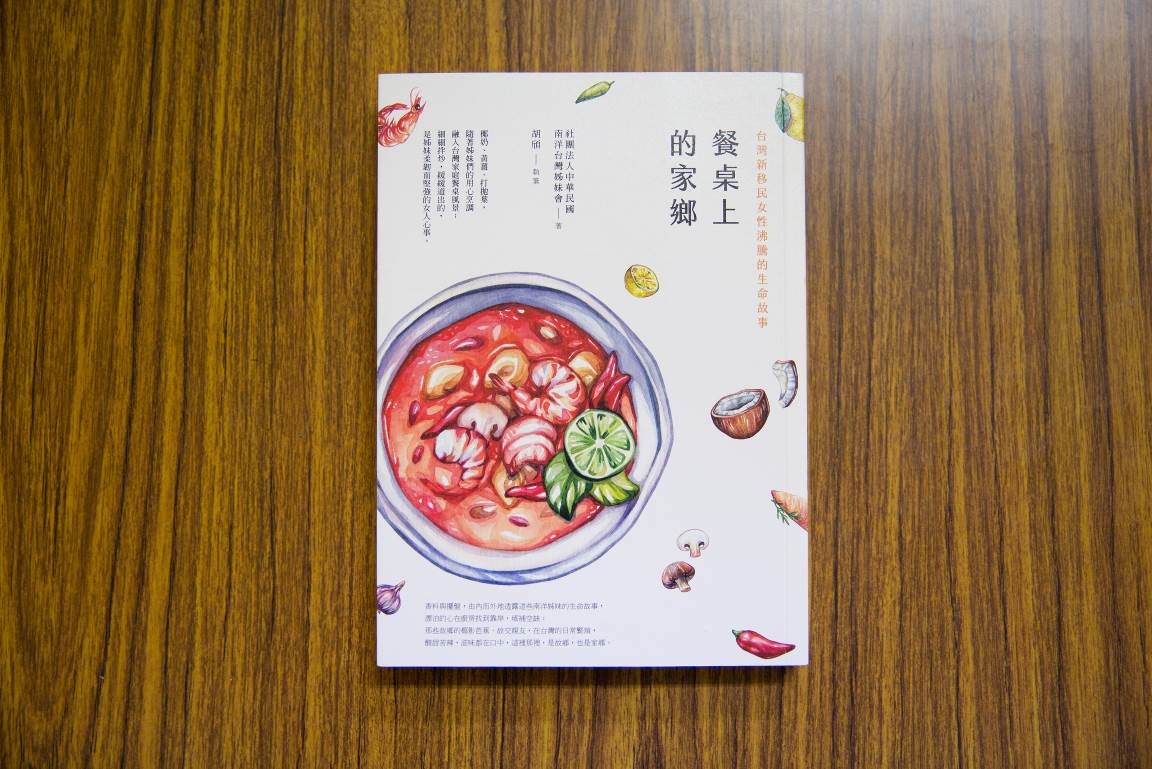 By accident, the immigrant women from Southeast Asia published a cookbook about their hometown food.
Their Hometown Stories on the Dining Table
Besides the album, they also published a book. "Publishing this book is not in our plan. The book was published accidentally. Sharing sessions for red wine, chocolate and cheese has been very popular in Taiwan in recent years, so we thought why not immigrant women share the Southeast Asia food culture with Taiwanese people? Therefore, we came up with a program called "Hometown Dishes on the Dining Table". With one dish story, the audience learns about immigrant culture and spread these stories and cultures via food. In this program, immigrant women cooked food and shared it with the audience. After they then posted these videos on our Facebook, a publisher thought the program was marketable, so they proposed to publish a book. Through this book, Taiwanese people would know more about Southeast Asia food as well as these immigrant women."
Moreover, "TASAT Theatrical Troupe" is founded to present stage plays of immigrant women's stories. Performance provides a chance to show their talents and an outlet to relieve homesickness. Better yet, more Taiwanese will know them via these dramas.
 "TASAT has been working for studying immigrant regulations and policy advocacy. Also, we use issues to hold seminars regarding these regulations and policies. For example, if we held a seminar regarding the Nationality Act, only a few people would show up. Yet, if it's a sharing session about Southeast Asian food or culture, well, probably a full house. By sharing food, the amended Nationality Act will be introduced to participants. The latter is definitely more effective." Mr. Xie said with a smile. In addition to releasing an album, publishing a book, and founding a theatrical troupe, the association also make a board game, which has been the trendiest thing recently. Through these methods, Taiwanese will know more about immigrant women and Southeast Asia; therefore, Taiwanese will be more empathy for them and care about what their rights are being violated."
Livelihood Issues are Business Opportunities for the New Southbound Policy
In Mr. Xie's opinion, the Southbound Policy shouldn't merely include large scale industries exchange such as the semiconductors and the tires industry. Livelihood issues should not be overlooked. "These immigrant women are clear about both markets between Southeast Asia and Taiwan. They could easily what are the most popular, Taiwanese shampoos or soaps in Cambodia. Filipinos love to purchase a large amount of washing powder and chocolate made in Taiwan.The demands for livelihood are business opportunities and we will see these opportunities in advance by our immigrant women."
Different from other NGOs, 70% TASAT board is made up of immigrant women from Southeast Asia. They hope not all voices are from Taiwanese. Instead, immigrant women themselves think about what they really need and speak up for themselves.
Li Pei-Xiang, director of TASAT (photographed by Lu Jing-Hui)
One director of TASAT is Li Pei-Xiang, a Cambodian woman married to Taiwan 15 years ago. She was only 20 years old and she couldn't speak, listen, write or read Mandarin fluently. She feels very fortunate because her family encourages her to learn. She also knows few immigrant women are as lucky as she is – having the chance to become a more capable, new Taiwanese. At first, she knew TASAT when she went to the Mandarin Literacy Class at the community college and somehow ended up working in TASAT. Now she can know well about all immigrant-related regulations and suggest the government for the immigrant marriage system; for example, immigrant marriage through a broker resulted in information asymmetry easily because foreign spouses are not clear about the regulations or policies in Taiwan. Therefore, lots of problems happened after the marriage.
She shared the immigration policy in Korea, which the government establishes a national organization providing clear information for foreign spouses. She thinks the Taiwan government should take it into consideration.
listening to Ms. Lee 's clear appeals and ideas, Taiwanese can see these immigrant women's enormous potential and confidence, which should be valued by Taiwanese. As the government is actively promoting Southbound Policy, the immigrant women should act as a cultural bridge between Southeast Asia and Taiwan. Through the assistance of TASAT, someday, all these immigrant women from Southeast Asia will build their self-esteem and achievement in their new hometown – Taiwan!
Holding the book and music album produced by their Southeast Asian women in their hands, Mr. Li and Xie Shi-Xuan hope to provide a more diverse and inclusive stage for them.
(photographed by Lu Jing-Hui)
TASAT
Official website: http://tasat.org.tw/
Northern Branch Office
Tel No. :02-29210565
Address: 1F., No.15, Zhongxiao St., Yonghe Dist., New Taipei City
E-mail:tasat.taipei@gmail.com
Southern Branch Office
Tel No.: 07-6830738
Address: No.761, Zhongzheng 2nd Rd., Meinong Dist., Kaohsiung City
E-mail:sisters.asso@msa.hinet.net