GOAL 11: Sustainable Cities and Communities
GOAL 11: Sustainable Cities and Communities
An Interview with Ms. Tian Jia-Ling, Secretary of Chashan Community Development Association in Alishan Township, Chiayi County
Written / Photographed by Wang Pei-Yu
The annual Hufu (Pavilion) Festival just ended. There were still a few visitors strolling in Cayamavana tribe. Situated in Alishan Township, Chiayi County, Chashan is a community composed of indigenous Tsou, Bunun, and Chinese Han people and three settlements of Cayamavana, Yaviana, and Cucuu. Walking on the mountain trail, you will see a rustic and comfy pavilion stands alone by the river. Surrounded by cool breeze blowing and birds singing, some of small and large hufu (thatch pavilions) is waiting quietly for visitors.
<(photographed by Wang Pei-Yu)
The Tribe Kitchen Connects with the Villagers, Visitors, and Environment
Tian Jia-Ling is the secretary of Chashan Community Development Association. She is a tall and slim woman as busy as a bee at the Hufu Festival. While aborigines singing, dancing, and playing games, she would stand aside quietly watching. There is the "Tribe Kitchen" adjacent to the venue, which was established with the support from "Multi-Employment Promotion Program" promoted by the Ministry of Labor. It is open every day, offering featured cuisine of the Tsou tribe for people in the tribe and tourists. "Tsou BBQ is different from other tribes. We grill the ingredients on a big iron net. While grilling, we need to keep on swinging the net to get rid of excess oil. This is the secret of our especially crispy and not greasy grilled meat." Ms. Tian pointed at a BBQ grill rack in the Tribe Kitchen while introducing their featured cuisine.
Chashan Community Development Association was founded after the Typhoon Morakot. The strong wind and heavy rain brought by Typhoon Morakot destroyed their only road connected to the outside, yet this incident brought them a new road heading for economic growth. "The typhoon was really a wake-up call for us!" Ms. Tian told us. The only road and bridge were broken. What's worse, we were running out of food. We could only depend on aids and supplies dropped by helicopters. People in the tribe make a living by agriculture, no one ever thought of one day they would be short of food. It was because they never thought of "keeping something for a rainy day!" "The lifestyle of the older generation was simple. Ancestors relied on agriculture for livelihood. They harvested crops and sold crops to wholesalers. After we took part in the economic plan, we knew there were so many other things to do." We have abundant bamboos, sugar canes, pearl barley and Sebastan Plum Cordia around our tribe. Since Multi-Employment Promotion Program started in 2012, many young people in the tribe received various food-processing training through the program. A variety of empowerment programs and workshops were held such as processes for bamboos, Sebastan Plum Cordia, extracting sugar canes and tea seeds. An industry chain is gradually established in the tribe.
According to Ms. Tian, a lot of time and efforts were invested in agricultural processed products with "local features". First, they asked for advice from the elders in the tribe. They also conducted surveys and interviews for knowledge of agricultural processed products from the elders. Next, they tried new formulas based on traditional processes and created new products with their own flavors. When each visitor come to Chashan community to enjoy the yummy Tsou cuisine in the Tribe Kitchen, there are a handmade brown sugar, bamboo shoot, sea-salt flavored BBQ snappers, salads, swing BBQ, sausages and cooked millets
Tribal Shops Demonstrates Culture and Traditions
There are 4 colorful, cute and compact square-shaped stores besides the Tribe Kitchen. There is graffiti painted by local artists outsides. Inside the stores, there are local handmade crafts displayed beautifully on the shelves, attracting visitors. Here we have the handmade accessories with owls pattern: owls symbolize good news in Tsou tribe and various creative products with graphics of the Cayamavana tribe printed on them; among these products, shell-ginger hats are one of the products that the Cayamavana tribe has been promoting in recent years. "Our seniors use shell-ginger leaves to make containers; unfortunately, young people do not know how to make them anymore. However, with the support of this program, we are able to rediscover our unique weaving culture." On the office, Ms. Tian's desk lays a shell-ginger mat. On this woven mat with seams around its four sides, there are decorative patterns symbolizing indigenous people. This is more than just an exquisite artwork, carrying historic significance and cultural heritage.
Moreover, there are homemade camellia oil, reprocessed bamboo products, grain, handmade brown sugars displayed on shelves for sale. The package of each product came from the creativity of people in the community – they created the artworks by image copied by the community artists. They added graphics designs to show the features of the people in the community. Doing so enhances the business and it is a direct and obvious boost to the economy in the tribe. During our interview, Ms.Tian pointed at a handmade map hung on the office wall and said with a smile, 'This is a map designed by one of our community artists. Look how vivid it is. It is highly praised. Since 2014, we have been receiving guidance from the Ministry of Labor to improve our business. Gradually, we are capable of training our own designers. Especially in recent years, we have many young people joining us. These young people are good at using social media. They post lots of interesting video on social media to introduce the community to others. It is effective indeed!"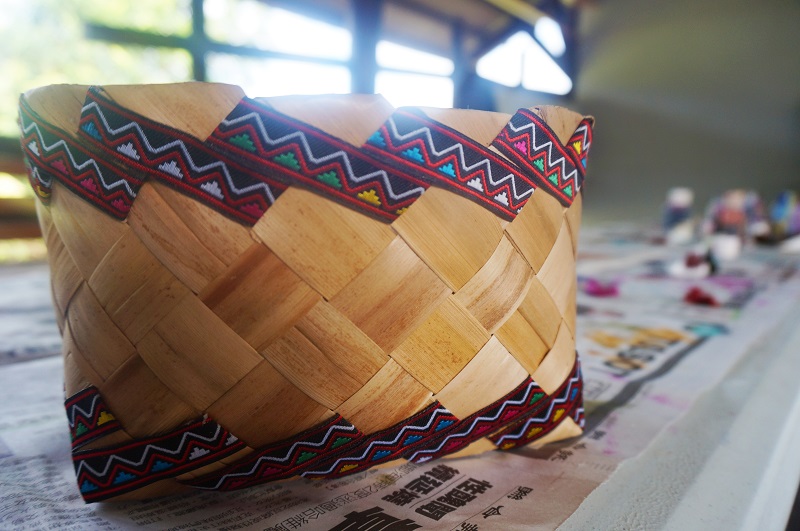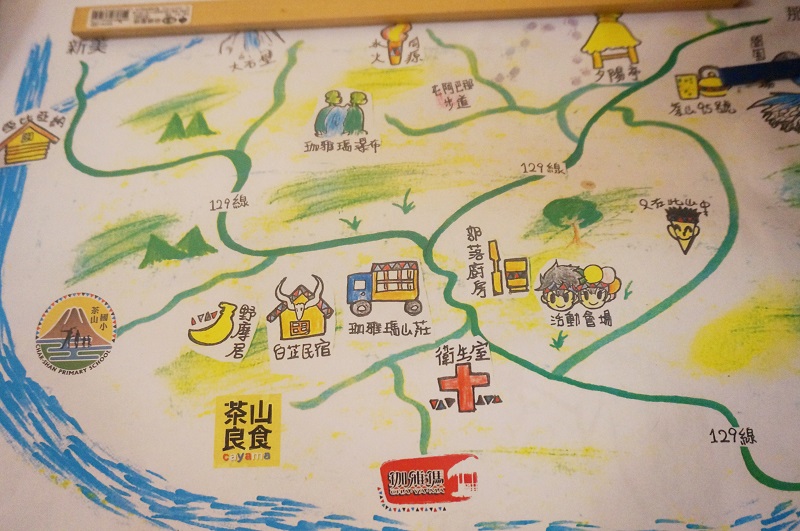 (photographed by Wang Pei-Yu)
The Local Tourism Chain Brings the Young Generation back to Home
Chashan tribe mainly relies on tourism. Agriculture and handicraft business are secondary industries. Tourism involves lots of aspects, causing Chashan Community's to be popular. The annual Hufu Festival is getting bigger and bigger every year, appealing more and more tourists to visit the community to experience the Tsou culture. Activities can not only promote the community but also create job opportunities. Multi-Employment Promotion Program has been implemented for years in the tribe and it got results. Currently, among the 15 people working in cultural experience activities, 9 of them are paid by the subsidies from the program. The other 6 are employed by the association with the revenue from a business run by the association. Such results show that with proper management of outside resources, the association can be operated better. Chashan Community is moving toward the goal of "everyone having a skill and every family running a business." Furthermore, a unique business pattern in Chashan, so-called "pavilion economy", is being formed.
In the future, people in Chashan Community plan to promote the "Agricultural Experience Activity": working with local farmers for agricultural activities, understanding crops grown in the tribe as well as learning about the local ecological environment. The villagers tell Chashan stories to visitors. Besides, the "The Development Program for Chashan Sightseeing" promoted by Alishan National Scenic Area Administration already kicked off. The planning and construction in Chashan will be conducted. Adding hardware and software infuses more energy to Chashan community, further enhancing the local business for years. In the meantime, the "Pavilion Spirit" of Chashan will be continued.

This work is licensed under a Creative Commons Attribution-NoDerivatives 4.0 International License.
Please attribute this article to "Workforce Development Agency, Ministry Of Labor".