GOAL 11: Sustainable Cities and Communities
GOAL 11: Sustainable Cities and Communities
An Interview with Ms. Yang Pei-Jen, Secretary-General of Taso Ci Cou Organic Agriculture Development Association in Alishan Township, Chiayi County 
Written / Photographed by Wang Pei-Yu
Sinvi Tribe, formerly called "Niahosa", is an old tribe situated in the arms of Alishan (Mt. Ali).  From Zengwun River to Mt. Ji'azuoming, there is a diverse ecology system comprised of the river and mountain, which makes Sinvi tribe rich in history, culture as well as natural sources. Different from other tribes such as Shanmei and Chashan that develop sightseeing attractions, Sinvi tribe chose a relatively practical and peaceful road to farming. It was thanks to the hard work of Yang Pei-Jen, the secretary-general of Taso Ci Cou Organic Agriculture Development Association in Alishan Township, Chiayi County.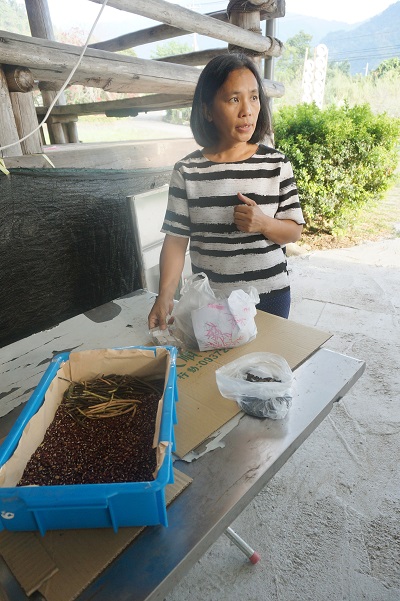 (photographed by Wang Pei-Yu)
Restore Indigenous Species in Sinvi
Ms.Yang was born in Sinvi. Her father was a director at an elementary school and he sent Ms.Yang and her older sister to study in the city since they were really young. Since then, Ms.Yang had studied and worked in the city. She survived well in the city due to complete education background and rich work experience. She is a professional in the architecture model, and had stable work. Yet, 15 years ago, she chose to return to her hometown to start all over again. Although she felt comfortable in cities, inside she desired for tribal environments and simple life as well as a close bond with the hometown. "After working outsides for a long time, I didn't feel at home. After all, here is my hometown." Ms.Yang said. The words show how the aboriginals miss the hometown after leaving for years. She expressed concern about the hometown and an expectation for it.
Returning home after dozens of years, Ms.Yang noticed that the production of staple food like rice, millets, and taros in the tribe is decreasing drastically. Some even disappeared. After doing some research, she realized why fewer and fewer farmers grow staple food. Farmers are getting old and could no longer do it so paddy fields are abandoned. This is the reason that crops of indigenous species reduce. The staple food for the locals is gradually replaced by improved crops. Therefore, Ms.Yang invited several of her farmer friends who share a common goal to restore millets and Pearl Barley of indigenous species, which was the first step for Ms.Yang's farming program. 
Insist on Using Natural Agriculture to Restore the Farmlands
Ms.Yang wanted to use natural agriculture method in the beginning so she chose Shuming Natural Farming- no chemical pesticides, no agricultural fertilizers, and no machines are used. Everything is done naturally. Farming depends entirely on farmers' knowledge and skills acquired from the mother nature day by day. The land reaches the balance to be in harmony with worms, birds, and crops. "I was so naive to choose the most difficult method- natural farming. At first, the farmers kept asking me "Why we can't use fertilizers?" Some of them thought it was too hard and they wanted to quit. To my surprise, they keep doing so and still use the natural agriculture method until now." Ms.Yang told us with laughter.
With Shuming Nature Farming, it increases costs and working hours and they face endless technical problems to overcome. The toughest of all was how to get the farmers to understand the method. When natural disasters occurred, it was also not easy to convince themselves to keep going, not to give up. "When we insist not to use fertilizers and pesticides, corps will overcome natural disasters and pests." A root of rice will hold onto the soil tightly in order not to be blown away by typhoons; vegetables will grow stronger in order to fight against longhorn beetles, locusts, aphids, and snails; fruits and vegetables will develop genes to fight against bad weather and diseases. They will ultimately adapt to the environment of temperature, humidity, and microorganisms.
Conventional farming is mostly being used in the farmlands in Taiwan so the lands destroyed. It is going to take a long time to restore the balance between the crops and the environment. If farmers choose natural agriculture, they have to invest money and labors. They also have to believe the land itself can overcome natural disasters and pests. Without chemical pesticides, the land itself will ultimately restore to its original state and show its vitality to people. Farming is not just a job, but it is the philosophy and the art of nature. Ms.Yang said, "Farming is never an obsolete industry. However, if farmers do not change their thoughts, farming will out-of-fashion." Since returning home, Ms.Yang has been actively taking part in community affairs, assuming the position of secretary-general of Sinvi Community Development Association. At the same time, World Vision International gives donations to the poor to encourage them to farm the land in the community, such as growing coffee beans, processing coffee seeds, raising chicken for eggs, planting camellia and vegetables. Consequently, Ms.Yang received strong support and worked with local farmers and families in need. 
The next year after Typhoon Morakot hit Taiwan, Tsao Ci Cou Organic Agriculture Development Association in Alishan Township, Chiayi County was established, which only further strengthens Ms.Yang's determination to develop organic farming. Thanks to the assistance of association, they are able to receive more resources from public sectors and other organizations to help local farmers.  Ms.Yang encourages farmers to learn from others in other counties and cities. Later, they founded Cayama Agricultural Produce and Marketing Group currently with 16 farmers joining. Subsidies from "Multi Employment Promotion Program" pay for 6 people in the association, contributing the association operations such as its administrative work, marketing, agricultural produce processing, and farming.
Be Brave When Confronted with Difficulties
Like other NGOs, there are different views when reaching the same goal. Although the system of selling organic produce works well, there is something frustrating to Ms.Yang. She spoke with a smile, "It is discouraging for me to be held back. Nevertheless, I am a fighter who is never knocked down and I still insist on my goal."
Ms.Yang became brave after she was bullied in childhood. "My older sister and I went to elementary school in the city. Then our classmates and teachers discriminated indigenous people and disrespected us. My elder sister did nothing but cry when she was ridiculed. I was rather brave and aggressive. If indigenous people were bullied, I would stand out for them." One day in the past, Ms.Yang was mocked by the teacher. She couldn't bear her anger and talk back to the teacher. The teacher couldn't retort Ms.Yang so he angrily left. For this reason, Ms.Yang was punished by the school. She insisted that she should not be treated badly; she didn't compromise. She is still forward when she went back to the tribe for work. As the only women to express her opinion bravely in the tribe, she was the perfect candidate to speak up for women in other tribes. She is a bridge between the community and the villagers. She also leads the different way in Sinvi. 
When she was criticized, she chose to ignore the voices and concentrates on her work. However, when someone needs her help, she would always give a hand. She devotes herself to the tribal development as well as the vision for farming. Ms.Yang has always been a strong person in spite of all the difficulties and frustrations she endured. She needs to protect not only herself but also the lands and crops that she values the most. The agriculture promoted by the association is a seed which she hopes to encourage more young people to join the farming and administrative work in the future for the better development of the tribe; most importantly, she hopes that the top priority is to restore indigenous species. She wants to trace the roots of the tribe through restoration. Currently, the restoration farmlands in the Sinvi are scattered. Ms. Yang thinks it would be better if a vast land is available exclusively for the restoration of the indigenous species in the future. 
Looking at the field not far away, that is the demonstration of natural farming. She said with satisfaction, "We started natural farming here. The dream we hope is that Alishan Town will turn into natural agricultural land. We want to demonstrate to the world that the philosophy of Tsou tribe is living in harmony with nature." 

( photographed by Wang Pei-Yu )