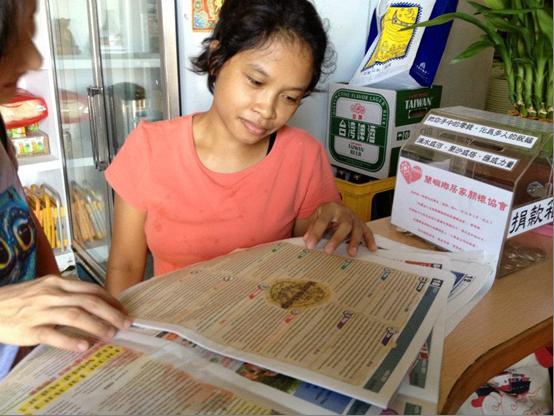 From Newspaper to Multi-Media: 4-Way Voice Opens a Window of Home for Immigrants and Migrant Workers
A thousand years ago, Allah revealed the Quran to Muhammad while he was fasting in the Gila Mountains. Since then, to commemorate the first revelation of the Quran to Muhammad, Muslims have observed this occasion by fasting on every ninth month of the Islamic calendar. While fasting from dawn until sunset, Muslims abstain from consuming food, drinking liquids, and smoking.
A thousand years later, Indonesian migrant workers living in Taipei celebrated the end of the fasting and the start of a New Year by congregating in the Taipei Main Station to congratulate each other and share good food. Thousands amassed in the main hall of Taipei Main Station, disrupting the routine of regular commuters. Under pressure from the upset commuters, Taiwan Railway set-up huge cross blockades in the hall a few weeks later, preventing migrant workers from gathering at the station every weekend. This action deeply hurt the workers' feelings, and was lambasted by civic groups as a reenactment of the 1960s segregation in United States.
After several days, although the blockades were removed, the barriers dividing the people still existed. This seemed to have originated many years ago from biases held by the Taiwanese people about those from the neighboring countries. Even the founder of the newspaper published in five Southeast Asian languages - the "4-Way Voice" editor Zhang Zheng had to admit, "Before starting this paper, when the topic of Southeast Asia came up only the Vietnam War, transgender people, and coconut trees came to my mind..." Let alone other people who are prejudiced against the 800,000 immigrants and migrant workers due to stereotypical impressions.
The number 800,000, in fact, has exceeded the population of the provincial city of Hsinchu which has only 400,000, and has also exceeded the total number of Taiwan's 500,000 aborigines. But a wall still stands between the different ethnic groups, without a bridge to help them mingle and interact with others, it was difficult for these foreigners to find a place for their wandering souls. With the publication of 4-Way Voice's, they finally got consolation for their homesickness.
In such an environment, the reason why this newspaper can still be established is precisely because Zhang also briefly experienced something similar.
Assuaging Pangs of Homesickness by Reading in their own Native Language
Zhang Zheng originally worked for the "Lihpao Daily" as a reporter and worked his way up to deputy editor. One day the newspaper publisher, Lucie Cheng, gave him the two volumes of the "History of Southeast Asia." Although it was only a spur of the moment action, the lively stories captured him, opening a whole new world he had never seen.
At that time, the Graduate School for Southeast Asian Studies of Chi Nan University happened to be recruiting students. Relying on these two books, Zhang was accepted after taking the exams. After enrolling, he majored in Vietnamese Studies and also planned to start a publication platform for Vietnamese immigrants to interact in Chinese at Puli. He was stopped by his friend who said, "Vietnamese girls are not educated, no one will read what you publish."
Zhang silently retorted, "You yourself are also Vietnamese, how can you call them 'Vietnamese girls'?" After an in-depth understanding, he realized that although they were all from Vietnam, there were still faint boundaries between the locals and Chinese immigrants, as well as between the spouses and laborers. With this in mind, Zhang immediately gave up on the idea of running a newspaper.
Zhang used the opportunity provided by a Ministry of Education subsidy for short-term study abroad for graduate students and went to the Ho Chi Minh City University of Social Sciences & Humanities to study language and search for his thesis materials. However, he could not even complete simple tasks like ordering a meal or getting a haircut let alone research for his thesis. When Zhang finally made some friends, he could not have any in-depth conversations with them due to the language barrier. Under these isolating circumstances, Zhang said "I soon went through the few novels I carried with me, in the end there was nothing more to read. I ended up reading the Chinese version of the Buddhist scriptures."
The course ended after four months and he packed his things and returned to Taiwan. Naturally, there was no progress in his thesis, but at this time, Lucie Cheng came up with an astonishing plan - to establish a newspaper for Southeast Asians using their native language! It was like a revelation to Zhang, "Yeah! Why hadn't I thought of this?" he exclaimed, "The mainstream media in Taiwan was already saturated, but none of them spoke for migrant workers. With a steadily increasing base of new immigrants, this was a golden opportunity to establish this newspaper!"
But Lihpao was only a small news agent with little resources, so Lucie Cheng invested her own money to establish this newspaper Zhang also took up the duties of editor for free. But he thought his Vietnamese was only at the kindergarten level, so he could only stay in the office to choose the news by day, sorting the articles on health, love, religion, legal and other lifestyle information. He would then go to the night market by nightfall and asked Ruan Shu Ting at the takoyaki stand to help him translate.
Great Response and Record-Breaking Circulation
By September 2006 the "4-Way Voice" was officially released. Vietnamese migrant workers who were working in a foreign land finally had the opportunity to reunite with their native language. Long suppressed sentiments flocked to the news agent, with some submissions written on calendar paper, flyers, or even toilet paper. In between the lines, they expressed their thoughts for family and friends or complaints about their employers. Whatever it was, their thoughts could finally be expressed in the familiar and safe native language.
Despite the great response, Zhang became more and more flustered, "What did they write?" "What was bothering them?" Acknowledging that he was basically going in blind, he copied all of the submitted articles and asked Ruan, "Can you go through them all and tell me which is appropriate to publish, which is not? And can you type them for me? I don't know how." After six months of hard work, the newspaper finally hired Ruan, who left the takoyaki stand for her husband to run. "I gave up a high-paying job to do this!" she joked.
Bearing tears and nostalgia of the new immigrants and workers, "4-Way Voice" had gradually expanded to 80 pages from 16 in the beginning. The circulation also rose from 4,000 copies to 38,000 copies. Apart from the needs of the readers, Zhang had an ingenious marketing strategy, "We are a monthly issue. If you order a copy, it would be NT20, and a year subscription would be NT240, but with an order of 100 copies we'll give it to you for free, because you cannot order 100 copies just to wrap fritters. The extra copies will be sent out." By handing out free issues, the "4-Way Voice" successfully established distribution points at the Southeast grocery store and MedFirst Healthcare stores.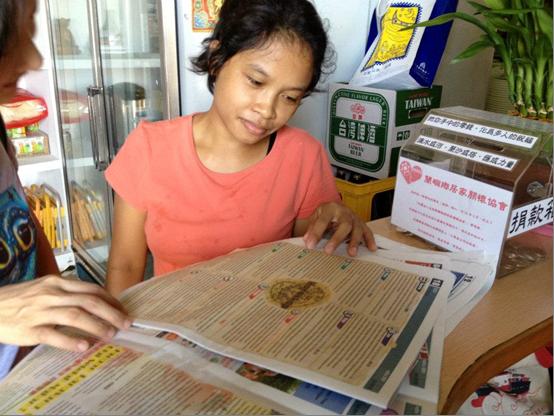 Zhang also asked his family to help with promotion, including asking his wife's sister to deliberately carry "4-Way Voice" while waiting for the garbage truck to chat with the domestic workers of other families. Besides soliciting subscriptions, his father-in-law also helped deliver the paper and found out that some employers secretly threw away the "4-Way Voice" from their mailboxes.
After he was informed of this incident, Zhang began to discuss the possibility of retailing at convenience stores in order to increase the paper's accessibility. But the businesses all declined, citing concerns about small sales volume. In the end, only the small convenience store "OK" accepted. Surprisingly, after it hit the shelves, the sold-out rate of the 4-Way Voice was up to 80%, far more than the other mainstream media. This eventually attracted the convenience store Hi-Life to take the initiative in contacting the newspaper. 7-11 also turned about and sent the 4-Way Voice to 500 of its stores.
Voice of Migrant Workers Moves into the Mainstream
After the paper became well known, everything seemed to get on track. Advertisers began to place advertisements, corporations enthusiastically offered to sponsor events, and even the application for subsidies went very smoothly. The newspaper's finances were finally stabilized. 4-Way Voice then took advantage of this to publish the paper in Thai, Indonesian, Filipino, Cambodian and other langua
ges, and launched other services. For example, "4-Way Gallery" is where the paintings of migrant workers were exhibited both through the internet and in reality. The "Grandma Bridge" program arranged immigrant mothers, their children, and teachers to visit the immigrants' maiden home and reconnect with their motherland. The "Five+ N Language Academy" is a program that offers people the chance to learn seven languages for free.
Everything seemed on target, but with the rise of smart phones, 4-Way Voice was sidelined step by step. "In the past, they did not have television, movies or magazines and could only read newspapers or listen to the radio. Now, with the Internet, you could read whatever you wanted and when you were in a bad mood, you could go on Facebook to express your feelings. The newspaper was no longer needed," Zhang said. 4-Way Voice used to receive up to two or three hundred letters each month. Today they get only three or four, a difference of nearly a hundred times.
"But that's OK. I found a new 'toy'!" In the summer of 2013, Zhang resigned as editor in chief and began a series of independent programs. He later set up the "4-Way Voice Cultural and Creative."
Every weekend, he would take a professional film crew to where the migrant workers gathered in such places as railway stations, harbors, restaurants, dormitories, grocery stores, etc. When he encountered any foreign friends, he handed over the microphone and asked them to sing a song." Some people were put off by this, but others really loved to show-off. There were people who silently watched for a while and then came over and said I want to sing too." When the song ended, the host would ask them to say a few words to their family, and a lot of people shed tears while talking. "This was in fact our goal! We wanted to create an atmosphere just like making tea under a big tree, to let people chat and share their current situation. Viewers also got to know how other fellow folks had been doing through the screen." Currently "4-Way Singing," in addition to being broadcast on YouTube, is also being launched on the cable TV "TNTV."
Next, Zhang and his friends from the arts community organized a literary prize for migrant workers, seeking new immigrants, second generation families of new immigrants, and migrant workers to enter the competition in their native language. The top prize was up to NT100,000. The selected work was "The Story of Yip Fung and CARLOS," which portrayed the bond between a boy with Down's syndrome in an employer's family and their beloved dog. The story was very touching and inspiring: but were foreign domestic workers comparable to a pet dog?
At the beginning of 2015, Zhang and his friends set up two Southeast Asian theme book stores – the "SEAMi Book Store" around the Taoyuan Station area and the "Brilliant Time Book Store" near the Burma Street at Zhonghe District in New Taipei City. They invited Taiwanese people returning from Southeast Asia with books that they "could not read" to the team. The team would collect the books and then allow the migrant workers to borrow them. "If someone wanted to keep the book, they would have to bring another in exchange, or donate maybe NT50 or NT100 and then it would be fine." Zhang said in anticipation, "I hope from carrying books, borrowing books and reading books, it can become a river of goodwill."
It had been nine years since the establishment of the "4-Way Voice." At the beginning of this year, the Taipei Station set up a Muslim prayer room fully equipped with prayer mats, washing equipment, and Mecca indicators, which was a very pleasant surprise for the Indonesian migrant workers. "If we accomplished our goals in this phase, then whether it is a newspaper or not wouldn't matter," Zhang said with a hearty smile.

This work is licensed under a Creative Commons Attribution-NoDerivatives 4.0 International License.
Please attribute this article to "Workforce Development Agency, Ministry Of Labor".