The proverb "a good doctor is the warmth of spring" praises the compassionate heart and admirable skills of doctors. For the author Liu Hsia (pen name Hsinglintzu) this proverb fully expresses her concern for the mentally and physically disabled. Although she suffered from Rheumatoid arthritis and was in great pain all her life, she still donated her royalties to help people with disabilities. She also expedited the formation of "Rehab buses". Henceforth, people with physical disabilities would be able to leave their tiny patient rooms and move freely under the sun. The government listed rehab buses as a public policy and commissioned private transportation providers to expand relevant operations.
20 years later, a 93 year-old lady fell and injured herself at home, damaging her bones. From then on, she was unable to bend her body to get into a car. Her family therefore called a rehab bus to send the old lady to the hospital for physical therapy, but their request was turned down.
It turned out that the old lady was not eligible to take the bus because she did not have a valid Disability Manual issued by the government. Since she lives in Taoyuan, she is also not entitled to take the bus across city/county borders to reach a hospital in Taipei in accordance with relevant regulations. Her family members therefore had to take turns driving her to the hospital, leading to a chaotic period of life for the whole family.
Mr. Jeff (Zuo-Fu) Hsu, the Hakka son-in-law of the old lady, was puzzled and couldn't understand why his mother-in-law couldn't use the public service when they had always paid their health insurance premiums in a timely manner. After he perused more information about the rehab bus system online, he was slightly appeased, "The bus service is not even sufficient for Disability Manual holders, let alone patients with short-term injuries."
According to the latest data, there are 1.1 million disability manual holders and 160,000 of them are in urgent need of transportation services. However, only 1,000 rehab buses are currently available in Taiwan, 3,200 short of the required number. In addition, the population is aging rapidly. There are currently 3.14 million senior citizens aged 65 and above in Taiwan, accounting for 13.33% of the total population. Following the passage of time, this demand is bound to increase.
Due to this imbalance of supply and demand, it is hard to raise the quality of service. "I have seen comments and reviews of the rehab bus service online. Over 3,000 of them are negative." Since the family incident, Jeff pondered day and night, "Are there no other means of transportation besides rehab buses and ambulances?"
Lowering of thresholds and loosening of restrictions
"A society that only focuses on the healthy is not a healthy society." Upon careful consideration, Jeff decided to give up his 12-year career as a director of commercials, movies, and documentaries, pooled funds with his brother to purchase two vans and formed "Duofu Care & Services". Their "Duofu Shuttle" focuses on the provision of obstacle-free transportation services in the greater Taipei area.
From the start he differentiated Duofu from other rehab buses by removing four qualifications that public rehab buses require. First, there are no restrictions on who could use the service. Pregnant women, young children, seniors, or wheelchair users, any person with restricted mobility can call for their service. Second, there are no reservation restrictions. Shuttle services are provided within the shortest amount of time possible no matter when calls are made. Short or long-term transportation or emergency response services may be selected in accordance with actual needs.  
Third, there are no regional restrictions. Passengers are able to freely select destinations across city/county borders. Fourth, there are no purpose restrictions. Services are available for a wide range of purposes including medical treatment, education, employment, long-term care, visits to relatives, recreation, traveling. In contrast to public rehab bus services, no penalties such as deduction of points or suspension of future use are imposed if trips are suddenly canceled.
"Duofu Shuttle" aims to provide an accessible environment to the best of their capabilities, helping all those with lower mobility truly control and arrange their transportation needs. No matter elderly, temporarily disabled, or invalid, all who need special transportation services are Duofu's target customers.
However, Jeff encountered several difficulties during his initial trips. Some passengers with restricted mobility live on upper floors of apartment buildings without elevators and haven't left their homes for three years. Jeff therefore spent 250,000 NTD on access ladders, which not only provide greater convenience for physically disabled passengers but also prevent secondary injuries caused by accidents when such passengers are carried piggyback downstairs.
Jeff immediately received wide praise for his services and went on to purchase another three small buses. This led to jealousy from same-industry competitors who secretly reported to government agencies that Duofu had not been issued car rental licenses. The minimum threshold for license applications is 10 vehicles. Therefore Jeff bit the bullet and purchased another five vehicles. He was shocked when the agency official told him, "You can't retroactively add up the vehicles you have bought over the years. You have to buy ten new vehicles in one purchase."
Jeff was absolutely terrified at the thought of meeting the requirement and thought, "Now I finally know why no one would enter this market and provide these simple services!" However, he was not willing to give up all his hard work and therefore he secretly took out a mortgage on his house without telling his family. This finally enabled him to meet the legal requirements and his competitors were not able to interfere with his operations anymore.
When the business was firmly on track, Jeff installed wheelchair lifts, automatic wheelchair straps, safety belts for passengers, and anti-skid floors on each of his vehicles, raising the costs of each vehicle to 3 million NTD. Despite the high expenses, Duofu does not accept government subsidies since Jeff does not want to take away business from public rehab buses. He also considers himself a comprehensive service provider as opposed to just a car rental.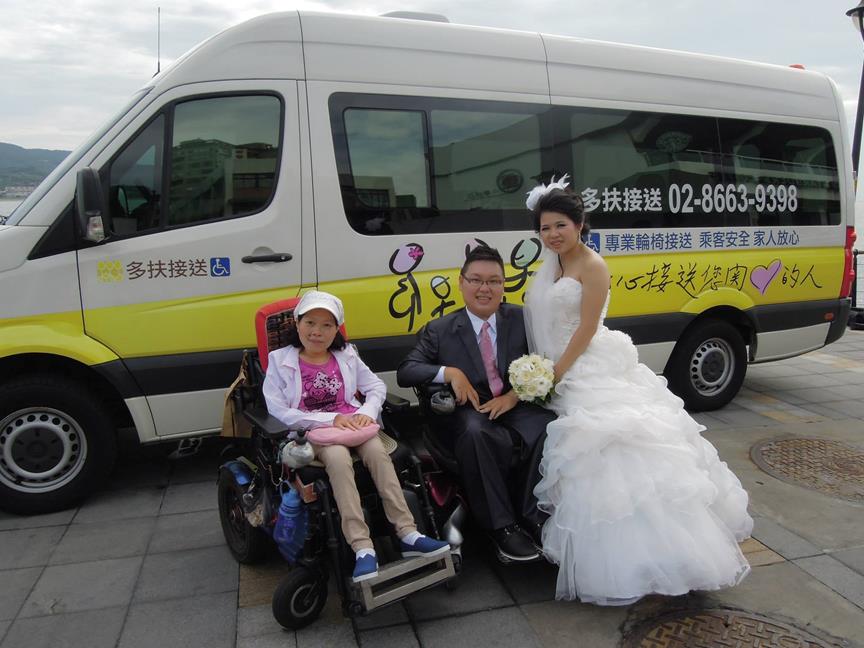 Duofu vehicles not only serve as ambulances or tour buses but also as wedding cars.
Embracing a spirit of service and treating customers like parents
"During the recruitment process, I always tell the applicants that we are not looking for drivers but for frontline service personnel." But what criteria do service providers have to meet? This question used to trouble Jeff. "Everyone thinks that serving the physically disabled requires compassion, patience, and attentiveness, but these are just vague concepts and there are no comparable experiences to rely on. We therefore have to slowly establish our SOP by trial and error."
After a period of time, Duofu had finally developed a range of standard procedures. After receiving a call, designated personnel start with detailed inquiries about the mental and physical condition of users. When customers are within 20 meters distance, they are received warmly by name before they are helped in and out of the van. After each trip, the service personnel conduct a satisfaction survey. Every action is announced in a loud voice to ensure customer awareness and acceptance. These standard operating procedures consist of a total of 56 actions and are therefore also known as "Duofu 56".
Jeff sometimes goes along on the trips and inadvertently discovers special requests. "I once had a lively chat with an old lady during a trip. However, she slightly frowned when she got off the van. When I called her in the evening to inquire about the frown, she revealed that the driver had given her crumpled bills as change. There was a flu epidemic at that time and she was afraid that the bills were infested with germs due to our frequent trips to and from hospitals." Ever since then, Duofu has been using new bills exclusively.
This service has also been incorporated into the "Duofu 56." Jeff added, "Over the past few years, the total number of actions has surpassed 56 and now stands at over 120." He also points out that the main reason why Duofu has developed these complex standard operating procedures is because "we are not transporting goods but human beings. People with physical disabilities are particularly sensitive and may be reluctant to leave their homes in the future due to one unfriendly look. Empathy is therefore extremely important to us."
Duofu partnered with the National Palace Museum to establish a transportation terminal at the museum. Initially, the museum treated Duofu as a simple transportation provider. Quite unexpectedly, the noisy and packed lobby suddenly became quiet to the great surprise of the museum.
Duofu has already calculated the exact number of entering and exiting visitors for each period and whenever pregnant women, baby buggies, seniors, or wheelchair users appear, Duofu immediately dispatches vehicles to increase the available space in the lobby. All this is the result of the long-term analysis of data for selected spots. "Our data statistics shows that we transported a total of 2,379 passengers over a period of 84 days in the first quarter. Based on an assumed waiting time of 10 minutes per tourist, we reduced holdup times for tourists in the National Palace Museum by close to 400 hours."
This firm grasp of big data enables Duofu to cross over into the field of information technology. Even the government requests Duofu's passenger data. Jeff stated in the past the public sector always requested information from the Eden Social Welfare Foundation established by Hsinglintzu. However, Eden mainly relies on government subsidies, which makes it difficult for decision-making units to forecast market developments based on public welfare services. The emergence of Duofu facilitates the estimation of the future value of the senior market and physical disability industry by the Ministry of Health and Welfare. Jeff smiled and said, "It turns out that despite my refusal to request government resources over so many years, our accumulated data has a very high value!"
Cross-area integration: All-around expert in the field of obstacle-free traveling
In addition to simple transportation services from one destination to another, Duofu pushes their services one step further and established a travel agency "Duofu Holidays" that specializes in providing all-inclusive care in response the needs of various customers, such as senior tours, family island trips, and wheelchair vacations. This is because Jeff is fully aware of the fact that only by providing services for all, no matter if they have latent or overt low mobility, can people truly believe they have the ability and rights to lead fully autonomous lives.
For many family-men and women, to plan a weekend holiday for the whole family means not only planning the itinerary, but also serving as the driver, bellhop, and all-around attendant. Having a pair of twins, Jeff deeply appreciates the importance of having professional assistance. That is how the service "Traveling with a Steward" came about. The steward would be in charge of customizing a travel plan to fit all the safety needs and convenience of those with restricted mobility. Before each trip, Duofu would send their personnel to walk through the route in advance and inspect all the accessible facilities of each location. "The steward would personally survey the trip in a wheelchair."
For example in 2012, Regent Taipei was responsible for the reception of world-famous Mouth & Foot Painting Artists, which was a great honor but also a huge challenge. Fortunately, Duofu provided all required transportation services and assisted the hotel in the preparation of facilities, wheelchairs, rooms, and layouts in accordance with the disability types of the artists. For instance, they meticulously planned out bathing equipment for polio survivors and eating utensils for persons with upper limb physical disabilities.
Since 2013, Duofu yearly assists the physically disabled to realize a dream that they once thought was impossible: attending the Mazu procession in Dajia. A bystander would observe a group of wheelchair-bound worshippers appearing and slowly approaching the procession. Other worshippers would make way for them so they could cross underneath the sedan chair of Mazu. Seniors and wheelchair users completed this 300-km obstacle-free pilgrimage, feeling "reborn".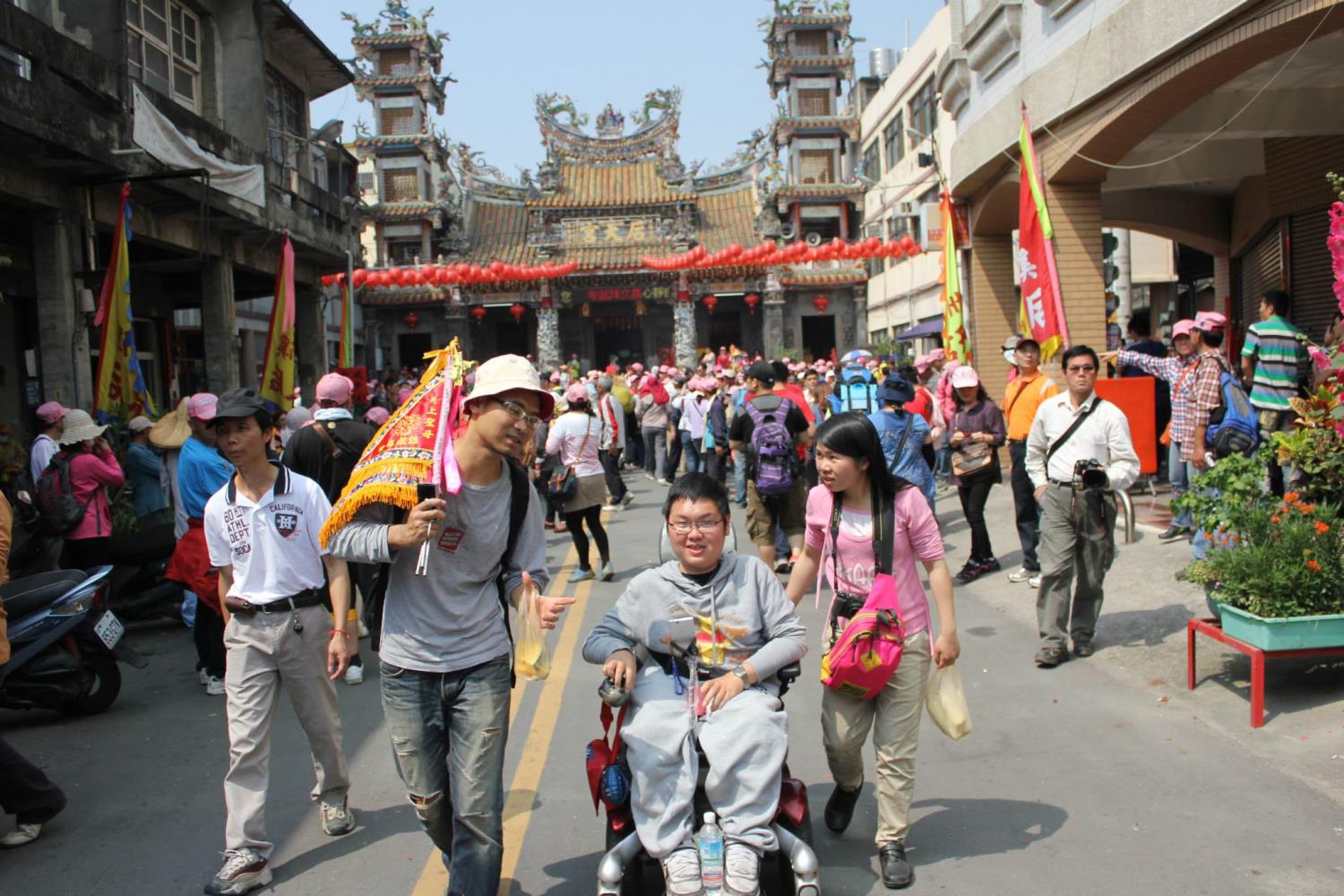 Due to the services provided by Duofu, worshippers with physical disabilities were able to participate in the Mazu procession and pilgrimage activity.
Once, a daughter rented a car for a whole day to take her parents with Alzheimer's back to their hometown to look for their childhood homes. Piecing together threadbare clues and meeting a distant relative by a stroke of luck, they successfully found her father's childhood home. Her father was delighted and had a good day where he seemed to return to the time before he got sick. Stroke, intubation, or dementia cannot stop the class reunion of several nonagenarians that still enjoyed their outing.  
With a well-rehearsed plan, all desires and wishes can be considered, and all trivial details are attended to, this is what "Duofu Holidays" is all about. 
"Duofu Holidays" has been thriving, while "Duofu Shuttle" continues to generate losses. In the past, a venture capital told Jeff that they were willing to make a large investment if he would abandon the transportation services. Jeff turned the offer down without hesitating. "If we give up these services now, I will depart from my original mission." Since its inception many years ago, Duofu has therefore been using revenue from "Duofu Holidays" to make up for the losses of "Duofu Shuttle", which in turn provides the customer base for the holiday business.
Although the old lady has already passed, Jeff continues to be fully committed to creating an obstacle-free utopia from the perspective of disabled persons by embracing a spirit of love and compassion based on the motto that "there are only places with barriers, not people with barriers."
Mr. Jeff (Zuo-Fu) Hsu, the founder of Duofu, regards his company as an all-around service provider instead of a simple car rental business.

This work is licensed under a Creative Commons Attribution-NoDerivatives 4.0 International License.
Please attribute this article to "Workforce Development Agency, Ministry Of Labor".